"It was the first time I'd stood in a tight crowd watching music since March 2020 and I cried."
After debuting in 2021 following pandemic postponement in 2020, Wide Awake festival returns to Brockwell Park this May for a second round of 'notes from the underground' and a programme of music that gloriously embraces anything from leftfield indie to techno.
Boasting a 2022 lineup including headline slots from Bicep and Primal Scream plus a mouth watering list of acts such as Loraine James, Scalping, Nation of Language, Special Interest, The Comet Is Coming, Floating Points, The Lounge Society and many more, the excitement is truly palpable.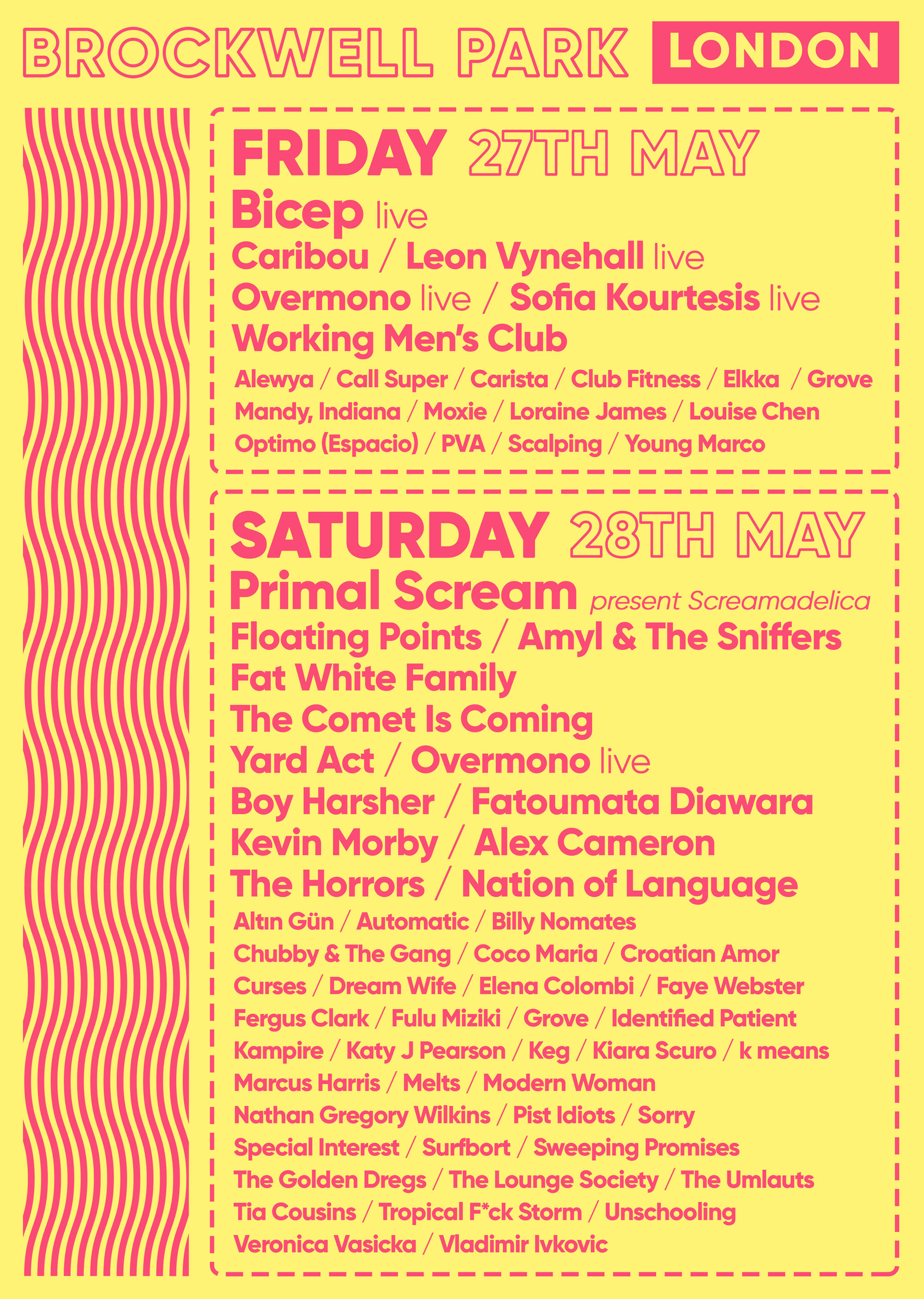 Back for a second bite at the Wide Awake cherry (and presumably a bigger stage), are witty Leeds breakout Yard Act who released debut album The Overload in January to huge acclaim, following On The Rise status at Rough Trade and also bagging our Album of the Month.
We caught up with Sam Shjipstone from the band to chat feelings on returning to the stage this year, why a slot at festivals like Wide Awake are so invaluable to emerging music and his top picks from this year's line up.
---
As a founding artist of Wide Awake, what were your takeaways and first impressions from the festival in 2021?
It was the first time I'd stood in a tight crowd watching music since March 2020 and I cried. It was fantastic to be back watching an amazingly curated festival; I really felt it.

Since playing at Wide Awake last year, you've released your debut album, fought a valiant UK Chart battle, played a bunch of sold-out Rough Trade in-stores and even appeared on Jimmy Fallon. Safe to say you've made quite a mark and deservedly so. How important is playing slots at festivals like Wide Awake in, not only showcasing new music, but contributing to the enjoyment of what you do?
Unlike our own shows, where people have come to see you specifically, festivals like Wide Awake us give an opportunity to play in front of less wedded people - and with this, the challenge of trying to win them over.
How invaluable has the festival scene been in nurturing your connection, not only with fans, but with fellow artists?
The summer 2021 festivals felt quite pivotal for this band. Regularly people mention performances from that run of shows that turned them onto us. It helped develop us from a lockdown-enforced studio band to a live act.

For you, what are the best sources for discovering new music?
Metacritic > filter by last 90 days. If they're not universally acclaimed I'm not listening.

You return to Wide Awake for 2022. As a more 'established' band, is there more pressure to deliver something particular?
If there should be pressure, I don't feel it. Wide Awake 2021 had a great relaxed vibe, and we'll be delivering the same blistering sardonic punk rock that we gave Wide Awake last time.
Yard Act is without doubt one of the breakouts of 2022. Based on your experience, is there a standout piece of advice you'd have for bands/artists just starting out on their journey?
Ryan in Yard Act has a useful aphorism on this: "Don't bore us, get to the chorus."
And finally, can you share your Wide Awake 2022 top artist picks?
One of the beauties of festivals like Wide Awake is that we will be surrounded by musical friends. We provided a remix for the amazing Katy J Pearson and had the joy of playing live a few times with her. We're very lucky to have heard her upcoming album and it's a modern masterpiece.
Billy Nomates is obviously class, and very kindly provided some vocals for our track Quarantine the Sticks. One day, hopefully, we'll get to do a live version.
We met PVA in an awards ceremony in Hamburg, hung out and had a load of fun and I'm super looking forward to seeing their mind-blowing live show again.
Ross Orton who produced the Working Mens Club debut record also produced songs on our Dark Days EP and I'll be trying to catch them again after watching them twice at SXSW. Three times the charm.
Shout-out to Amyl and The Sniffers!
---
Heading to Wide Awake this year? We'll see you there!
We'll be hitting the road On Tour and pitching up at Wide Awake on Saturday 28th May along with a stack of vinyl and merch for you to browse to your merry festival heart's content. We'll also be hosting album signing with Yard Act, Amyl and The Sniffers and Nation of Language + a live acoustic set with CVC.