"The real reward in used vinyl is you never know what's round the corner. What's behind that Humperdinck?! Probably another one, then another one and another, how many did he do?!"

Launching in the Spring of 2020, Rough Trade Vintage looks to globally source an expertly curated selection of used vinyl, aimed at providing great value, along with great quality. Even better, our vintage vinyl sections are refreshed weekly across all of our UK stores: Rough Trade East, Rough Trade West, Rough Trade Bristol and Rough Trade Nottingham, consistently bringing crate diggers excellent variety across this exciting range.

To celebrate the re-opening of our stores this week, we chatted with Jamie Moir, lead buyer and manager of Rough Trade Vintage, about what goes on behind the scenes of our exciting new development in second hand vinyl...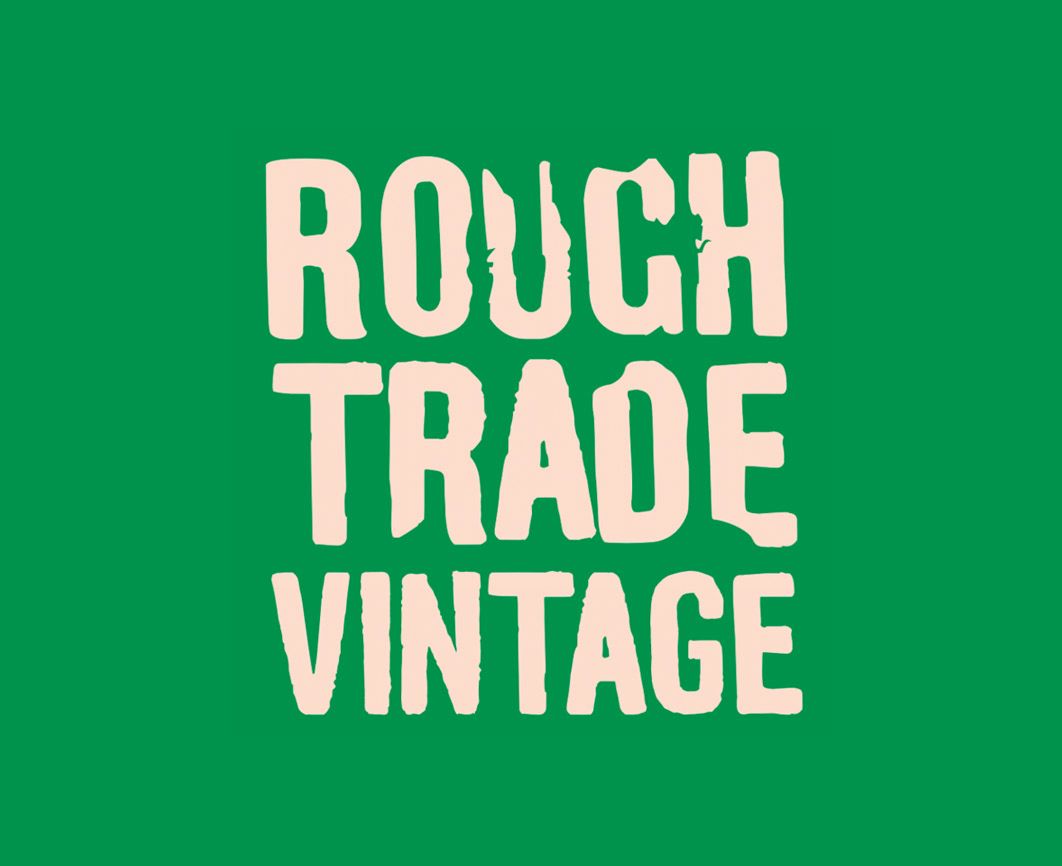 What's the reception been like since launching RTV in 2020?
Well considering the year it's been, as a whole - very positive, if not a little frustrating! It's clear from the time our shops have been open that there's a real thirst for used vinyl with our customers. New stock doesn't tend to hang around for long on the shelves, meaning it's a constant challenge for us to not only source, but process, enough stock at such a rate to help sate the thirst with our customers. Whilst we have been physically closed we continue to add used stock to our Discogs stores. So we're connected to the marketplace, globally, 24/7. Rain or shine.
Where do you source the best stock?
Sourcing used vinyl (like within pretty much any other field) is all about the quality. It's the first part of the entire process. Get that right and you should be okay! However, sourcing can be quite erratic - a little, feast or famine. Sometimes you hit it big, sometimes not so big, but it's all part of the mix and adventure. There's pretty much three key areas of sourcing: auctions, wholesalers and private collections. Each of those areas have their own pros and cons. Private collectors tend to look after their records, so are easier to value (whilst offering the seller the best deal!), grade and get on the shelves but these collections are usually small in size. Buying from auctions and wholesalers - you can get the quantity, but the quality of title and condition can vary a great deal. So it can take longer to process, what with cleaning - really getting the item into a reasonable resellable condition to make the shelves. Plus, especially with online auctions you can be buying blind somewhat.  "Stick the Pink Floyds and Smiths at the front of the pile - for the pictures, and stick the brass bands and Engelbert Humperdincks near the back" - textbook! Like I say, all part of the adventure! Speaking of which - we've made some great contacts with wholesalers in Europe and Japan. It can feel very rewarding sourcing from afar and getting those items into the hands of our customers. Spread the love!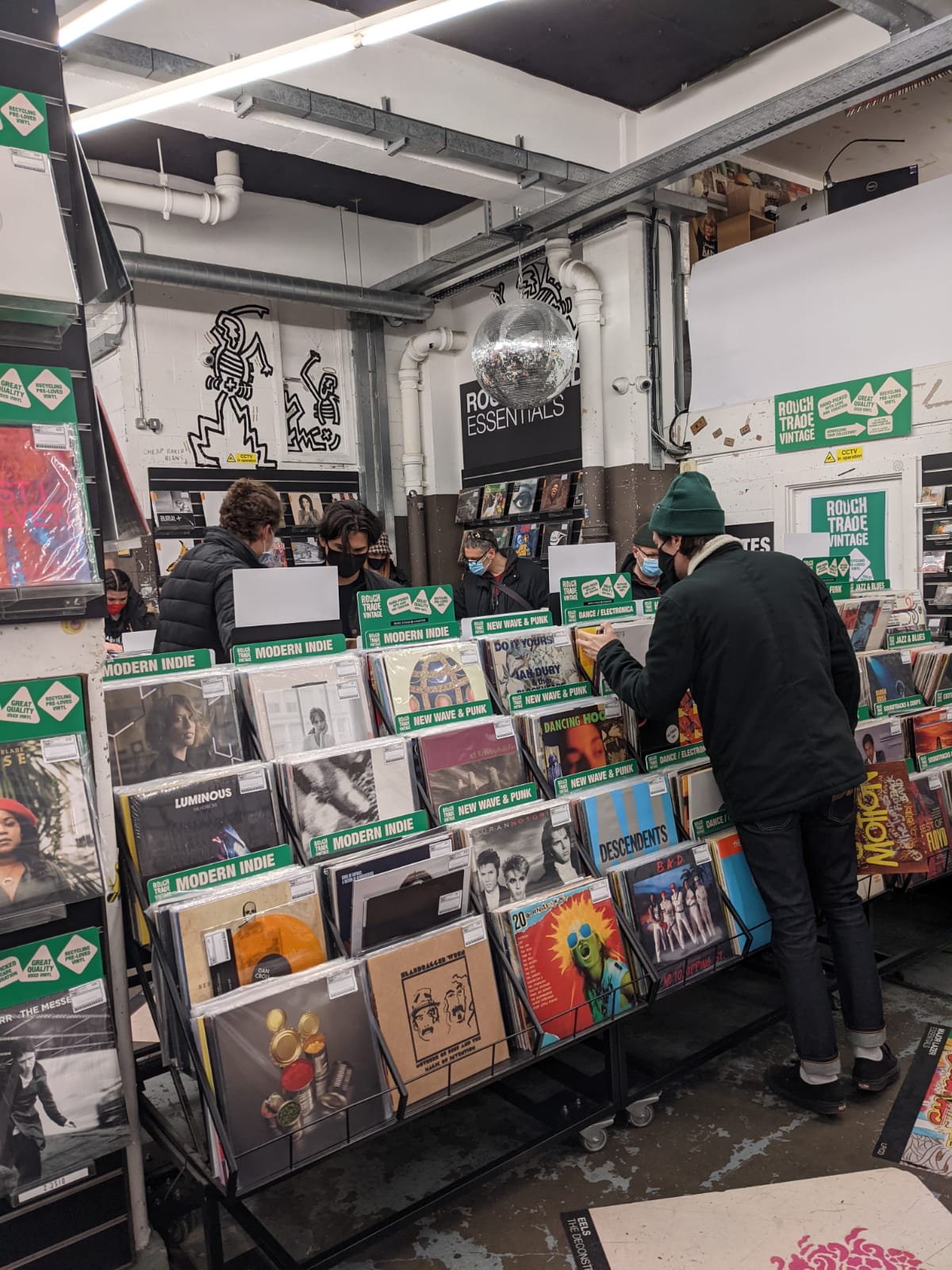 What categories or artists seem to be the most sought after by customers?
Umm, the good ones?! Ha! Well, one woman's Kraftwerk is another's Ed Sheeran. Seriously though, we try not to discriminate too much on taste. There are lines, though! The most sought after are either the classic albums, the key mid-range titles, rife in the 80s, so easier to source and price competitively. The other being at the more collectable end of the price range. So rarer items, usually within a more niche field than your 80s million sellers. Anything from the late 80s (to the present) within hip-hop, indie, Britpop to the coloured/limited pressings we see today, back down to the 70s and through the punk, post-punk of The Clash, Sex Pistols, Buzzcocks. Reggae/roots, soul/funk, "that band that never quite got the recognition it deserved", thus limited, were pressed at the time and have now become a cult, desired classic. Your more high-end early pressings of the behemoths in Pink Floyd, Led Zep, The Beatles, Stones, that lot. They don't hang around for long! Usually the earlier the pressing the more value it holds, even if the repress(es) are  on occasion of better quality. The first press still holds a fascination with collectors because it's the first press. Collectors want to get as close to their favourite artist as possible without resorting to mad stalker-ish levels!
How do you go about grading the stock that comes in?
Firstly we grade on title, the strength of the artist and title - sorry Engelbert. Then you go deeper and look at the actual record. You can tell within a few seconds where it lies: Near Mint, VG+, Good, Fair, to "arrrghh - that's a toasty!" You just hope those scratches are not on a King Crimson first press. Once you're happy with the disc you work backwards. So, disc, sleeve, inner sleeve, booklet.  If a Japanese pressing then you're looking at OBI strips, sometimes a poster. Inserts can actually hold a great deal of value. Pink Floyd's Wish You Were Here - you've got a great disc, a great cover, but have you got the postcard? The stickers? Is your poster intact? The complete package can really sky-rocket a price. You can quickly get lost, absorbed, obsessed by the adventure of collecting. Which reminds me of a story another collector told me recently. He was in Africa and chatting to collectors over there, pretty much any kind of original 50s/60s/70s African afro-funk/soul records are crazy collectible (even in the most outrageous of conditions, just as long as they exist). This is largely due to them being pressed on incredibly small runs, maybe 100 at a time, just for their mates to enjoy, dance and party to (contrast this to the Pink Floyd and Engelbert pressing, literally, gazillions). Anyway, he was chatting to a local about this really, really rare pressing and how sought after it is, really raving, then the local says "Well, I have one..." and they go back to his place and he's using it as part of his roof! "Stops the rain coming in." Haha! The contrast was stark! One man's super rare collectable is another's roof tile! Love it!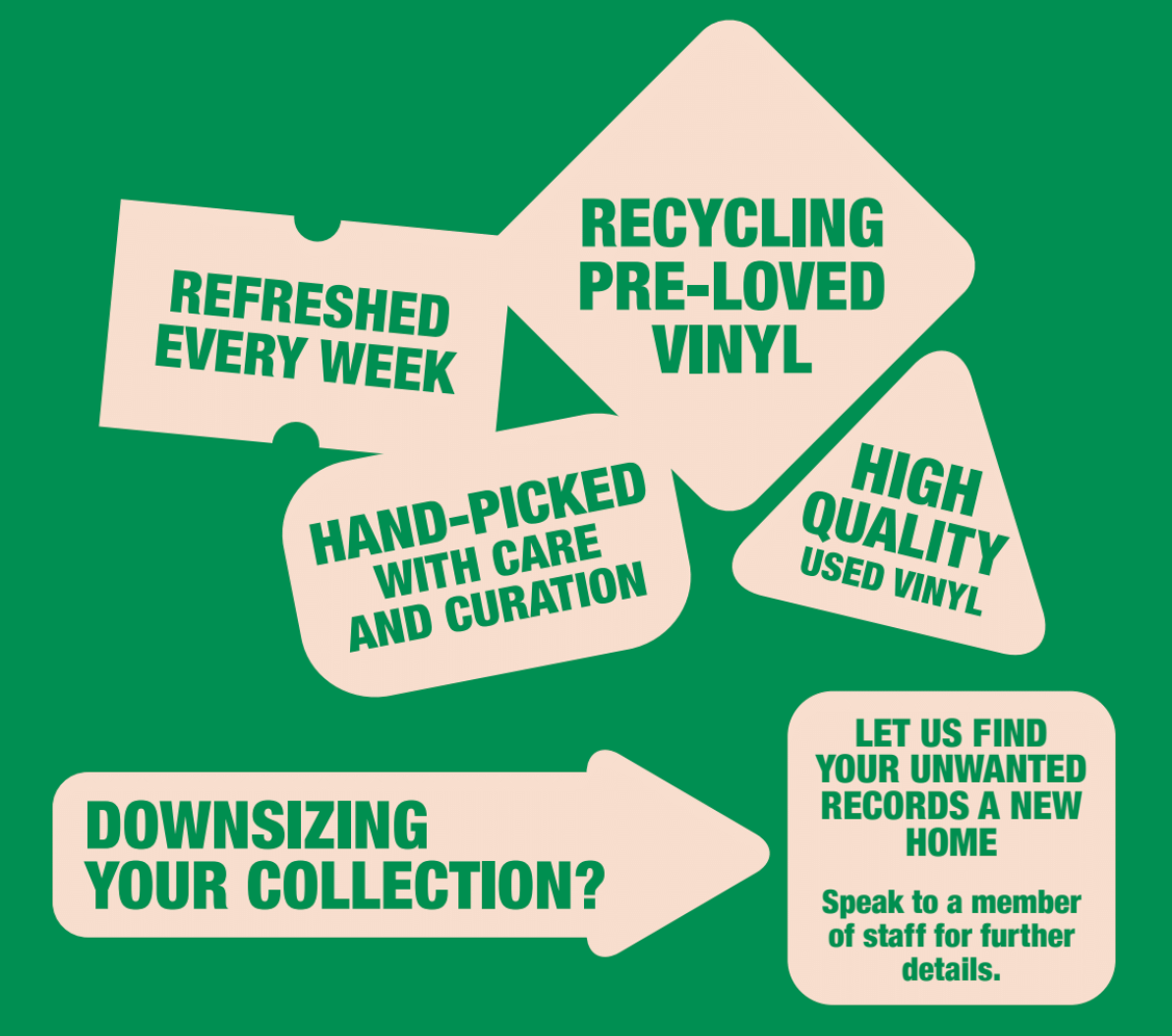 What's the rarest or most valuable record you've found since RTV launched?
This is definitely one of the most fun parts of this job. You never really know what's going to turn up (especially when sourcing from wholesalers and auctions) - then what it will sell for, where and how quickly. It's incredibly hard to predict. A few examples we've had are; Pinnacle, a Liverpool hard-rock psyche band from the mid-70s, with their album Assasin (1974) a one album band, incredibly sought-after. A 12" by a band called Cry No More - which included Chas Cronk of The Strawbs - called "Oh Sharon!(1989). To look at the cover you'd think it was a £3 charity shop staple. How wrong we were! In fact when it sold - 5 minutes after listing it - we had three other guys phoning the store saying they'd have paid more. Mad! Plus a first press of You'd Prefer An Astronaut (1995) by an American shoegaze band called Hum on green vinyl, that went to a guy in Europe for £300.
Is there a particular title that you are personally on the hunt for?
I'm quite fortunate in that, whilst my collection can seem out of control (more so to the girlfriend than me, obviously), I'm not that hung up on chasing those crazy records. Though in saying that - I'm not gonna pass up the opportunity of picking up some Nick Drake first pressings, or maybe the odd cult classic I had no idea existed. That's more the reward, for me. My ears are always open to discover more and more - and being in a job where you're exposed to so much goodness I feel incredibly fortunate to be in this position.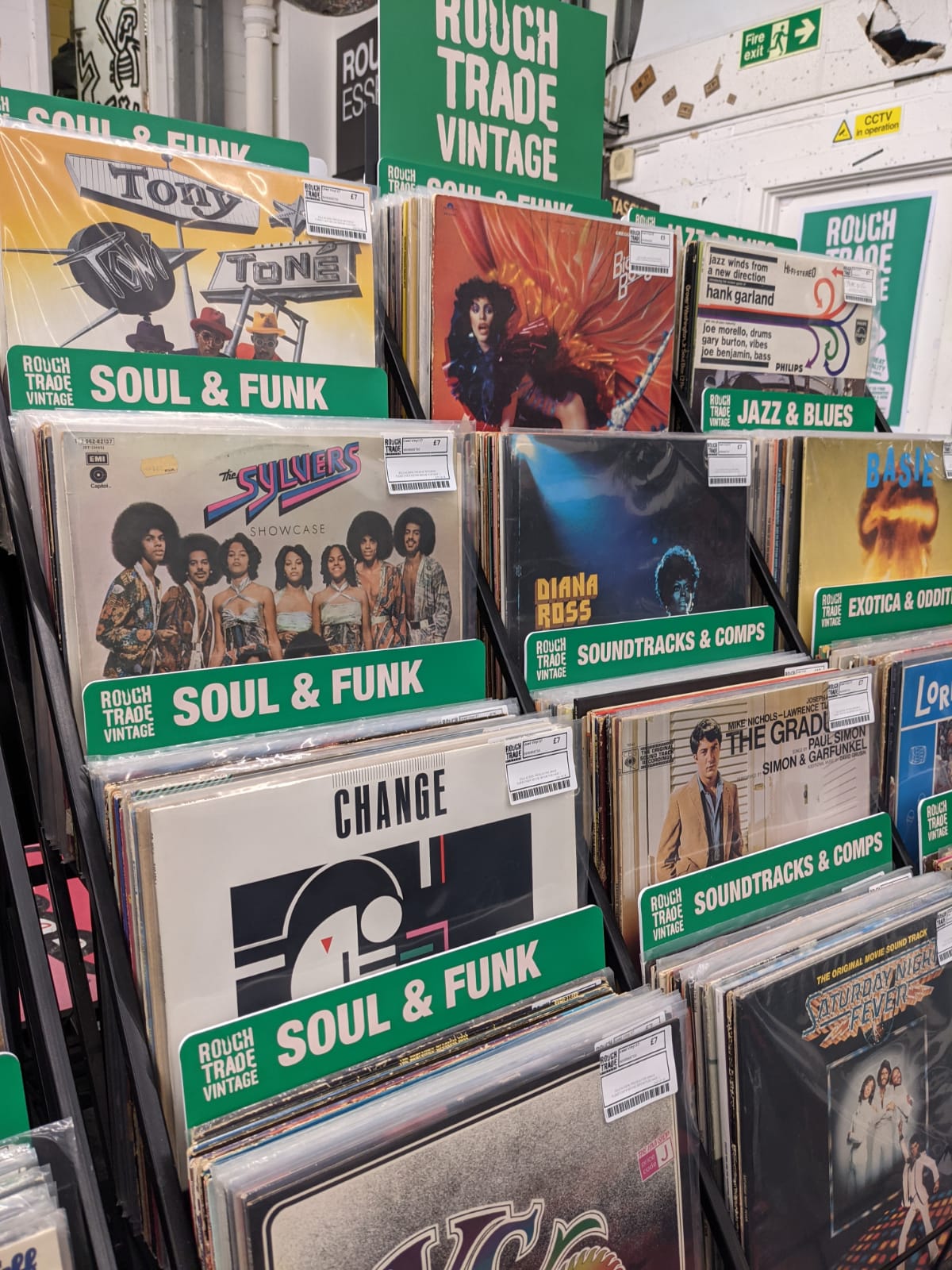 For you, what is it that makes shopping for second hand vinyl such a rewarding experience?
As above, I'm a music fan, first and foremost, and share the same joy as other fans, whatever the format - however you choose to consume. Listening, discovering, sharing. The real reward in used vinyl is you never know what's round the corner. What's behind that Humperdinck?! Probably another one, then another one and another, how many did he do?! But sometimes, just sometimes, boom, some mad cover art, some mad looking record on some mad label you've never heard of, you gamble, and sometimes it pays off. You feel enriched. You stick it on a mixtape/playlist for a mate. And repeat. You keep diggin'.
What can people expect from RTV in 2021?
We're all mad for opening on the 12th of April. It's been too long. We're continuing to source more and more. Making more and contacts all over the globe. And we're looking at processing more units than ever. To keep the titles fresh, to keep customers returning and spreading the good word of RTV.
Get browsing quality vintage vinyl!

All stores are now open 10am-7pm Monday-Saturday and 11am-5pm Sunday.

Sell us your pre-loved records!

Looking to downsize your collection to make room for more? Then we are interested in buying your pre-loved vinyl records.