Collective passion meets individual taste.
Rough Trade and Goldsmith Vintage collaborate for second, Limited Edition range, featuring artist Kate Prior.
Following on from the success of the inaugural collaboration last year, Rough Trade and Goldsmith Vintage are pleased to announce a second capsule, featuring exclusive artwork created by UK-based artist Kate Prior. The technicolour, unisex capsule celebrates the nation's enduring love of vinyl and vintage clothing.
Vintage and vinyl have always had a natural synergy; both are symbols of self-expression and individual taste - circular by nature they are equally cherished possessions that transcend trends and pass down through generations.
"We are proud to join forces, with our friends over at Rough Trade once again. After the huge success of the debut collection last year, we're excited for another run with the very talented and quirky artist, Kate Prior. As a devoted vinyl lover and avid supporter of independent record stores, this is a project we're thrilled to be a part of once again."

- Peter Goldsmith, founder of Goldsmith Vintage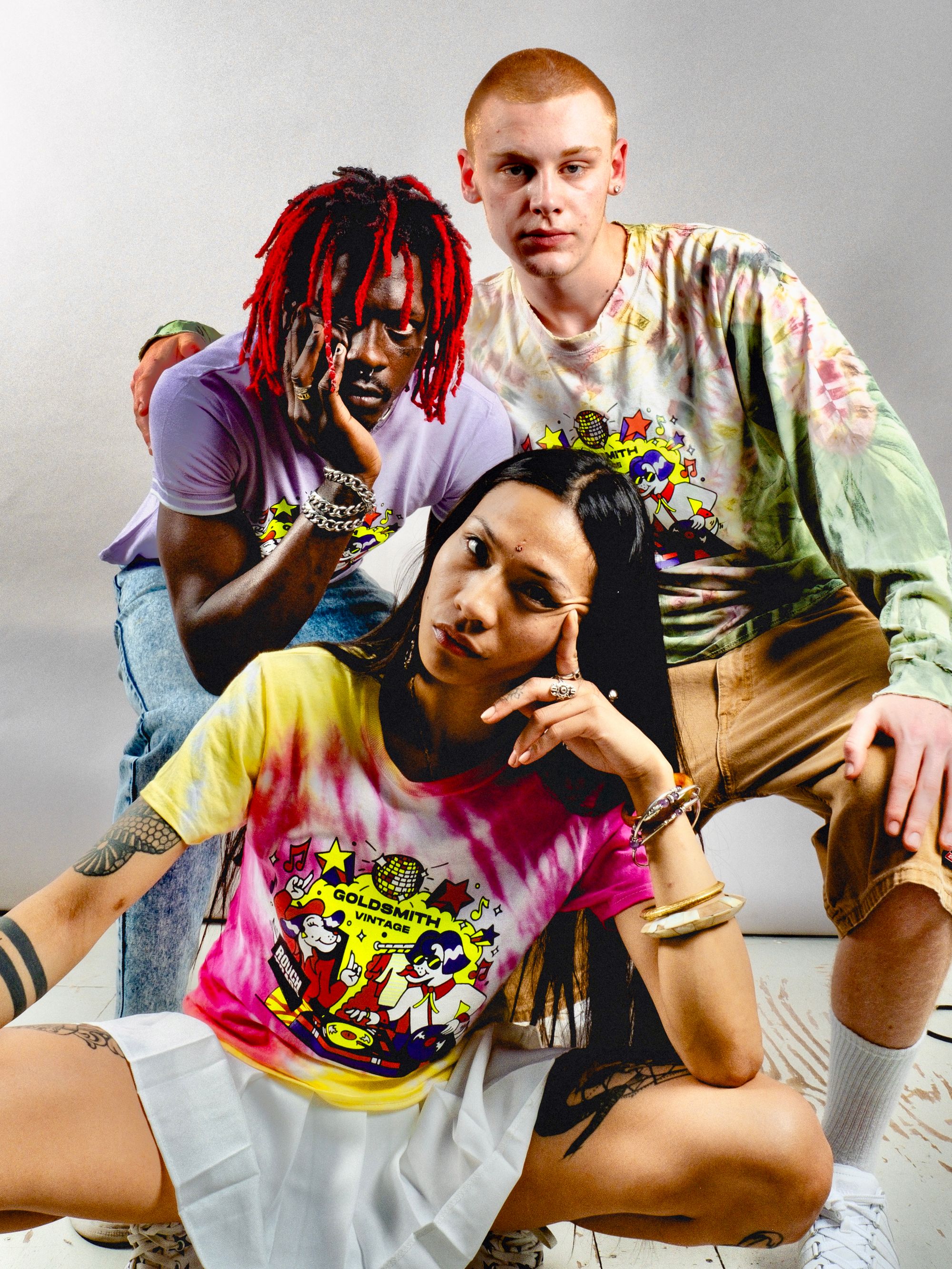 The limited-edition range, available exclusively from Rough Trade and Goldsmith Vintage, draws on the cultural interplay of vintage fashion and independent music, and features a bespoke motif, created exclusively by Kate Prior.
Printed on Goldsmith Vintage sourced preloved tees, sweatshirts and hoodies in seasonal colours - making every piece unique - the eye catching, technicolour illustration features both the Rough Trade and Goldsmith Vintage logos incorporated into loveable characters expressing a mutual love of fashion and music (plus a nod to Rough Trade East's iconic disco balls). Shot in and around Portobello Road, home to both brands' stores, the shoot encapsulates the playful community spirit of this world renowned mecca for both vintage fashion and vinyl records.
"Rough Trade is really excited to collaborate with Goldsmith Vintage once again, producing a unique capsule that lovingly acknowledges the synergy between vintage clothing and building a personal record collection. Every piece in our line is as individual as the person wearing it and indeed, their taste in music. Something to be truly celebrated. In the era of hyper-consumerism, we are proud to promote the longevity of the items we sell while combining our great love of the physical music format with quality pre-loved clothing and the bold brilliance of illustrator Kate Prior."

- Emily Waller, Head of Brand and Content, Rough Trade
Every piece is unique but forms part of a limited capsule of 280.
Photos by James Potter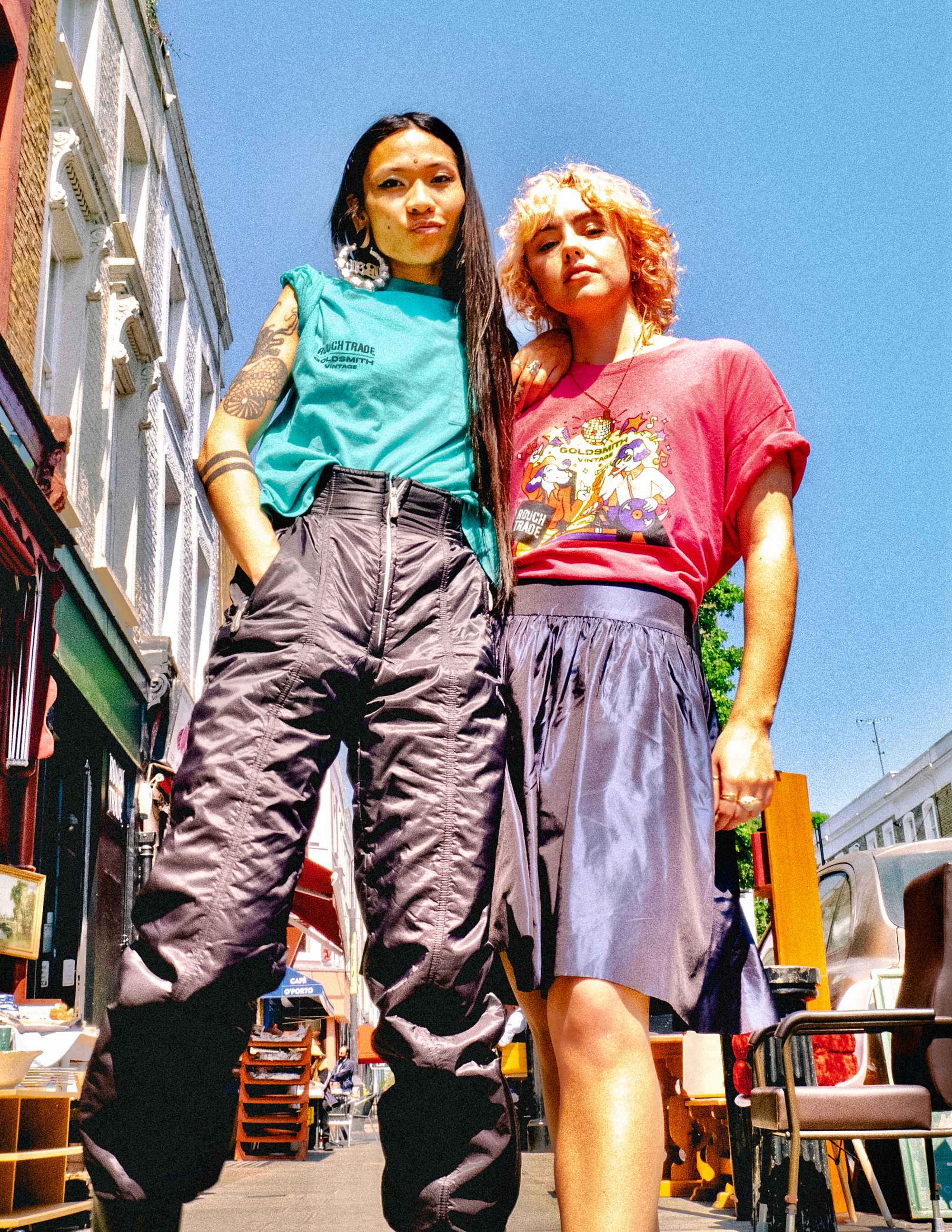 About Kate Prior
Kate is a potty humour specialist creating obnoxiously bright and squidgy illustrated characters, lettering and branding, as well as rudimentarily charming animations for a wide range of clients across the globe including Google, Apple, The New York Times, The New Yorker, Urban Outfitters and It's Nice That.
How to purchase
The Limited Edition collection will be available at the following Rough Trade and Goldsmith Vintage stores from Thursday 20th July:
Goldsmith Vintage - 176 Portobello Road, W11 2EB
Rough Trade West - 130 Talbot Road, W11 1JA
Rough Trade Soho - 50-54 Beak St, London W1F 9RN
Rough Trade East - Old Truman Brewery 91, Brick Lane, London E1 6QL
Rough Trade Bristol - 3 New Bridewell, Nelson St, Bristol BS1 2QD
Rough Trade Nottingham - 5 Broad St, Nottingham NG1 3AJ
Goldsmith Vintage x Rough Trade T Shirt - £35
Goldsmith Vintage x Rough Trade Sweatshirt/Hoodie - £60

*Please note that all garments are vintage and therefore may show some small signs of wear.