"I felt like what I wanted to say, I couldn't say it in no two minutes and 30 seconds, because I wanted to speak through the arrangement, I wanted to speak through singing, I wanted to speak through actual monologue. I cut that record with all the freedom in the world and it was a beautiful release for me."

– Isaac Hayes on Hot Buttered Soul, Rolling Stone, 1972
A truly timeless album in soul music history, Hot Buttered Soul launched the career of Isaac Hayes, putting him firmly on the map as a musical force to be reckoned with and a source of musical inspiration for generations to come.
A staple in our Rough Trade Essential range, we're proud to reissue Hot Buttered Soul on Essential Edition gold vinyl, cut at London's Abbey Road Studios by Miles Showell and featuring audio remastered from the original analogue tapes by engineer Dave Cooley.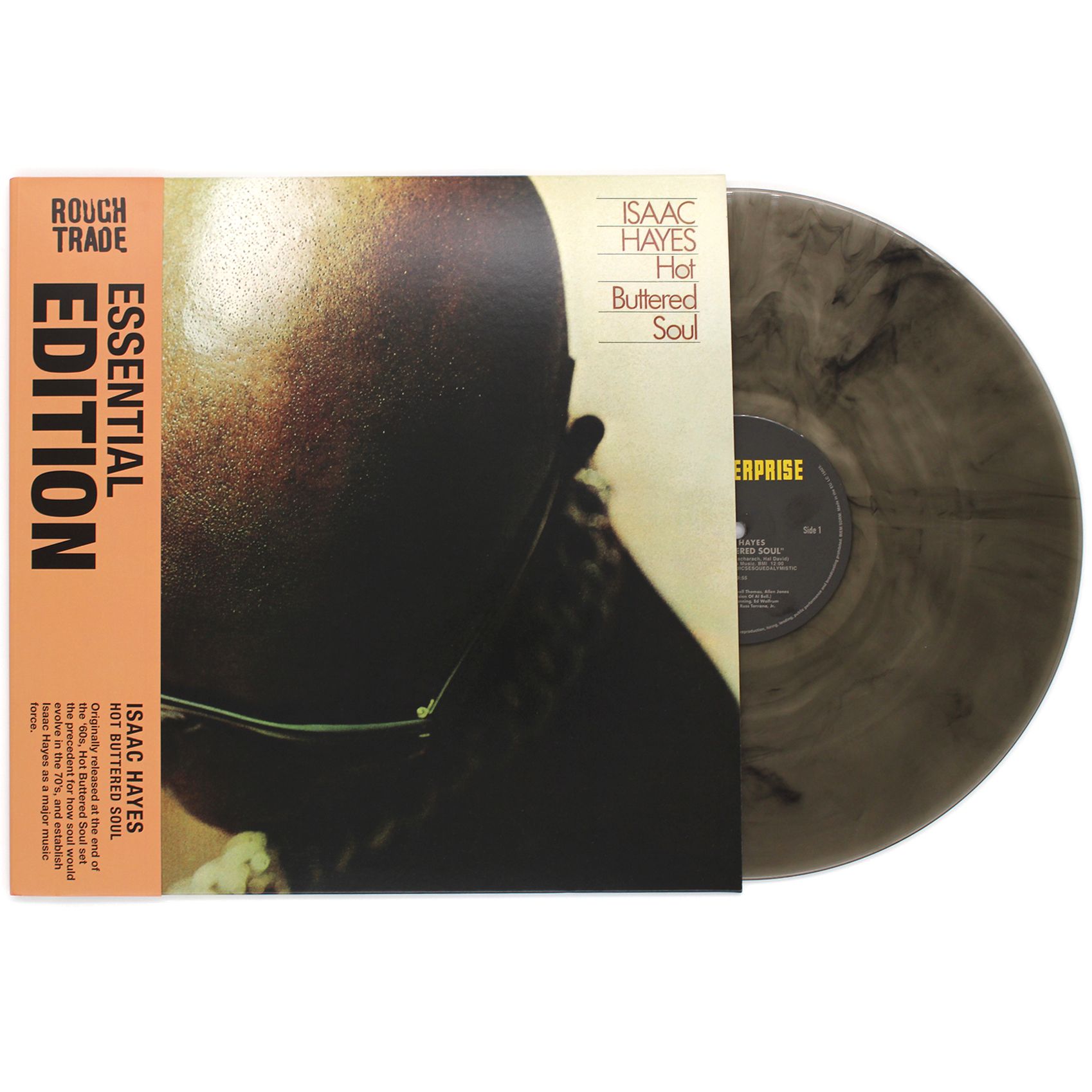 Isaac Hayes - Hot Buttered Soul
Rough Trade Essential Edition gold vinyl
BUY NOW
Hayes' renowned sophomore came into existence after Memphis label Stax Records, where Hayes served as an in-house songwriter, session musician and record producer, hit a large bump into the road. The established label was responsible for a plethora of influential music by African American artists throughout the 1960s but was struck by a series of awful luck with their biggest artist Otis Redding passing away in 1967 and a severance of their distribution deal with Atlantic Records in 1968. With the entirety of Stax's back catalogue lost with Atlantic, Stax's Executive Vice President, Al Bell, called for 27 albums from the various artists on the label. This was Haye's moment. Having suffered a flop with his debut record Presenting Isaac Hayes, Hayes said he would step up - only if he had complete creative control. It was agreed and Hayes set to cooking up his sophisticated and signature sound of symphonic soul into a 4-track album, clocking in at a grand 45 minutes.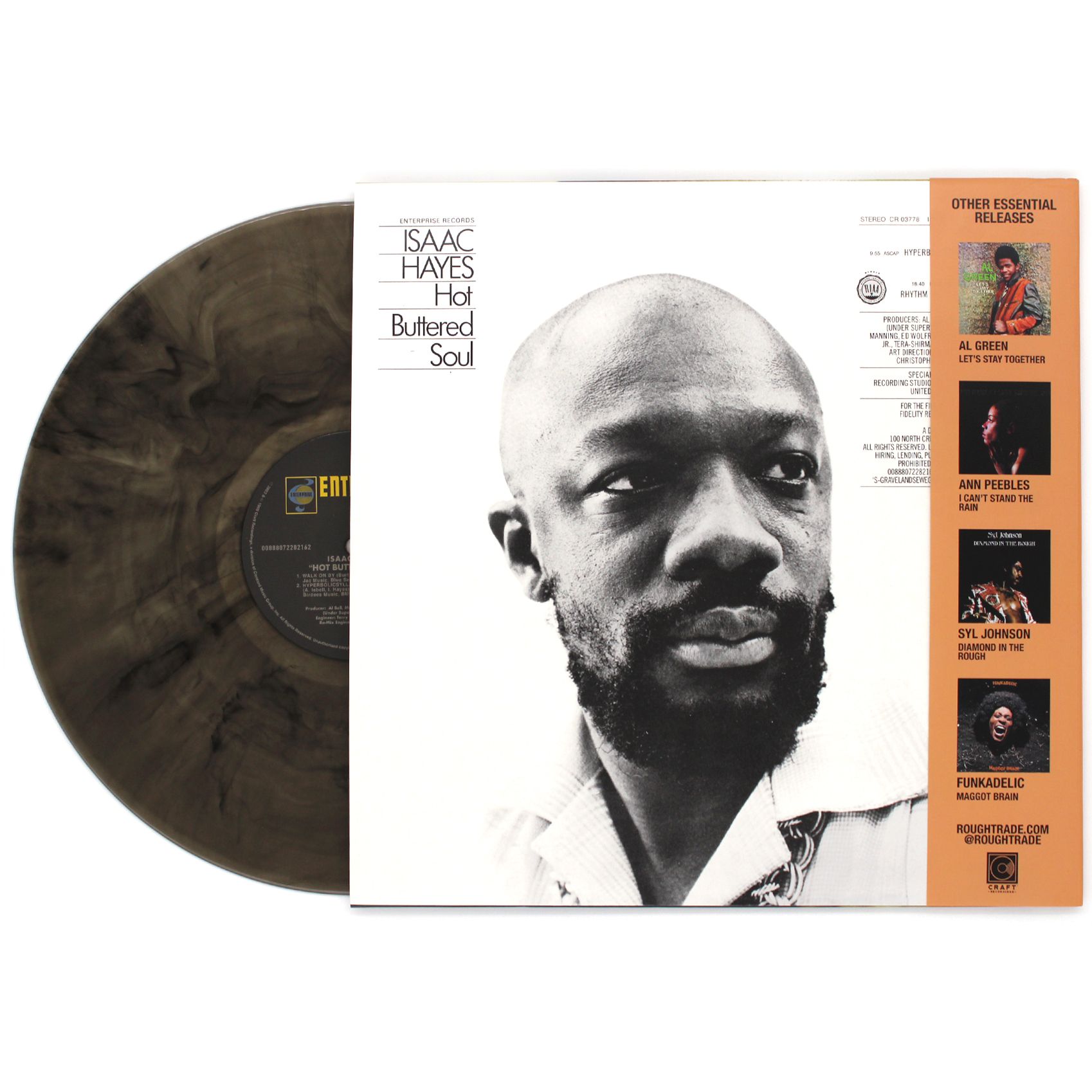 ---
To mark this special limited edition release, we took the opportunity to look back at the four extended psychedelic-orchestral tracks which make up the 45-minute masterpiece...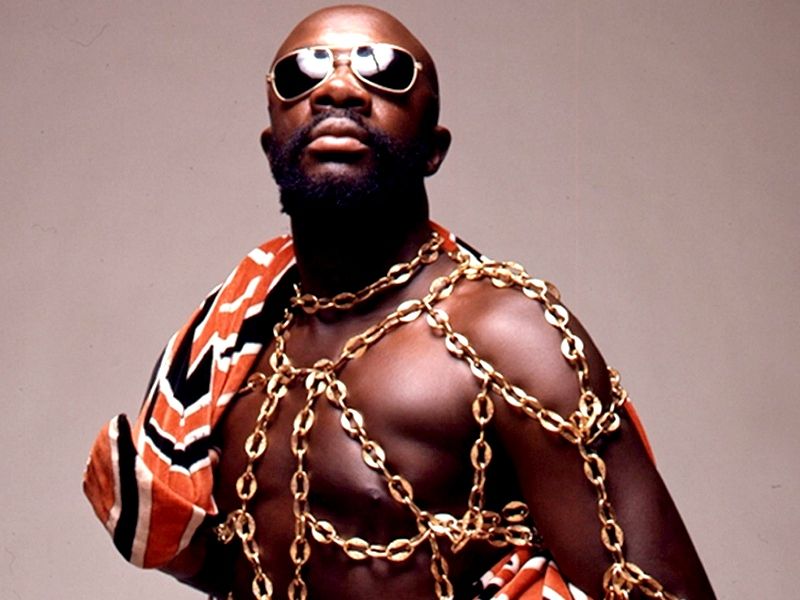 Side One
Walk On By
'If you see me walking down the street / And I start to cry each time we meet
Walk on by, walk on by'
An operatic opener for the album, Hayes automatically introduces his listeners to his grand designs around genre, melding chamber music and funk with a soul-gospel influence. A cover of Dionne Warwick's romantic ballad Walk On By. The track sets the tone for the album's conceptual nature, as the entire album is situated around one character's trials and tribulations in love. Hayes's soothing voice floats over stripped back instrumentation swaddled by the large orchestra and prominent guitar solos. It is one of the most sampled tracks from the album, repurposed by artists such as MF Doom, Pete Rock, Beyonce and The Notorious B.I.G.
Watch the soul genius perform the stellar track live:
Hyperbolicsyllabicsesquedalymistic
'My gastronomical stupensity is really satisfied when you're loving me'
A super long track with an equally super long name. A mouthful to say but a delight to the ears, Hyperbolicsyllabicsesquedalymistic is the only wholly original composition on the album. An epic jam with psychedelic guitar distortions and the signature plush orchestrations of symphonic soul. This track traverses the lighthearted and political, its name deriving from a word Stax Executive Vice President Al Bell jokingly coined to describe 'those who abuse big words' and its lyrics acknowledging the current climate of protest at the time: 'A slave's on a horse every time she explores / Just heard a discussion about, uh, racial relations.' Melt into its undulating bassline and dig the escapist groove.
Side Two
One Woman
'One woman's making my home / while the other woman's making me do wrong.'

A fingerbreadth over 5 minutes, this is the album's shortest track, kicking off the considerably more downbeat side two. Originally released by fellow soulful crooner Al Green Hayes adds his symphonic twist, building another brass packed track, which brings together the soaring vocals of a female choir paired with the gentle piano arrangement and melodic woodwinds. A poignant track where Isaac's deep bass voice comes into its own via lyrical storytelling.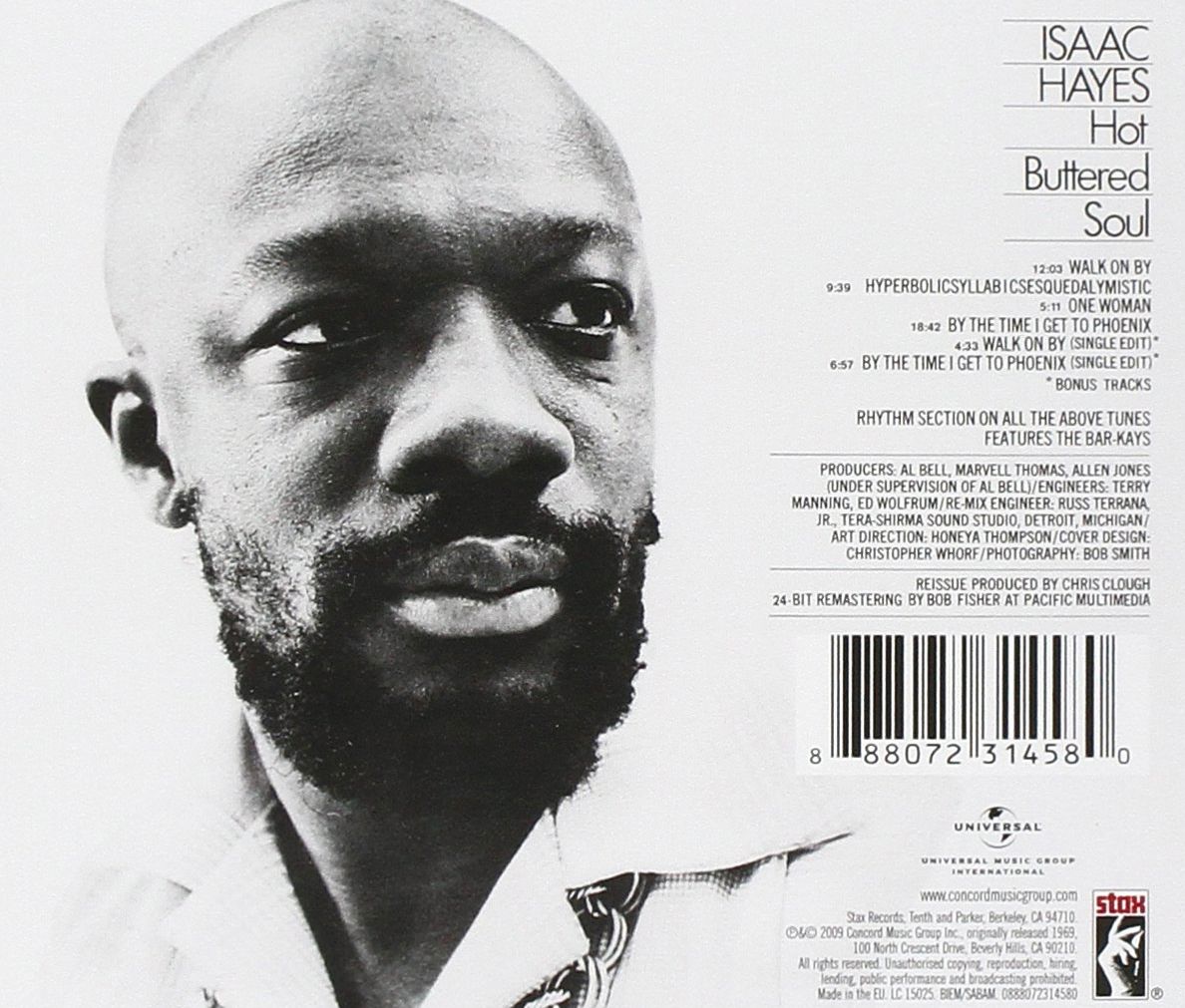 "I was knocked by some critics at that time saying, 'Who does he think he is, taking horns and strings and putting them on top of funky rhythm tracks?' But that was the way I felt and now it's the going thing."
- Hayes speaking to Black Music & Jazz Review
By The Time I Get to Phoenix
By the time I get to Phoenix she'll be rising / She'll find the note I left hangin' on her door / She'll laugh when she reads the part that says I'm leavin' / 'Cause I've left that girl so many times before
Hayes' cover of Jimmy Webb's By the Time I Get to Phoenix, a hit for the country singer Glen Campbell. With the lyrics depicting time passing by as the singer travels away from his home and a woman it is known as one the greatest 'torch' songs ever. Hayes gave the track his specific stamp, prefacing the song with a nearly nine-minute spoken-word monologue recounting the events that transpired before the actual road trip continuing the album's exploratory theme of the spell of love.
"Hayes is remembered as soul music's first superhero, a young black man who had risen from poverty to prove he could do everything musically, from sing, play (keyboards, vibes, alto sax), produce, compose, arrange, and score motion pictures."
---
Can't get enough of Hot Buttered Soul? Explore the genius of Isaac Hayes further with his successful 70's Blaxploitation soundtrack Shaft.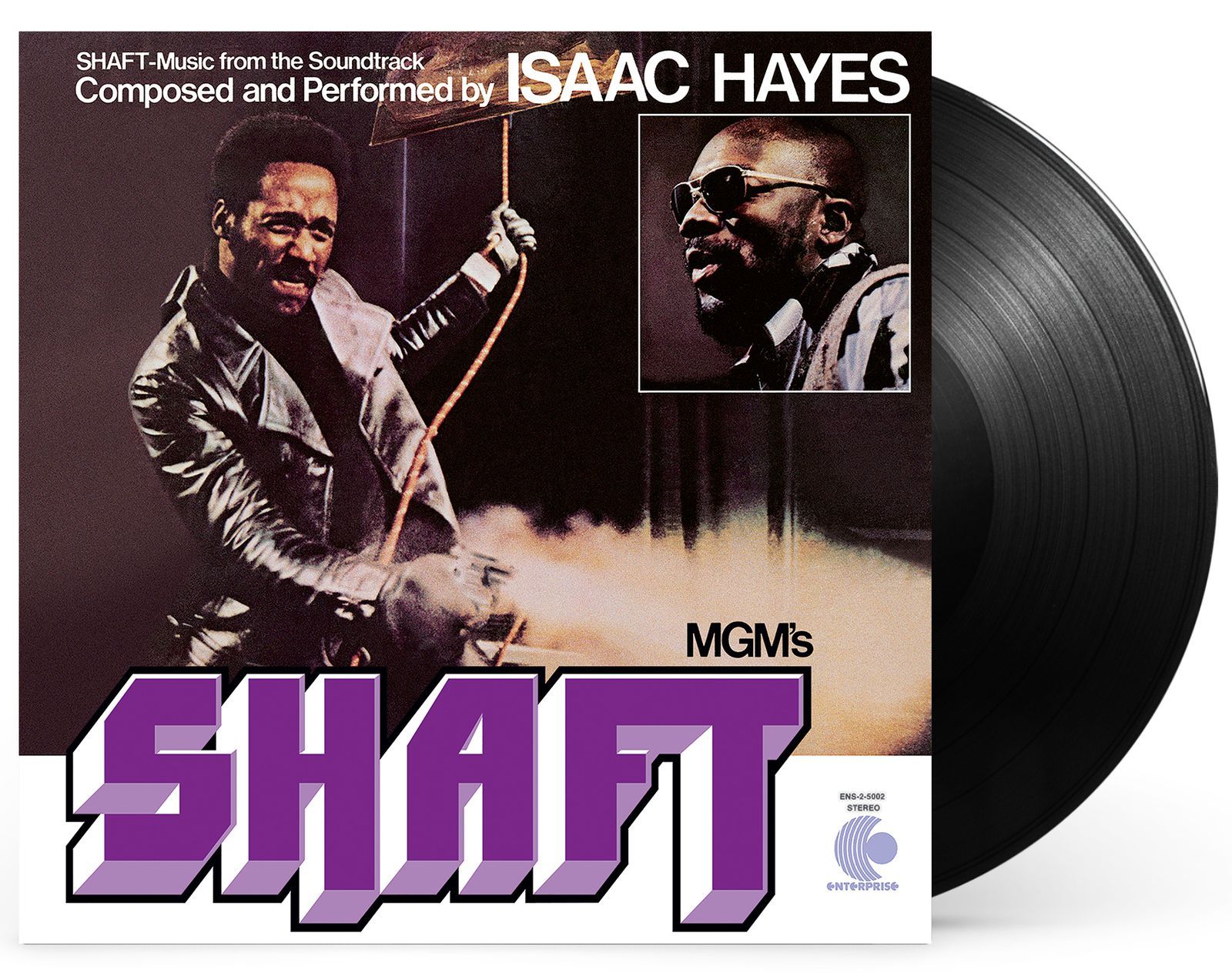 Isaac Hayes - Shaft
Music from the soundtrack.
BUY NOW
'Who is the man that would risk his neck for his brother man?
(Shaft) / Can you dig it?'
One of the many wonderful Blaxploitation soundtracks to emerge during the early 1970s, Hayes delivered an anthem just as ambitious and revered as the film itself with Theme From Shaft a song that has only grown more treasured over the years, after having been an enormously popular hit at the time of its release. With this track, Hayes became the first black composer to win the Oscar for Best Song. The soul-funk styled theme song with it's wah-wah guitars and hi-hat cymbals is perfect to strut down the street to with smouldering confidence and main character energy.
'They say this cat Shaft is a bad mother / Shut your mouth!'
---
Looking for more music maketh a movie moments? Check out our Iconic Y2K Movie Music Moments feature.