Over the next few weeks, Rough Trade paper bags will become available to buy with any in-store purchase.
Contrary to popular (mis)perception, paper bags actually have a higher carbon footprint than plastic bags.
However, given that our FSC paper bags can be fully recycled, they decompose significantly quicker than plastic (plastic can take 1k years!) and they're harmless to wildlife (plastic bag litter isn't a great look for wildlife), we think this is the better option.
Furthermore, we're also providing the option to purchase one of our new paper bags for £1 / $1, with profits being donated to our reforestation partner, One Tree Planted, who plant trees globally based on where they're most impactful...
We're calling this option BUY ONE GET ONE TREE, and it's available on request at any of our store counters where you see the sign.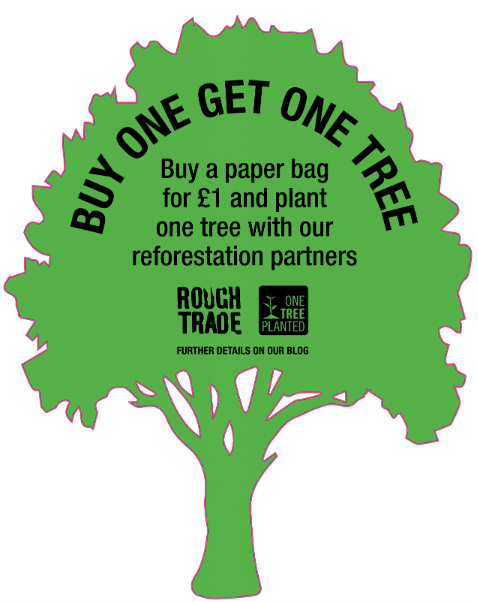 Environmentally speaking, the best choice is no bag whatsoever. But if you do need a bag, we consider our options to be as environmentally responsible as possible: forests naturally remove huge amounts of carbon dioxide from the atmosphere, so reforestation helps slow down climate crisis damage.
"One Tree Planted is grateful to Rough Trade for partnering with us to support reforestation and leading sustainability in the Music Retail industry."
One Tree Planted
For us, this is a small but essential step we as a company will be making toward making a bigger, positive environmental change. Further steps to be announced in due course. In the meantime, if you've yet to read David Wallace-Wells' The Uninhabitable Earth, we highly recommend - not just for your sake, but for all our sakes!