It's not uncommon for vinyl release dates to change due to a number of factors, but right now, there seems to be more delays / date changes than usual, which is obviously frustrating for all concerned, most notably for yourselves as customers!
Recent examples include the new Sufjan Stevens record, Peter Gabriel Live series, John Parish and PJ Harvey - Dance Hall At Louse Point, The Weeknd - After Hours, Blue Note, Re: Imagined, etc.
So, we went to find out what's going on, and spoke with a number of people involved in the process, from labels to pressing plants, the feedback from which can be summarised as follows...
There seems to be conspiring factors causing delays right now:
demand for vinyl is booming, leaving very little to no spare capacity at vinyl pressing plants, which in turn creates a longer 'waiting list' for releases to be pressed
the vinyl pressing plants are working under COVID-19 social distancing measures, so less workers at a time when demand is at its highest
a number of pressing plants had to make staff (temporarily) redundant at the start of lockdown measures so again, less resources to handle the booming demand
records that changed their digital release date due to COVID have found themselves going to the back of the vinyl pressing queue
As a result of the above, it's taking pretty much double the 'normal' time to press a record, with lead times having gone from two months to three to four months.
Given this changeable backdrop, we've now begun to email our customers as soon as a release date changes, so no more unwelcome 'no show' surprises, no more wondering why something hasn't arrived on your doorstep as expected. It's a small but hopefully helpful service improvement, giving you assurance that your pre-ordered vinyl will arrive just as soon as it's (finally!) pressed!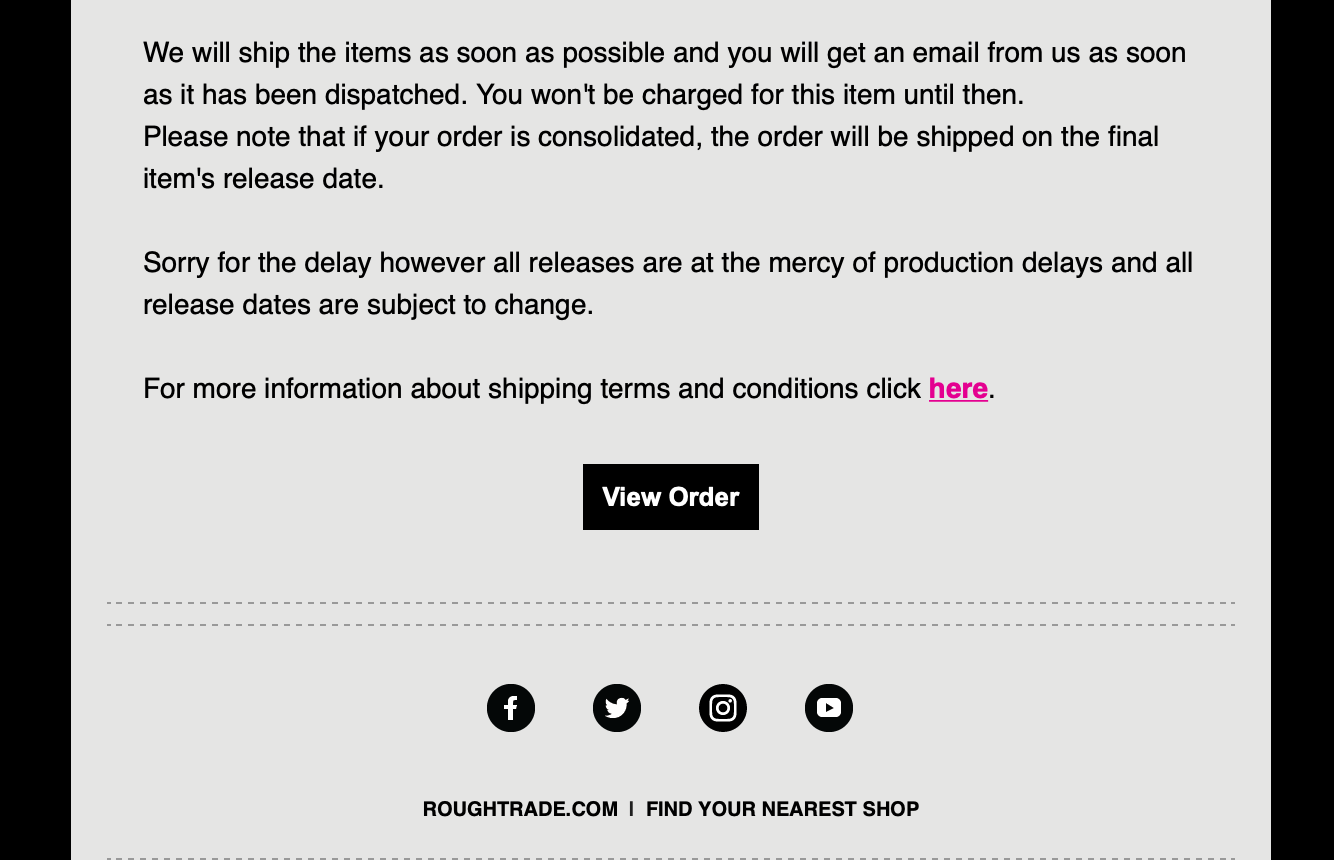 As always, your continued custom is massively appreciated.