Go behind the scenes and discover the place where we fulfil (quite literally) your online record store wishes to the very best of our ability, aided by the steady skills of our passionate and dedicated team.
As a direct response to the increased demand online as a result of the pandemic, we moved into a larger warehouse in June of 2021, after relocation from London to Bristol the year before. Our warehouse employs in the region of 20 staff, all music aficionados, many of whom have their own music projects/bands outside of Rough Trade.
Read on to find answers to some of your most frequently asked questions when shopping at roughtrade.com and be sure to check out our 'day in the life' mini doc on TikTok for a tour of our warehouse space and a chance to meet some of our brilliant team.
FAQ!
Shopping your favourite music should be a walk in the park, but we understand some things might need clarification and so who better placed to answer your queries than our friendly Customer Services Manager, Matt.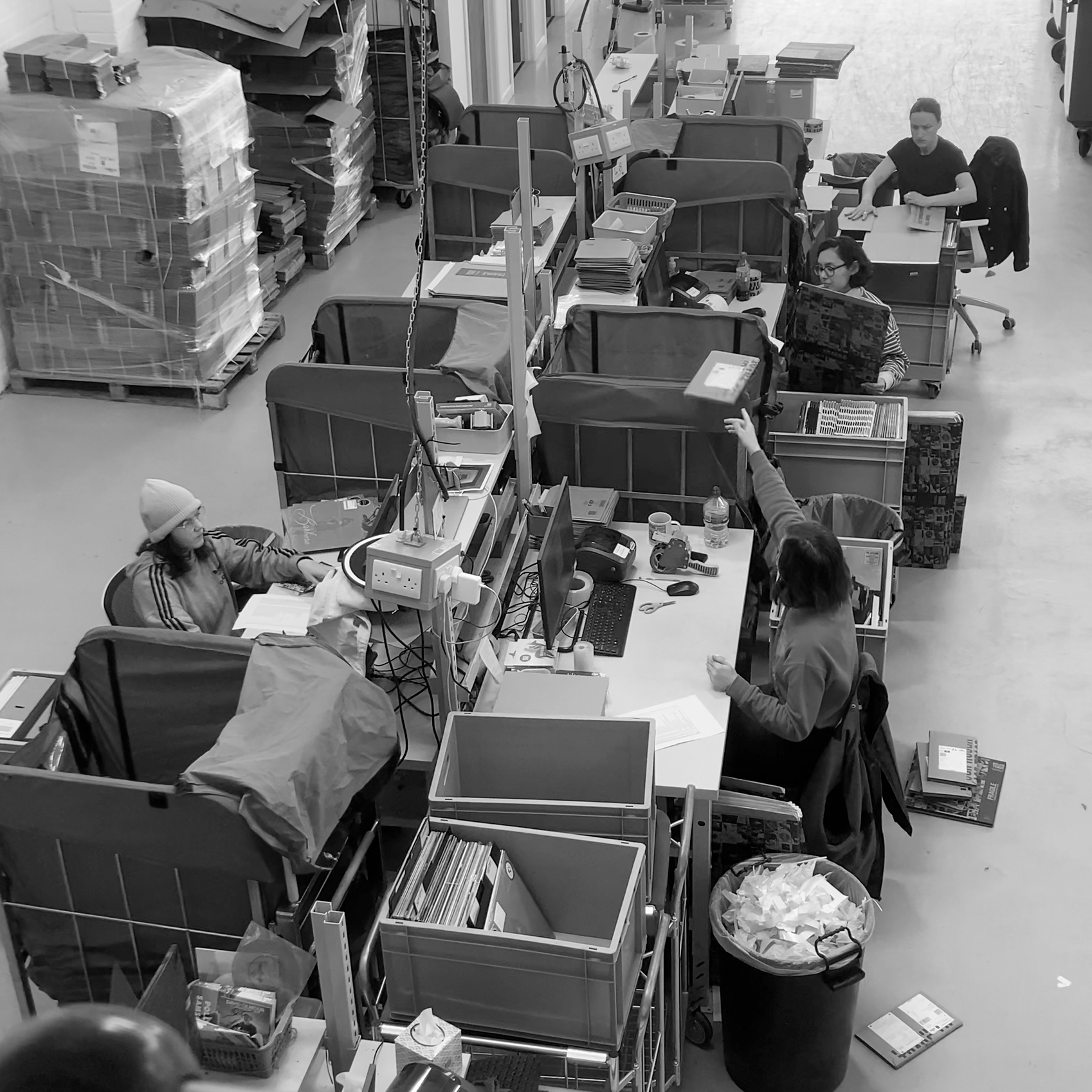 Hey Matt!

What is a customer limit and why do some products have a customer limit attached to them?
We absolutely love putting together limited and special variants of records and feel it's fairest to give as many customers a chance to own a copy as possible. The customer limit helps us to regulate this fairly, it indicates the maximum number of copies available to purchase per customer. This limit will typically be in place on products with a more limited supply, where we set the limit is totally dependent on supply and demand.
When will you take payment for my order and how quickly will it reach me?
We do not collect payment for orders until they ship, this goes for all orders including pre-orders. We find that due to the current variability of vinyl it's fairest to only take payment once an order is heading out the door to you. The speed of your order will depend on whether the stock is readily available to us as well as how quickly your selected shipping provider can deliver the package once it's left our warehouse. Presuming all stock for your order is already available at our warehouse orders are typically dispatched within 48 hours of ordering.
If a product reads 'Notify Me', does that mean it's sold out?
This means that the item has unfortunately sold out and we are currently unable to source any more stock. However, there's always a possibility that more copies may become available at a later date, usually as a result of order cancellations or unanticipated restocks from the supplier. The 'Notify Me' button can be used to alert you to this, sending you an email immediately should more stock be made available for purchase on our website.
Why do some products note a '5-10 day dispatch' time?
As well as items that are already in our warehouse, we also list titles that are in stock at our stores for purchase online. In addition, we work with our distribution partners to make available titles that are in their warehouses. For these titles, once your order is placed, we have to transfer it from either a store or a distributor before we can ship the order from our warehouse. The 5-10 day notification should let you know to expect a slightly longer delivery time while we move the stock prior to dispatching your order.
If I order multiple items, will they all arrive together?
If you are ordering multiple items, you can either opt to have these all shipped together to save on postage, or separately as soon as the items are available. Naturally, if items are sent separately, they should reach you sooner than if we wait for all items to be available before sending. It's worth noting that pre-orders in particular can delay an order that is being shipped together; although some of the other items you ordered may be in stock, they will not be sent to you until the pre-ordered item is released. So if you plan on pre-ordering multiple records with very different release dates, it may be worth having them shipped separately to avoid these delays!
If I have a question about my order, where is the best place to enquire?
We hope that everything you order from us arrives with you safely, but in the event that there are any issues, we're always happy to help get things back on track! Simply drop us an email to enquiries@roughtrade.com where a member of our team will be on hand to resolve any problems right away. It's worth noting that opening up and checking/testing any records you've ordered with us does not impact any of our returns policies! Please feel free to check your copy to your heart's content before getting in touch.
What's the best source for keeping up to date with the latest Rough Trade Exclusive vinyl and new pre-orders?
There are a few ways you can keep up with the latest titles being announced...
The best and most direct way is to sign up to our newsletter for regular updates on what's new, what's hot and what's back in stock. Make sure you tell us what music you're into when you sign up, so we can tailor notifications to you.

You can also follow us on Twitter, where we regularly announce big new releases and every Rough Trade Exclusive going.

Finally, browse our site to see the latest Rough Trade Exclusives being listed, or most popular pre-orders.