"Do you ever hear a song the same way twice? The War On Drugs' sprawling canon has me asking myself this a heck of a lot."
Words by Emily Waller, Rough Trade's Head of Brand and Content
Lord, this was hard. 10 turned into 15 turned into 20 (and I could still swap in/out, add and stitch depending on what day you ask me.) But that's music for you - though we all have our favourites, it's not uncommon for our ears' (and our hearts)' disposition to wax and wane in response to even the slightest of newfound sonic detail. Do you ever hear a song the same way twice? The War On Drugs' sprawling canon has me asking myself this a heck of a lot.
Founded in Philadelphia in 2005 by friends Adam Granduciel and Kurt Vile, The War On Drugs were born from a shared obsession with guitars and fervent love for Bob Dylan. Five albums in, frontman Granduciel serves as the sole constant member and primary songwriter, penning introspective, wistful lyrics against expansive layered guitars commanding more pedals than the Tour de France.
I'm fairly convinced the dictionary needs a new entry specifically defining THAT feeling I'll affectionately refer to here as a 'TWOD-rush'. You know the one, when Adam et al play as if they're ascending beyond the world's edge, simultaneously injecting their audience with a potent endorphin mix and a very capable dose of damp eye.
And so to the list, a selection of tracks (in no particular order) spanning the band's entire catalogue that for the most part pass the test of turning me into a seriously dewy (though hopelessly joyful) mess.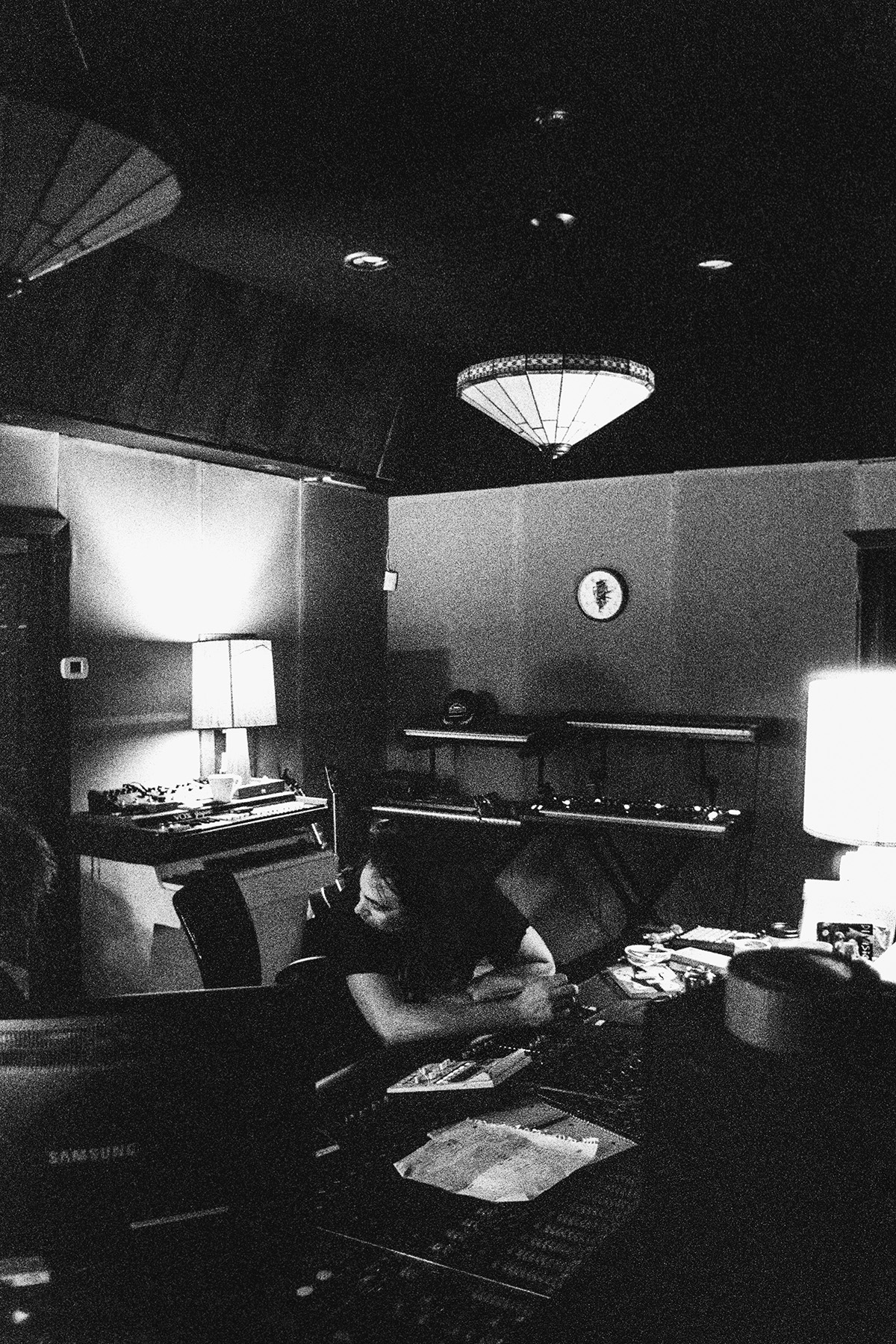 Burning
Outside of naming his baby son Bruce, Burning has to be Adam Granduciel's biggest homage to The Boss. At once familiar but at the same time totally new, 56 seconds in the song sets sail and carries you up and up until, approaching the 5-minute mark, you reach those euphoric "woo-hoos" that cause the chills running up your spine to erupt out your shoulder blades and part the clouds of heaven. A-friggin'-men.  
Black Water Falls
Remember me when you dissolve in the rain
The closer to Slave Ambient as well as the band's early era before Lost In The Dream released to universal acclaim and a major record deal. It's truly one of the gemstones in The War On Drugs' ramblin' crown, a beautiful folk song accompanied by a glittering instrumental pulse.
Check out baby Adam and this early Open Bar acoustic rendition.
Comin' Through
Future Weather
Comin' Through didn't make it onto Slave Ambient but that's ok because it will forever have a place on the Future Weather EP and in my enchanted Americana heart.
I Don't Live Here Anymore
We're all just walkin' through this darkness on our own
Despite their appeal and success, The War On Drugs don't have a whole lot of songs you can actually sing along to, but with album five's title track we find a glittering, cruising, 80s soft-rock stadium anthem that is crying out for congregation.
Red Eyes
Big synth energy, a driving beat, dancing keys and guitar hooks for days. The song that ignited an army of indie rock hearts circa. 2014.
Pain
A Deeper Understanding

Pull me close and let me hold you in
Give me the deeper understanding of who I am
I best prefix this one by saying I consider A Deeper Understanding to be The War On Drugs' masterpiece and it was fairly bloody hard not to include the majority of its track list in this compilation. Pain is easily one of my most-played tracks (of any band) and has me weeping at live sets largely because of it's immense guitar rips, especially the one that kicks in at 3:44 and rides a massive crescendo into blissful transcendence. Cannot. Get. Enough.
Brothers
Slave Ambient

Future Weather's Brothers evolves into an even better version on Slave Ambient that chugs alongs gloriously, gleaming and channelling an unrestrained sense of self. Pop it in your walkman and stroll contented.

Fun fact: The National (ft. brother pairs Dessner and Devendorf) used it as their 'walk on' music during their High Violet tour
Oceans Of Darkness
Granduciel didn't include this on the original album as he didn't feel he could house it among the other songs. Having debuted the song live as early as 2020, it was still a core part of the IDLHA sessions and so, along with Slow Ghost, it was released on 7" as part of the Deluxe Edition box set in late 2022. Straight out the gates this is a massive foot stomper and heart thumper, garnished with gloriously gratifying shimmering guitars. Just when we didn't think I Don't Live Here Anymore could get any better.
In Reverse
As Lost In The Dream comes to a close, this song opens to what sounds like some ethereal orchestra gently tuning and priming their instruments, before an ominous guitar cuts in around 47 seconds. What develops though is a profound, personal acceptance of struggle, laced with hope and dusted with pure magic.
Arms Like Boulders
The sole track on my list from the band's 2008 debut. Every time I hear it, I'm always immediately struck by how much The War On Drugs have evolved over the years. But I always come back to it, because for all it's immediate Dylan comparisons, it's a warm, jingle-jangle embrace and a hark back to Adam and Kurt crafting the sound they love.
Under The Pressure
The War On Drugs' magnum opus, the sheer enormity of this song goes unmatched in their catalogue even though at 8 minutes and 52 seconds, it falls over 2 and a half minutes short of their longest track (Thinking Of A Place). It's magnitude is realised in the ingenious way it is built and how those carefully constructed instrumental building blocks are revealed, surge after glorious surge. It's both a voyage into the unknown and an arrival home. As the song closes, leaving us adrift in a seemingly endless bleary sea, for a moment the journey appears to come to its conclusion... but with this opus placed atop the album's track list, it's only infers what is about to begin.
P.s. If you think it's big on record, do yourself a favour and see it live - no studio recording will ever compare.
Nothing to Find
A Deeper Understanding
I adore this song. It's at once a liberating and luminous rock banger begging for volume and no-shits-given, free wheelin' dancing as you rocket toward the setting sun. On the surface peak euphoria, but my god is the video devastating.
An Ocean In Between The Waves
Lost In The Dream
One of the crowning moments of Lost In The Dream, I've specifically reserved the use of a single (overused but nail-on-the-head) adjective for this song alone: epic.
Up All Night
A Deeper Understanding
A big - no - huge entrance to album four. Striding forward, fizzing with electronics and thundering drums as layers of guitar and synths pile on amid meticulous-yet-massive breaks. Deafening and immense.
Baby Missiles
Future Weather
Though the Slave Ambient version is perhaps more broadly enjoyed, I prefer the earlier, rawer version offered up on their 2010 EP Future Weather. An insatiable, excitable rhythm topped with warm harmonicas and those all-important "woos" is addictive wizardry.
Strangest Thing
A Deeper Understanding

To experience The War On Drugs is to immerse yourself in Side B, Track 1 and this utterly exhilarating cinematic jewel. If it's unadulterated exaltation you seek, look no further than the expansive beauty of Strangest Thing (and a second guitar solo that just sings).
Come To The City
Lead me back to the one I love
All the roads lead to me
I've been movin'
I've been driftin'
A rousing, rising synth-soaked piece set to enlivening marching drums with signature "woo-hoos" for good measure. Sitting mid-album, Come To The City ascends quite literally out of it's predecessor The Animator. Though Black Water Falls is irreplaceable as Slave Ambient's closer, I often find this pair of songs a rather beautiful conclusion to the record's first half, Come For It the interlude before It's Your Destiny opens up part two.
Harmonia's Dream
A mesmerising melting-pot of Granduciel's favourite 80s influences can be heard here (hello Bruce Hornsby piano at 2:54), laid across a bed of locomotive-like rhythms. Like much of the album it calls home, the sound is BIG, far-reaching and wholly fruitful in pulling you in and carrying you away with it.
Eyes To The Wind
Dylan-esque and drenched in classic rock gorgeousness, Eyes To The Wind is a weary tale in many respects, but beautifully yearning. Helmed by Granduciel's vocal and brought to a close with the sax's soft call to resilience. Perfection.
You Don't Have To Go
A Deeper Understanding
If you haven't caught on by now, appreciate that The War On Drugs know how to close out an album (they also know how to open one) and You Don't Have To Go is no exception. A lonesome, extended ballad emerging from the darkness and gently reaching for the light, the final third building to a shimmering dreamy haze. Everything will be ok.
---

Honourable mentions
I Was There, In Chains, Lost In The Dream, Old Skin, Holding On