We're delighted to announce our new Live From Rough Trade livestream series, broadcast in high-definition from Rough Trade East, London.
Our Live From Rough Trade shows kick off in January, starting with shame, Arlo Parks and Goat Girl. Each live show allows fans to watch the artist perform new material, celebrating their respective new album releases.
Aiming to share the magical intimacy of a Rough Trade store live performance to as broad an audience as possible, Live From Rough Trade allows fans in the UK to enjoy intimate live performances (i.e. not pre-recorded), via their mobile or desktop, no matter where in the UK you happen to live.
In addition to UK audiences, fans in Europe, the US and Australia will also be able to watch the same high-definition performance, rebroadcast at time-zone friendly hours following.
Each Live From Rough Trade event is filmed with multiple cameras, broadcast to a high-quality Rough Trade player, in 'HD 1080' for those with high-definition screens.
Live From Rough Trade - January 2021
Tickets for shame, Arlo Parks and Goat Girl are available now, exclusively via the DICE ticketing app and website.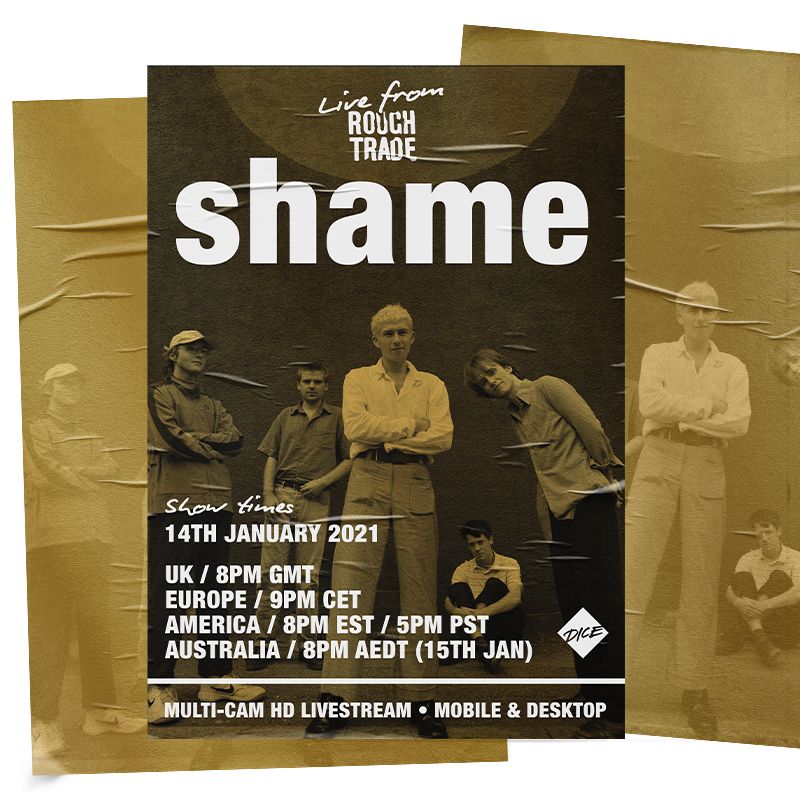 14 January - shame
(UK & EU 8pm / CET 9pm / EST 8pm / PST 5pm / AEDT 8pm, 15 January)
Kicking things off will be riotous post-punks shame on 14 January, with the chance to hear new music from their long awaited second album Drunk Tank Pink performed live for the first time, ahead of its release the following day.
21 January - Arlo Parks
(UK & EU 8pm / CET 9pm / EST 8pm / PST 5pm / AEDT 8pm, 22 January)
Universally acclaimed poet and musician Arlo Parks, who stands on the brink of superstardom and counts Michelle Obama, Gus Van Sandt and Phoebe Bridgers among her army of fans, will be performing songs from one of the most anticipated releases of 2021, Collapsed In Sunbeams, a week before its release on 21 January.
29 January - Goat Girl
(UK & EU 8pm / CET 9pm / EST 8pm / PST 5pm / AEDT 8pm, 30 January)
Last but not least and completing this South London trifecta will be defiant four piece Goat Girl, performing live on the release day for their Dan Carey produced new album On All Fours, on 29 January.
We hope you can join us!