"Tom Waits created his own path, not even off the beaten track but somewhere else completely. There's no one as seductive and alluring, manic and intriguing, soothing and chaotic as he."
Mastering a surprisingly broad collection of pre-rock music styles such as jazz, blues, vaudeville and experimental tendencies verging on industrial music, Tom Waits has been described as capturing the history of American song in one voice. Born and raised in Pomona, California, Waits first began singing on the San Diego folk music circuit as a young boy. A poet of outcasts, inspired by artists such as Bob Dylan and the Beat Generation, Waits' sets largely consisted of covers of Dylan and Red Sovine, but in time Waits came to perform his own material, parodied of country songs or bittersweet ballads influenced by his relationships with girlfriends.
The California crooner is an artist with more than one string to his bow, not only known for being one of the most popular singer-songwriters of all time but also a respectable actor, making several cameo appearances in Sofia Coppola films and picking up some powerful roles at the turn of the 21st century in movies such as Domino, The Book of Eli, Seven Psychopaths. Waits appeared in the Paul Thomas Anderson Oscar-nominated Licorice Pizza, the film's star Haim's Alana Haim claiming "working with Tom Waits was like being in the presence of a god."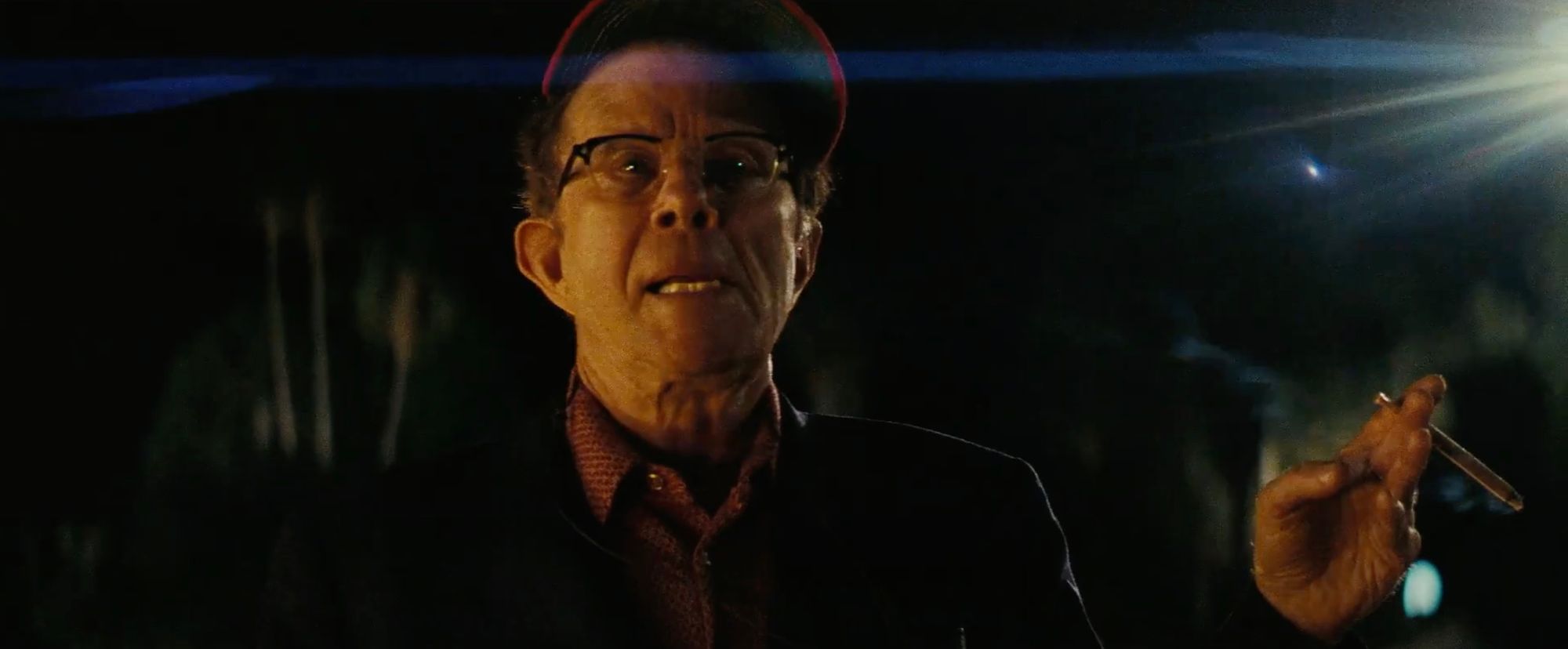 ---
As a life-long fan and a musician herself, Rough Trade East Assistant Manager Locks describes her emotive relationship with Tom Waits' music...
I don't even think we can begin to imagine the worlds Tom Waits has lived in, or indeed is still living in. Each album is a slightly different world; an underworld with pots and pans dangling from the ceiling, unhinged doors slamming, pianos with missing keys, bent trombones and broken glass. He's in there, somewhere, scribbling away at something only he can understand.
It is in this utter chaos accompanied with a constant striving for beauty in the macabre that makes you fall in love with him.

Tom Waits created his own path, not even off the beaten track but somewhere else completely. There's no one as seductive and alluring, manic and intriguing, soothing and chaotic as he. For me as a musician, he opened up possibilities for songwriters, ideas to experiment with, hunches to indulge in and worlds to explore. He opened my eyes to 'what ifs', why nots' and 'let's just hit this door with this hammer and see what happens….'. Tom Waits as an idea, a musician and a lyricist is a force to be reckoned with, he has that glint in his eye that knows just how far down the rabbit hole goes...
---
Tom Waits mid-period Island Records studio catalogue is now newly remastered from original tapes for the first time. Includes Swordfishtrombones, Rain Dogs, Frank's Wild Years, Bone Machine and The Black Rider.
In focus...
In the late 1990s, Waits switched to the record label ANTI-, releasing Blood Money (2002), Alice (2002), Real Gone (2004) Orphans: Brawlers, Bawlers & Bastards (2006), several of which are Grammy-nominated titles. We celebrate the distinctive musical persona of Tom Waits by looking back on a selection of his great works, newly reissued and remastered on special colour vinyl via ANTI-, available exclusively at Rough Trade.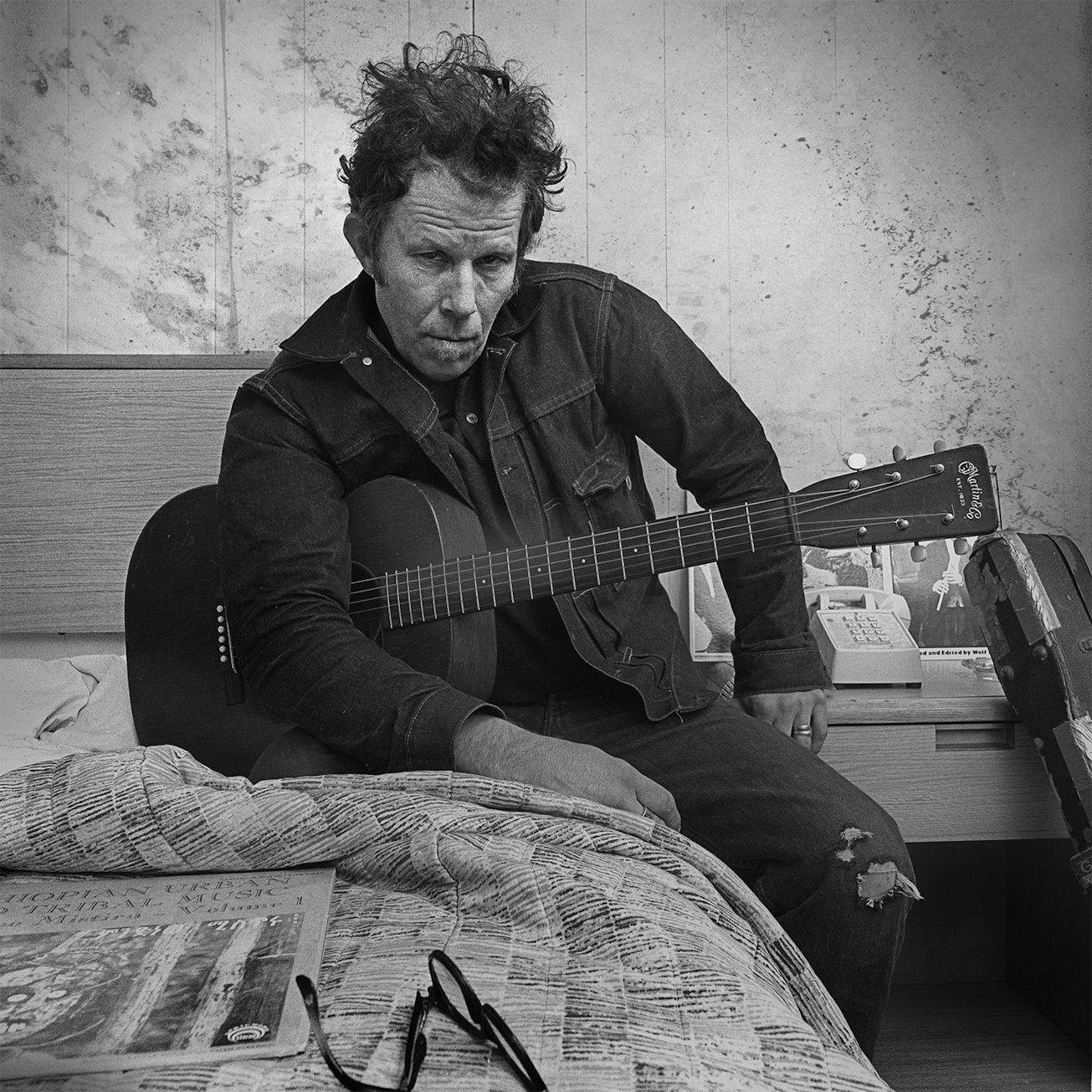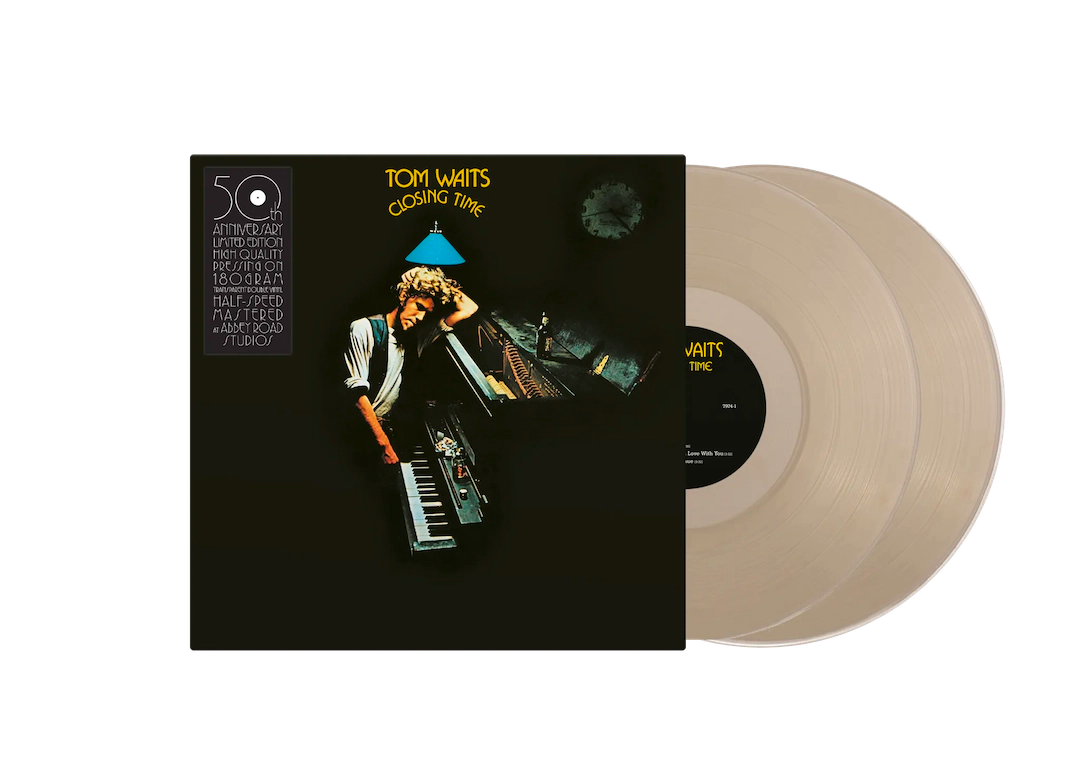 Closing Time
50th Anniversary double clear vinyl housed in gatefold sleeve.
BUY NOW
Our first introduction to the highly stylised yet strikingly authentic sound of Tom Waits. Bluesy and bittersweet, Closing Time is a journey of sentimental swinging jazz, that wouldn't go amiss alongside the repertoires of Frank Sinatra or Tony Bennett. The talented songwriter's beautiful melodies were a standout in comparison to his peers, with his wry humour and enthralling storytelling ability putting you right there in the score, or sat in the jazz lounge, immersed with songs of late-night loneliness. If you want to appreciate perfection lyrically, then this album is the place to start, with classic tracks Ole 55 (which The Eagles recorded on their On The Boarder album) and the heart-aching Martha. A breezier album than his releases to come but a firm introduction to the beautiful but haunting qualities of Waits' work.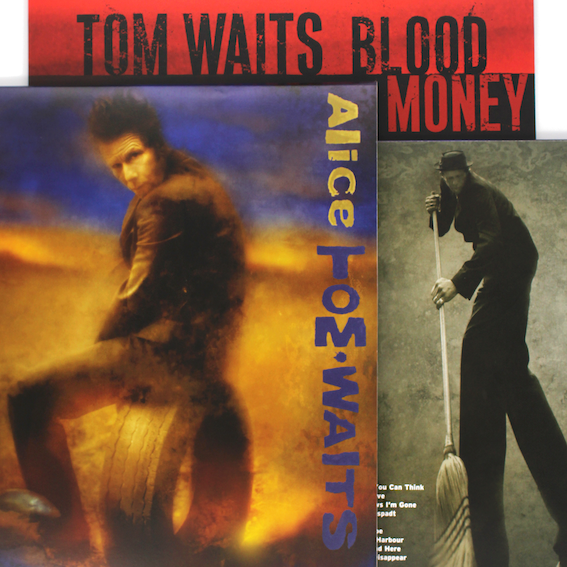 A real highlight in the troubadour's extensive catalogue, Waits' twin albums Alice and Blood Money are lovingly revisited on Rough Trade Exclusive vinyl as they reach the 20-year mark. To celebrate the reissues of these two records our Tom has treated us to not one but TWO live tracks, All The World Is Green and Fish and Bird, both previously unreleased and recorded at his London 2004 show. A gruesome twosome spiralling down the rabbit hole. Dive deeper into the magical world of Alice and Blood Money below.
Pick up Alice in her translucent blue dress or Blood Money in sticky bloody mary red to celebrate these two creatures' fantastical reissues.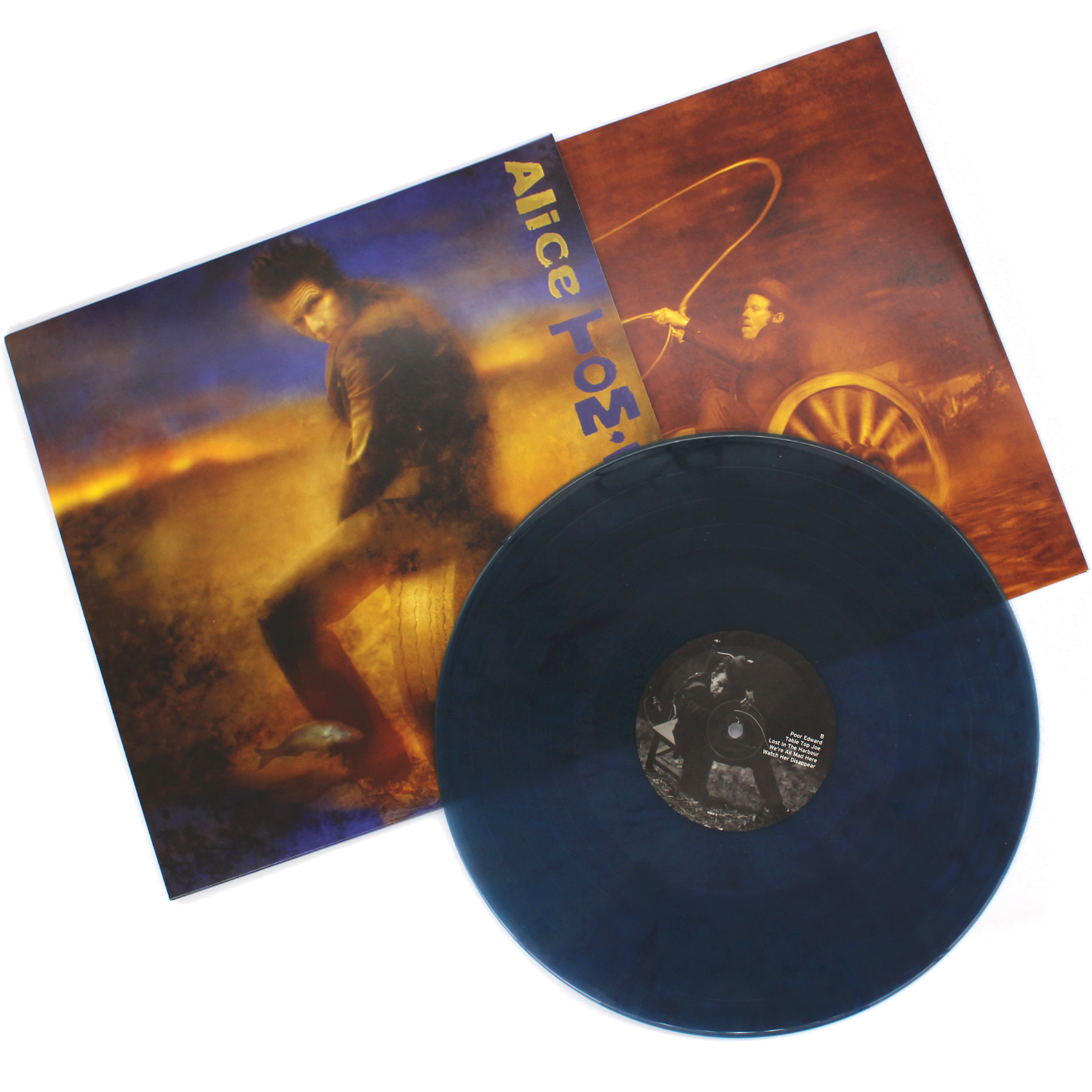 Whenever you dig into an album by Tom Waits it's almost as if you have woken up in the Winchester Mystery house and been charged with the challenge of finding your way out. There are corridors leading nowhere, doors opening to brick walls and staircases to ceilings; sometimes there's just no way out and you just have to just accept it. In Alice, you wander into Alice's room loosely inspired by Lewis Carroll's Alice in Wonderland. Here there's fish floating around old lampshades, a hazy light coming through the crooked blinds, a vase of dead flowers waiting to be replaced and an old gramophone crackling nursery rhymes in the corner. The phone rings, a phone that wasn't there five minutes ago, 'hello?' you ask only to be replied with 'Kommienezuspadt, Kommienezuspadt, Kommienezuspadt, Kommienezuspadt!' You hang up immediately and turn your eyes to the lopsided pictures hung haphazardly on the walls and you're instantly drawn to one in particular; a two-face man who apparently went by the name Edward, scrawled on some paper slotted in the side of the frame reads, 'poor Edward, on the back of his face was that of a woman who could not be removed…they say she drove him to hell.' Turning from this you catch a glimpse of white fur but can't be sure and the gramophone is still crackling, throwing out a crooner-style piano track about a fella called Table Top Joe?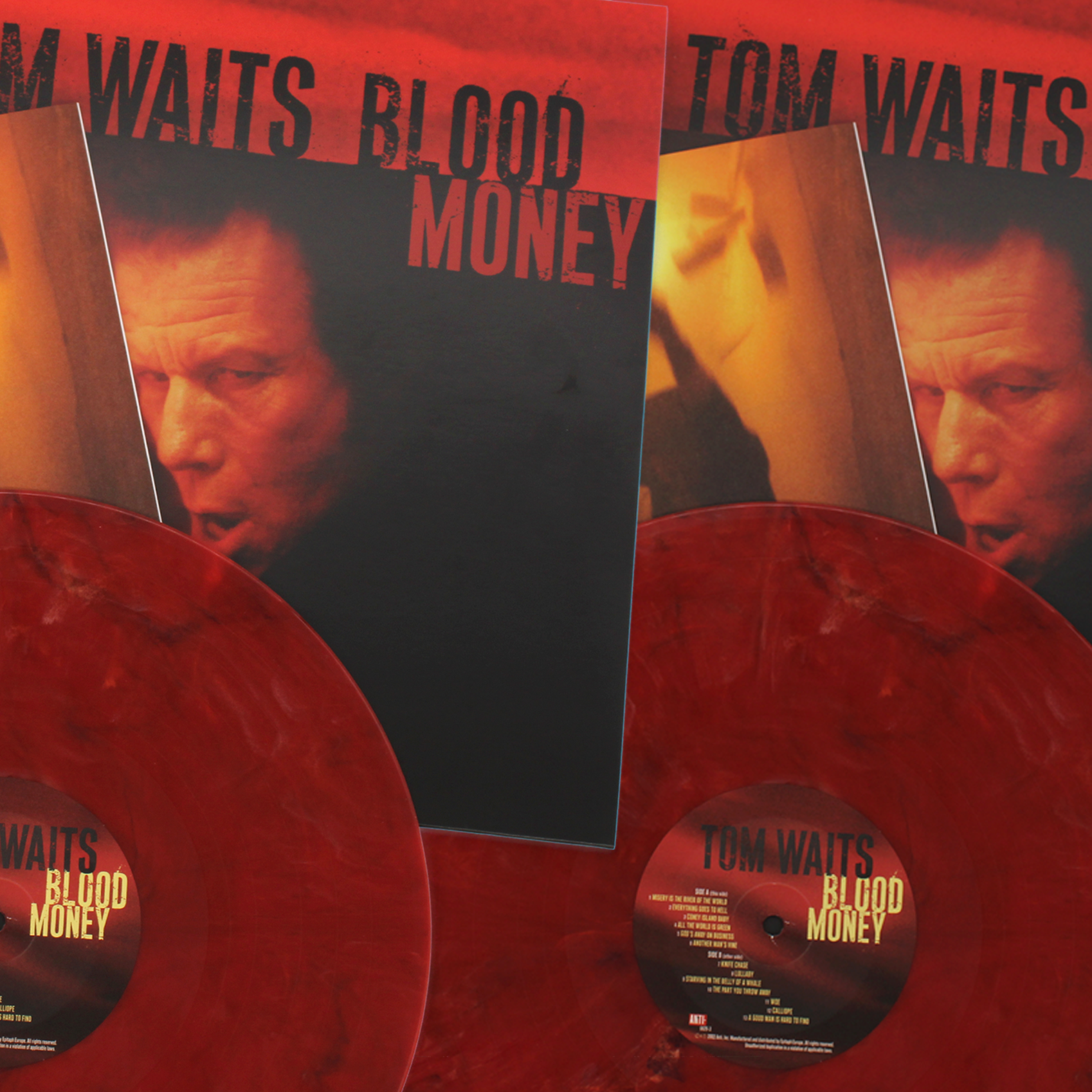 You can't stay in wonderland forever. If you follow the white rabbit down a trapdoor and end up knee-deep in Blood Money, here you have a soundtrack to the socio-political play Woyzeck by Robert Wilson. God's not here I'm afraid, but something else is…lurking in the shadows, an eye catches the light and you can make out the face of our Tom enticing you deeper into his world. Replacing the grammar phone is an old broken music box which he's winding up and is churning out carousel music whilst he cackles along. As weird and creepy as both these rooms are you know, for a fact, that Kathleen is also in here somewhere drawing pictures on the walls of vines or dancing about to the chaotic Knife Chase. It's dark and it's melancholy, but it's not cluttered nor is it drunk. In Tom's words Blood Money is:
"Rooted in reality: jealousy, rage, the human meat wheel. The music is more carnal. I like a beautiful song that tells you terrible things"
If you're after a trip to the belly of the whale where everything is ever so slightly
gritty and off-kilter, then Blood Money is the one for you. If your taste is more towards the sleepy, sludgy surreal dreamlike world then Alice is who you should be reaching for. These albums are connected, yes they stand alone in their own right, but there's a trap door and a rope leading down from Alice to Blood Money. Adventures like this you simply can't refuse.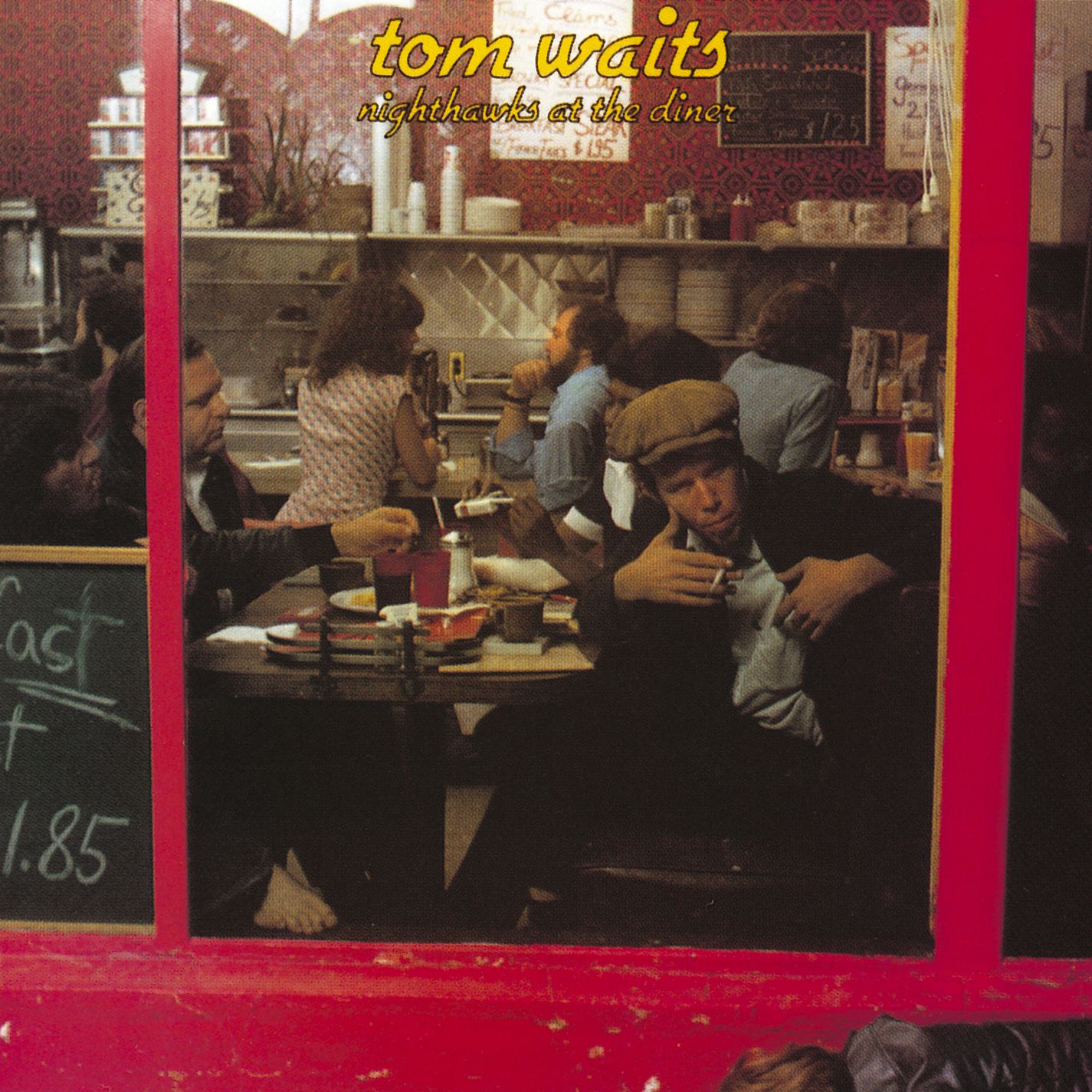 Considered by many to be the best album of his early career Nighthawks At The Diner was the singer-songwriter's third studio album, originally released in 1975. Recorded over four sessions in July in the Los Angeles Record Plant studio in front of a small invited audience Waits set about recreating the atmosphere of a jazz club, with elaborate scene-setting which involved and assembling a full jazz band,   poetry recitations with jazz backing (Nighthawk Postcards) and audience noise. Waits acts as a colourful tour guide of midnight L.A., raving over a swinging rhythm section of Jim Hughart (bass) and Bill Goodwin (drums), wailing tenor sax between paragraphs and Mike Melvoin trading off with Waits on piano runs. A real insight into Waits' wonderfully creative character and an audience we wish we could have been in.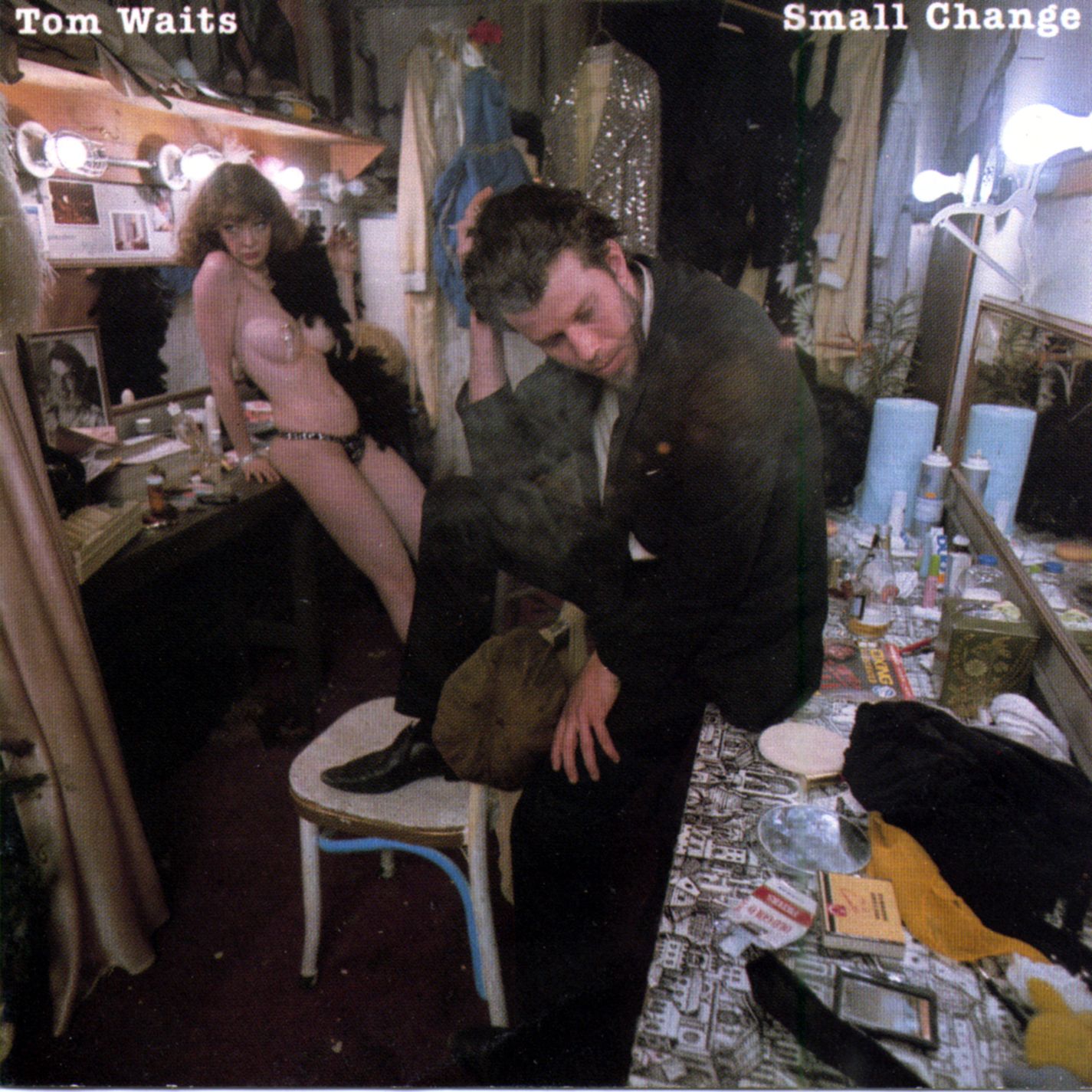 The fourth release in Tom Waits' series of Skid Row district travelogues, first released in 1976. Small Change proves to be the archetypal album of his '70s work. Jazz poetry recitations, piano on songs steeped in whiskey and atmosphere in which he alternately sings in his broken-beaned drunk's voice (now deeper and overtly influenced by Louis Armstrong). A strong characterisation of the dark world of bars and all-night diners in songs like The Piano Has Been Drinking and Bad Liver and a Broken Heart. Small Change marked the point where Waits came into his own as an artist, singular and defined who will take the listener through both humour and noir with songs that are full of character.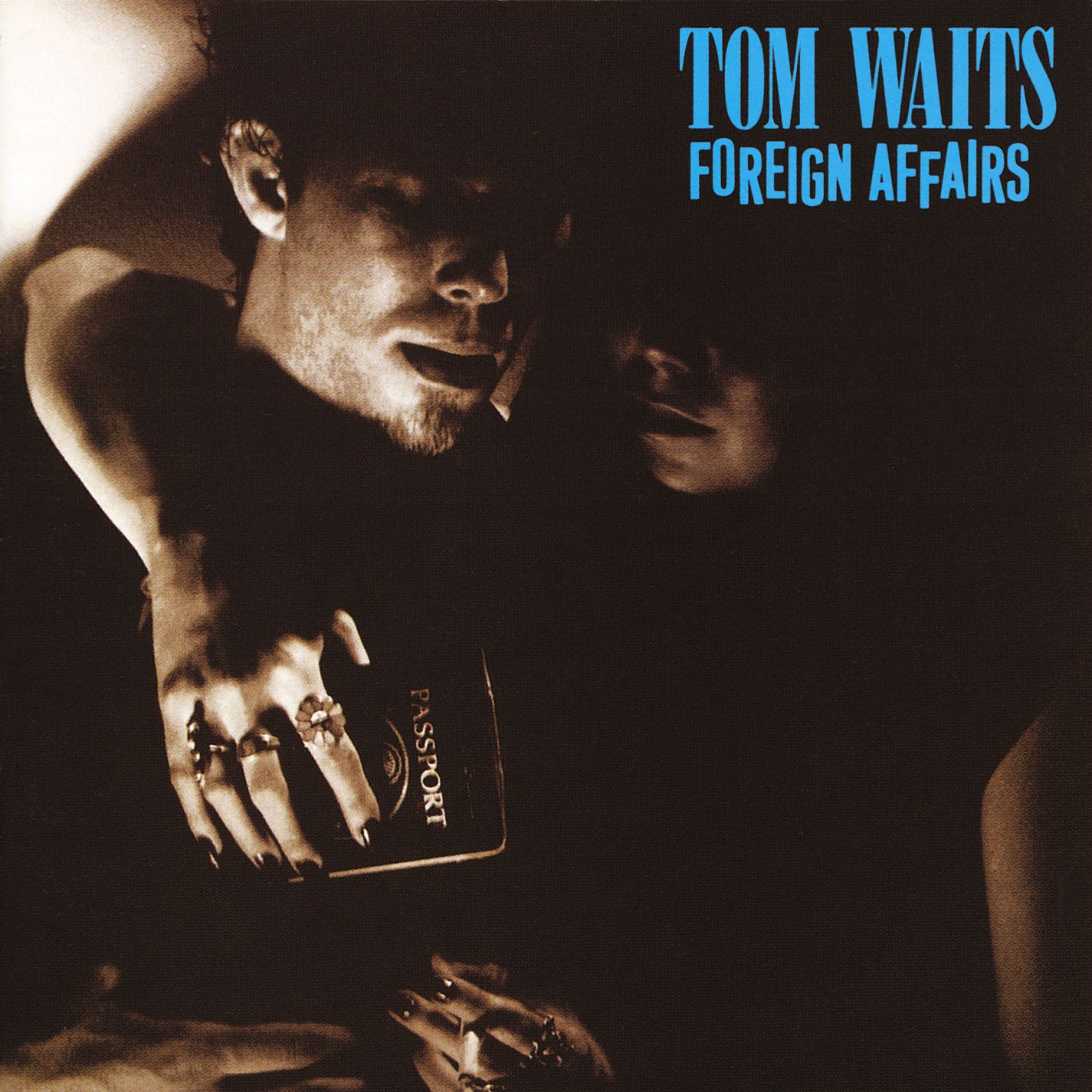 Having attracted a steady cult audience for his boozy philosopher persona, Waits' 1077 album Foreign Affairs was a continuation of what Tom Waits knew best. A more gravelly voice than ever, structured, bluesy ballads, jazz raps, and his take on his Beat predecessors Jack Kerouac and Neal Cassidy on Jack and Neal. Presenting some of his most ambitious storytelling, Waits took his music in a more cinematic direction, with the instrumental opener Cinny's Waltz and a dramatic duet with Bette Midler on the singles-bar dialogue I Never Talk to Strangers.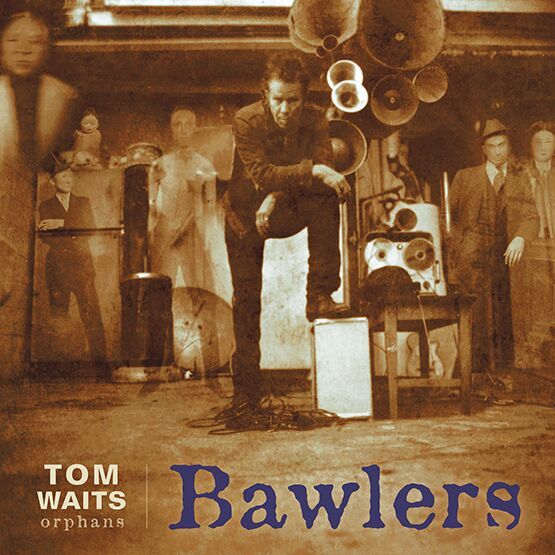 Born out of a career retrospective 3xCD box set, Orphans: Brawlers, Bawlers & Bastards released in 2006, Bawlers is one of three albums which Waits compartmentalised into three style-segregated discs each with a differing tone. These CDs have since received their own individual vinyl pressing on ANTI- and are a wonderful collection of outtakes, leftovers, and rarities. Bawlers is a nod to Waits' early career, the archetypal piano man with a collection of Celtic and country ballads, waltzes, lullabies, piano and classic lyrical Waits' songs.
The vinyl edition of CD three from the Orphans: Brawlers, Bawlers & Bastards collection. Bastards was a collection of experimental music and strange tales, revealing Waits at his most theatrical. Filled with weird spoken-word monologues, gypsy-opera arrangements, acapella experiments, and demented covers, this selection draws from the zaniest moments of his repertoire.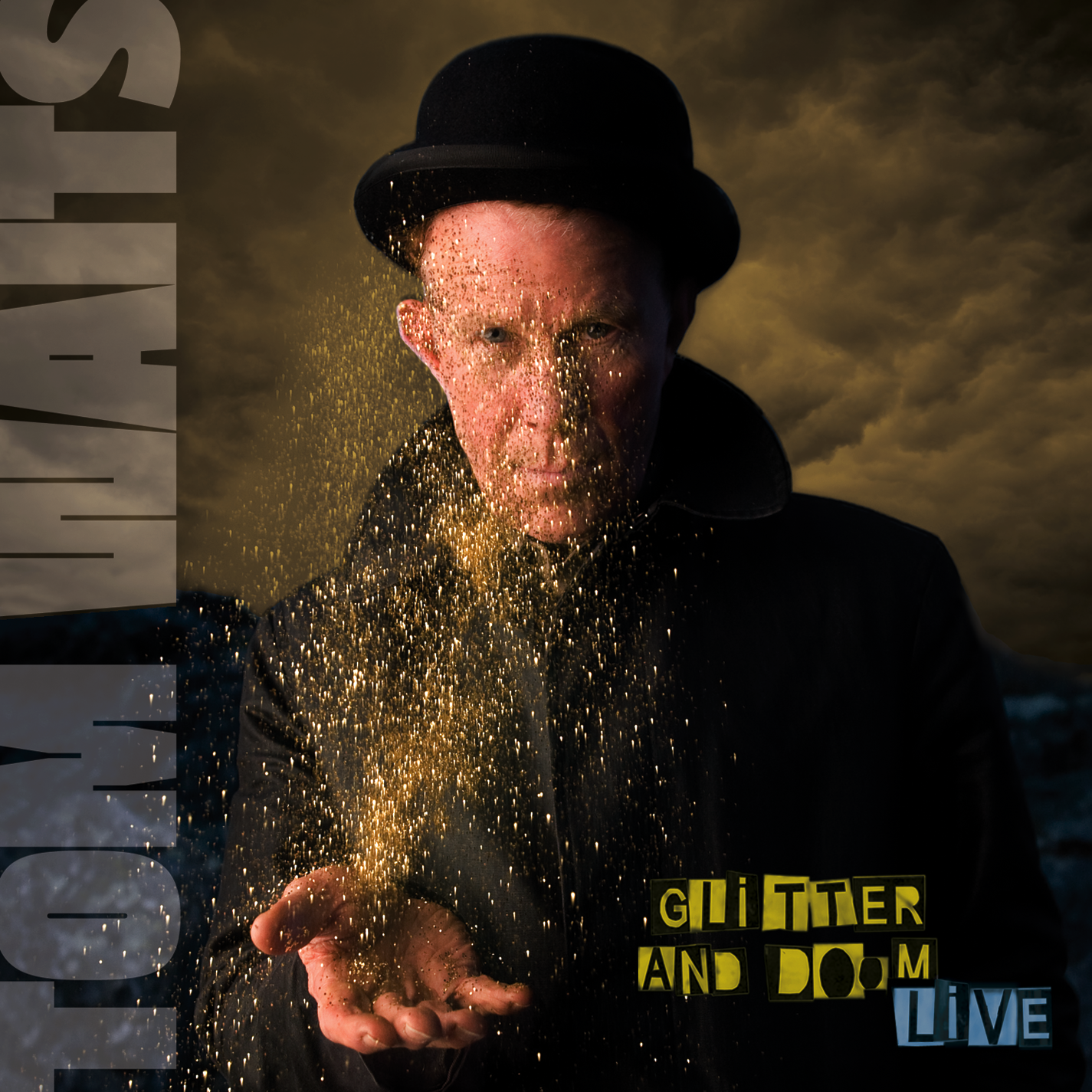 17 performances hand-picked by Waits from his sold-out 2008 international tour. The collection features a haunting Trampled Rose from Real Gone and a hypnotic Get Behind the Mule from Mule Variations. Waits also digs into the vaults for tracks like a reimagined Singapore from 1985's Rain Dogs. The second disc, Tom Tales, features a selection of comic bromides, strange musings, and unusual facts that Tom traditionally shares with audiences. If you're taking this record home, you get to be part of the show too.