The heart of Rough Trade is our record stores, cut us and we'll bleed music. But it's our staff, the blood vessels, who keep our beat going. They're the guys keeping the music flowing day in, day out, be it filling the racks, refreshing the in-store playlist, fuelling you with coffee or helping you find that all-important album you were after. Heck, best of all, maybe they even recommended you a new record you didn't know you wanted, but that you took home and adored. The dedication and passion of the people that work in our shops are a huge part of what makes Rough Trade special and why we're so lucky to have such an amazing and ever-growing community around us.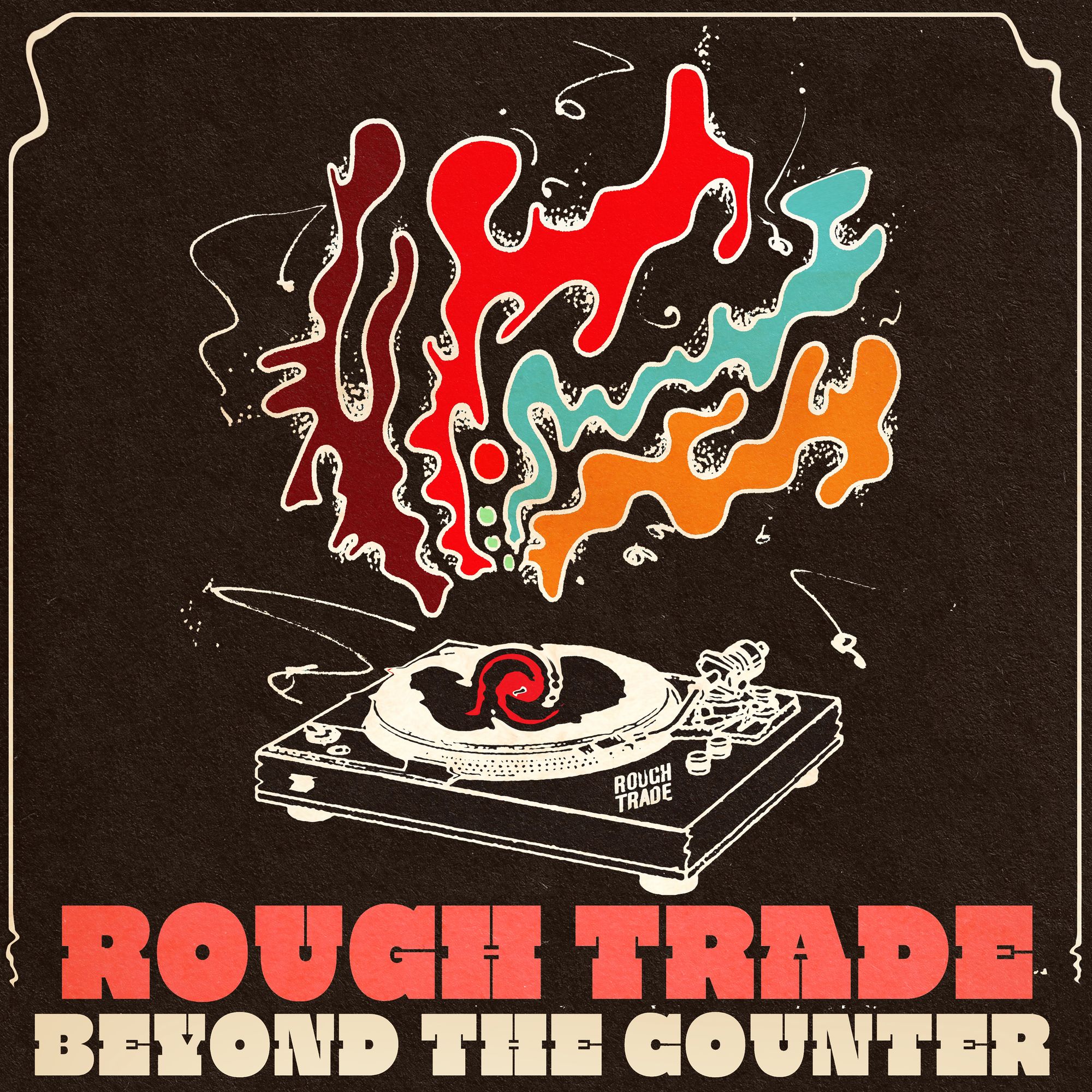 For many of our staff, music extends beyond the realms of the record shop floor. Ever wondered what makes them tick? Read on, as we take you Beyond The Counter and introduce you to some of the awesome music and projects behind the familiar faces you know and love at your local Rough Trade...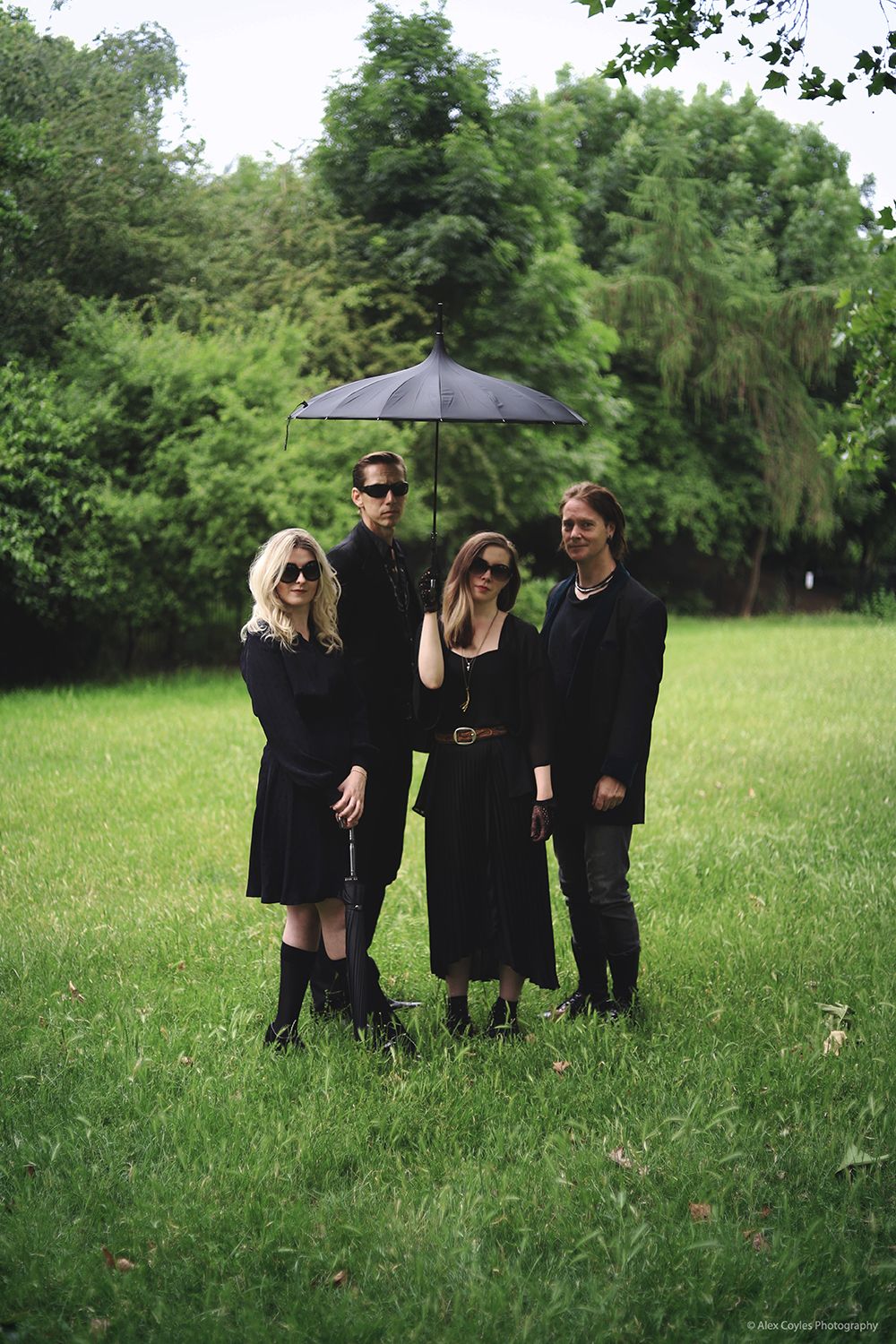 Whacked out trippy Carpenter-esque VHS horror soundbites. A mind frying collision of 80s sci-fi B movies, kosmische grooves and psychedelic electronics.
Album or artist that was your biggest influence to make music?
Escape From New York by John Carpenter.
Currently listening to?
VFW Soundtrack by Steve Moore.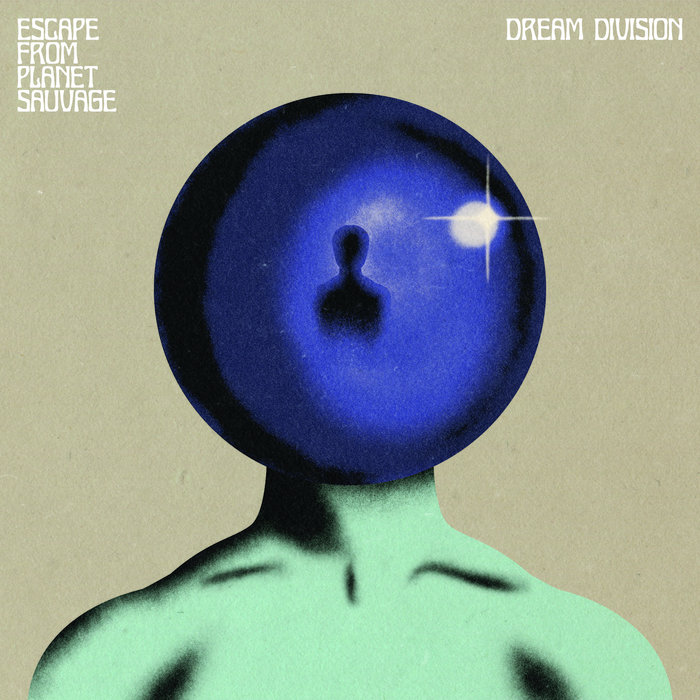 LOCKS
Locks, Rough Trade East
A skeletal blues, folk-noir band comprised of L.Geary-Griffin (vox and guitar), Marian McClenaghan (fiddle), Andy Marvell (drums) and Mike Byrne (double bass). Described by Chris Hawkins (6 Music) as 'Dark angels of graveyard blues'. Macabre lyrics; murder ballads; Traditional Irish influences dipping in and out; folk-punk bass lines and tribal/experimental drum beats and percussion. We have released Rattle Them Bones! EP and Skeletal Blues LP amongst a selection of singles. We're currently working on a new EP.
Album or artist that was your biggest influence to make music?
I Oughtta Give You a Shot in the Head for Making Me Live in This Dump by Shivaree.
Currently listening to?
Put The Shine On by Cocorosie.
Transatlantic couple Varrick and Ed Zed have been coaxing crooked pop songs out of disillusionment, animals and the glorious horrors of modern life since before Brexit. Drums, computers and household junk are their tools.
Album or artist that was your biggest influence to make music?
The sounds of starlings, running water and vacuum cleaners.
Currently listening to?
Crossing Prior Street by C.A.R. and Muhammad Ali EP by Lady Lykez.
Spectres
Adrian, Rough Trade Bristol
Dissonant pop songs buried in sonic rubble. Noise makers/"shit loud"/enemies of Sam Smith/fanzine creators.
Album or artist that was your biggest influence to make music?
Ermagerd cliche alert - Sonic Youth and anyone who ever made/makes music that challenges a preconceived notion.
Currently listening to?
Grouper, Caretaker, Hot Snakes, Springsteen.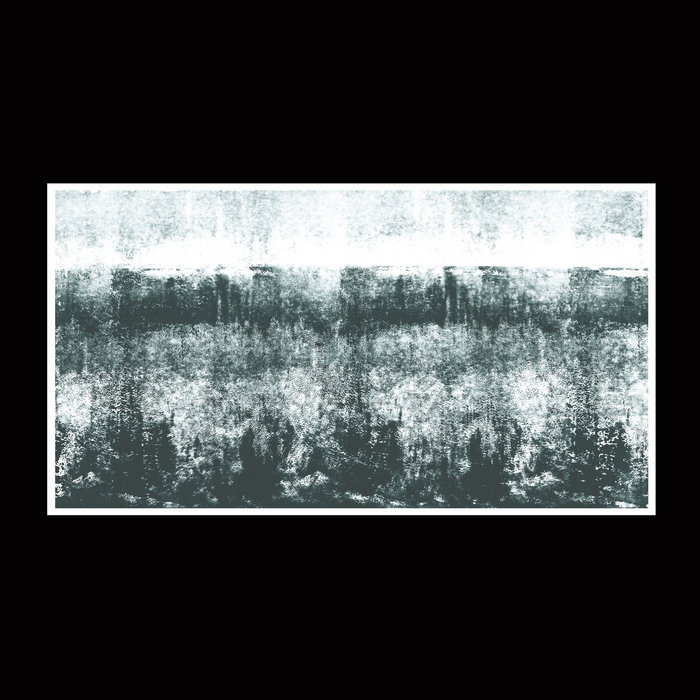 The music I create is a dreamlike audible diary, sampling sounds and gathering words from my day to day. I started releasing music as Camille Christel in 2018, this created opportunities for airplay, live shows and new connections. Since then I continued writing and creating, I've spent time in London and Berlin working with various people including M.Craft. My debut EP will be brought out on Dalliance Recordings (Matt Brown - Stay Loose, Rich Walker - 4AD) later this year. Since lockdown I have created a I CAN'T SLEEP AGAIN bedroom sessions, where I play new material and nominate a new artist each week to feature in an IGTV which goes out at midnight every Friday.
Album or artist that was your biggest influence to make music?
The Greatest by Cat Power, Burial, Tindersticks, Viv Albertine.
Currently listening to?
Sharon Van Etten, Vegyn, Octavian, Four tet.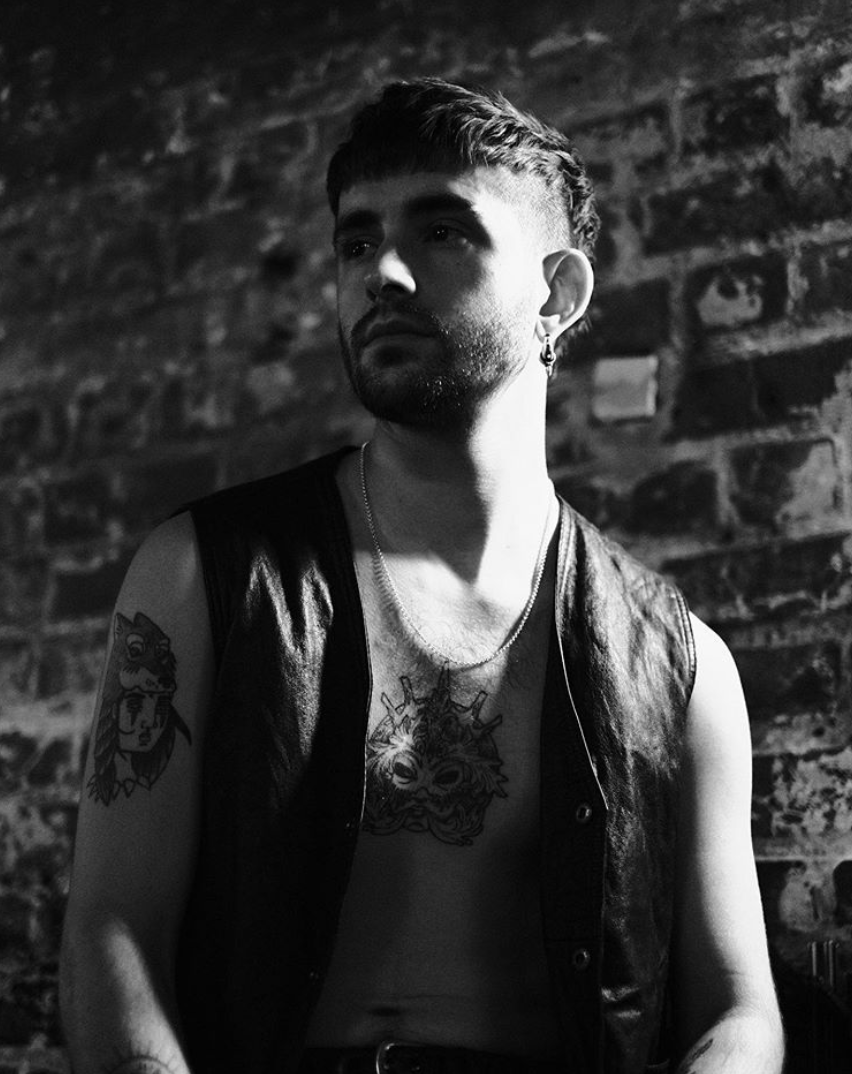 Daily Hustlin'
Al, Rough Trade West
Kinda do a bit of everything involving boogie without having to get up on stage. Day to day I write for So Young Magazine, Hard Of Hearing and sometimes the Rough Trade Blog. I manage Fruit Tones (the realest dudes in the world), co-manage Krush Puppies and when they need some long sentences, I do bits with Sleep Eaters. I'm working on starting a management label with my favourite human Danny (don't ask us for a name yet but it will definitely involve a rainbow) and when we're allowed to escape... I'll go back to promoting gigs as Good Clean Fun alongside two more top pals Dan and Pip.
Album or artist that was your biggest influence to make music?
In terms of motive... Led Zeppelin, Peter Grant (but maybe a bit less scandalous) and Eric Moore of Flightless, King Gizzard & The Lizard Wizard.
Currently listening to?
Anything and everything released by Sydney label Third Eye Stimuli and, Organ Mantra by The Myrrors.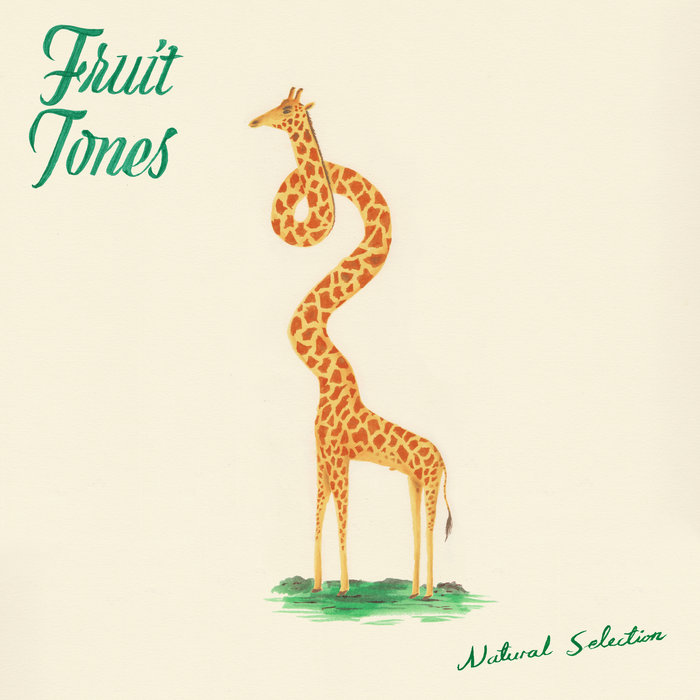 Kissed by an Animal is the auditory counterpart to the universe of illustrator/musician Dima Drjuchin. Dima is known in the art world for his rich surreal scenes plucked from an alternate dimension existing exclusively in his own mind. You can find his work on countless album covers from artists like Father John Misty, Brad Mehldau, and Reggie Watts. The debut LP from his band, Kissed by an Animal, articulates the chaos of his visual world through soaring guitar solos, unrelenting drums, and instantly memorable melodies that you will be singing to your grave - seriously. The marriage of Dima's music and his visual style is on harmonious display in their video for the single The Good Times are Here Again, which depicts illustrated versions of the band performing in a technicolor dream world of Drjuchin's creation.
Album or artist that was your biggest influence to make music?
Dinosaur Jr, The Misfits, Superchunk, Lungfish, A Flock Of Seagulls, Teenage Fanclub, Minor Threat, The Minutemen, Super Furry Animals, John Fruciante.
Currently listening to?
Civilization 1 by Kero Kero Bonito, Last Place by Grandaddy, Automatic Writing by Ataxia.
The New Town Tudors is an art and music collective I started to celebrate and work with all my creative pals, my aim is to make community that encourages people to make things together, I'm hopefully getting some patches and stickers made up soon that people can put on there clothes/laptops/equipment to signify you're part fo the collective an open to working with new people. TNTT is also an outlet for my solo music, giving me the freedom to jump from genre to genre and create what I want to create without any limitations. I make any music I like/vibe with at the time and make it with whoever is around me at the time. When I play live my band will be made up of a rotating roster of musicians known as The New Town Tudors. My debut single New Teeth is out now! Human Pet is a post punk/alternative rock band I have been a part of for 5 years. We focus a lot on live energy, we want our shows to feel like a shot of adrenaline, we mix elements of spoken word and big rock choruses and sprinkle it over instrumentation that constantly evolves. Out latest release a double A single is available now on all digital streaming sites.
Album or artist that was your biggest influence to make music?
Elvis, Prince, Queens of the Stone Age, Sonic Youth, Beck, Childish Gambino, Tyler The Creator, Bloc Party.
Currently listening to?
Obsessed with Puma Blue at the moment. He's released a bunch of singles and two live albums. Beautiful voice and songs.
SMeLLS
Jack, Rough Trade NYC
Robopop duo comprised of Lindsay Dobbs and Jack Tobias. InVented in the depths of quarantine, SMeLLS expels the sounds of isolation, exploring angular rhythms and tones. Casio, Electronic Drums and bass. New to the streaming services, SMeLLS only has a cover out, Everybody Wants to Rule the World by Tears for Fears. EP coming out soon.
Album or artist that was your biggest influence to make music?
The Ann Steel Album by Roberto Cacciapaglia.
Currently listening to?
Blanche Blanche Blanche, Edwina Miglet and The Biglets, Plant Life by Claude Larson, Music to Driveby by Compton's Most Wanted.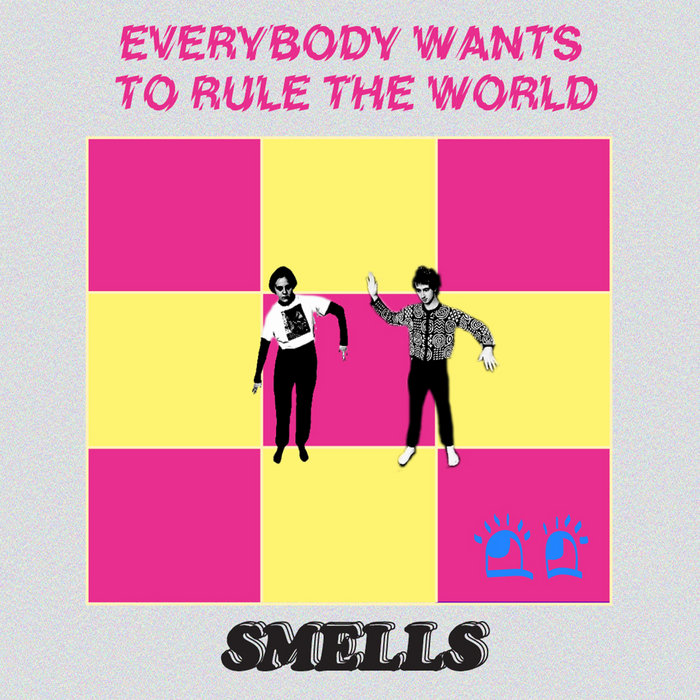 Sophie Diver/SOAP!
Sophie, Rough Trade Nottingham
Light-hearted drivel under my own name and occasional co-bleep/blooper for SOAP! I write the odd poem and weird short story; expect lots of rhymes and the lowest of brows but hopefully they're relatable and raise a few smiles. On the complete flipside I add the uncomfortable spoken word and awkward glitchy synth to SOAP, a collaboration with my incredibly talented friend Asa Hudson.
Album or artist that was your biggest influence to make music?
Flowers of Evil by Ruth White, Time to Tell by Cosey Fanni Tutti. As for the writing, you can blame my friends for being too encouraging and rhymezone.com.
Currently listening to?
Dorothy Ashby, Dominique Guiot, Klaus Weiss and Mort Garson.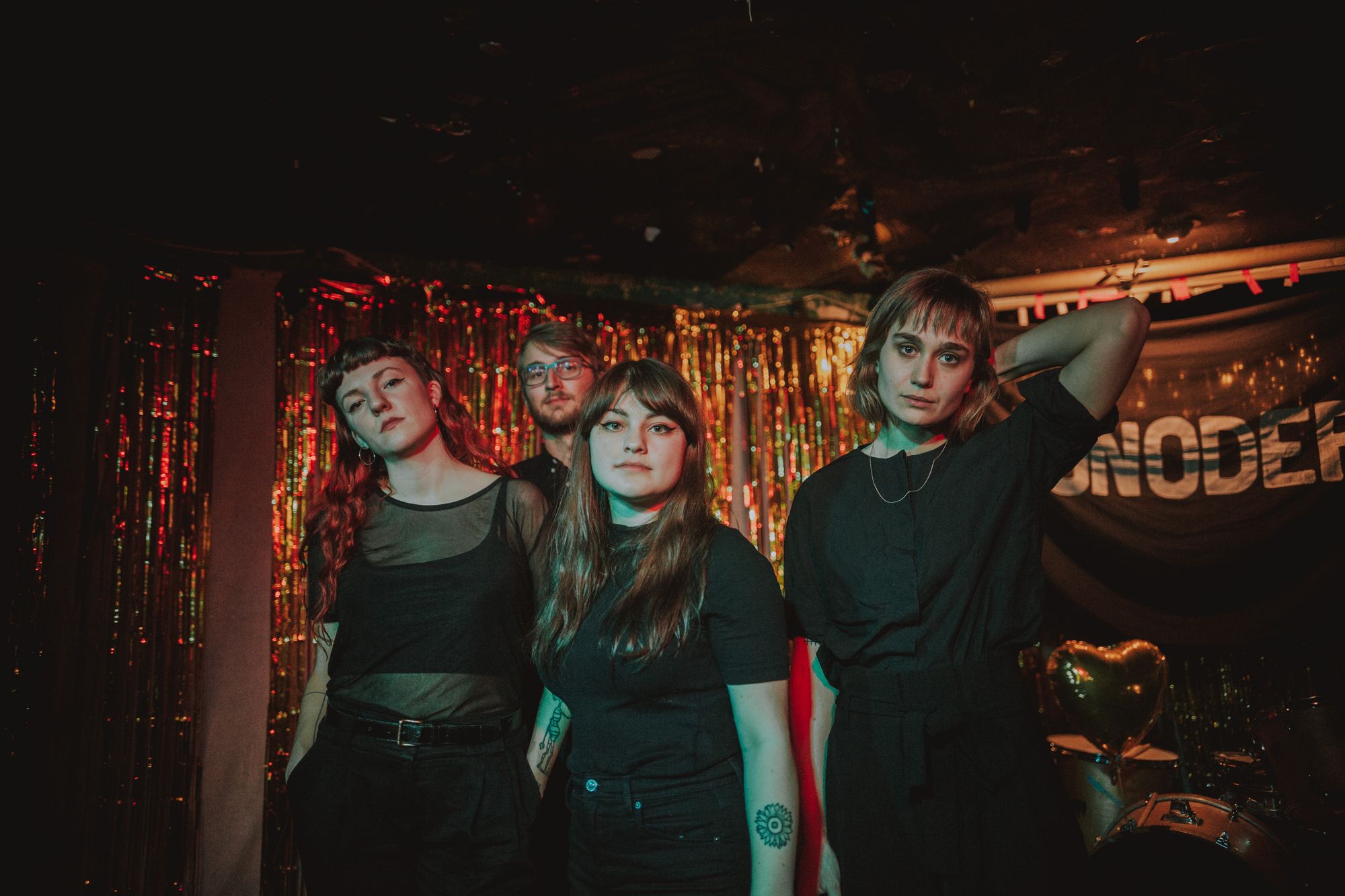 Junodef
Tyra, Rough Trade East
Started in Sweden as a post-rock quartet four years ago, but have since then moved towards a more electronic, sometimes trip hop-y, sometimes dreamy sound. Been described as doomsday pop, art rock, dream pop, post rock and post future death music. 
We luuuv collaborating with other artists, most recent ones being with Loraine James (remix), Sophia Thakur (spoken word) and Fanny Ketter (visuals and art work).
Album or artist that was your biggest influence to make music?
Portishead, Red Sparrowes and Massive Attack.
Currently listening to?
Spinal Injuries by Cortex and Dynasty by KISS, but mostly my Eurovision playlist.
Nightfalls
George, Rough Trade NYC
Though George has been in a couple different bands over the years, he's been tinkering by his lonesome on his own songs all the while. The recent quarantine has allowed him the time to finally whip some of these songs into shape and put them out into the world. Using a mix of samples and live instruments, these songs all strive to be after hours playlist favorites.
Album or artist that was your biggest influence to make music?
Toro Y Moi, Slowdive, Golden Daze, Helado Negro, Washed Out.
Currently listening to?
Arthur Verocai, Pax, Brian Eno, 10CC, Labi Siffre, Rupert Hine, Violens.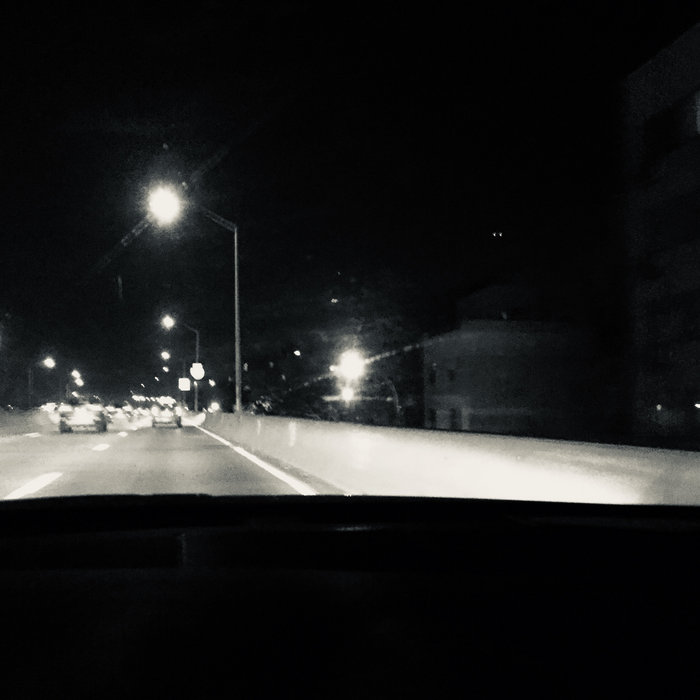 I am a songwriter, musician and singer from Manchester, UK. Currently, I'm living in Bristol. Before releasing under my own name, I played in a number of bands across the south west of England. Throughout the summer of 2018, I recorded Distant Television Studios in my living room and studio in central Bristol. The record consists of 6 tracks, released July 2019 on 12" vinyl (pastel and black 180g editions) with Breakfast Records. The EP was mixed by Benji Compston (Jelly Boy, Happyness). Art prints by Molly Davies. I currently perform with a live band of some of my most loved Bristol musicians; Joe Craven (Dialogue), Arran Brindley Rowell, Josef Kaspar (Astryd), Kieran Herbert (Cruelty). I regularly sing with guest vocalists, a few being Emmy Lila, Katrina Swift and Molly Davies.
Album or artist that was your biggest influence to make music?
Aidan Moffat, Lisa Hannigan, Gregory Alan Isakov, Clementine Creevy.
Currently listening to?
Laufey (new Icelanic artist, brilliant cellist and songwriter). Also been enjoying Jakob Bro for walk accompaniment, and Sarah Bethe Nelson for drives out.
Dismal Stars explores the lush, melodic sounds of the '90s, invigorated by heavy rock instrumentals. The three piece band is formed by singer/guitarist Nathan Aguilar, bassist Ryan Hill, and drummer Jake Beal. The trio began playing together in Bushwick, Brooklyn in 2018 and quickly recorded their debut album '​Dismal Stars' which was self released in October 2019. The band's live performances weave seamlessly between the melodic tracks on their record -- with some added ​heaviness -- and psychedelic, experimental soundscapes, accompanied by Aguilar's almost stream of consciousness lyrics. Aguilar also plays bass in Dead Heavens, and is also a touring member of Cults.
Album or artist that was your biggest influence to make music?
Dig - Dig Failure - Magnified Goo Goo Dolls - A Boy Named Goo Lilys - In the Presence of Nothing Smashing Pumpkins - Siamese Dream
Currently listening to?
Conspicuous Only in it's Absence by The Great Society, Aerial Boundaries by Michael Hedges, Rubycon by Tangerine Dream, A Time Before This by Julian's Treatment and Music is Painting in the Air by Sensations Fix.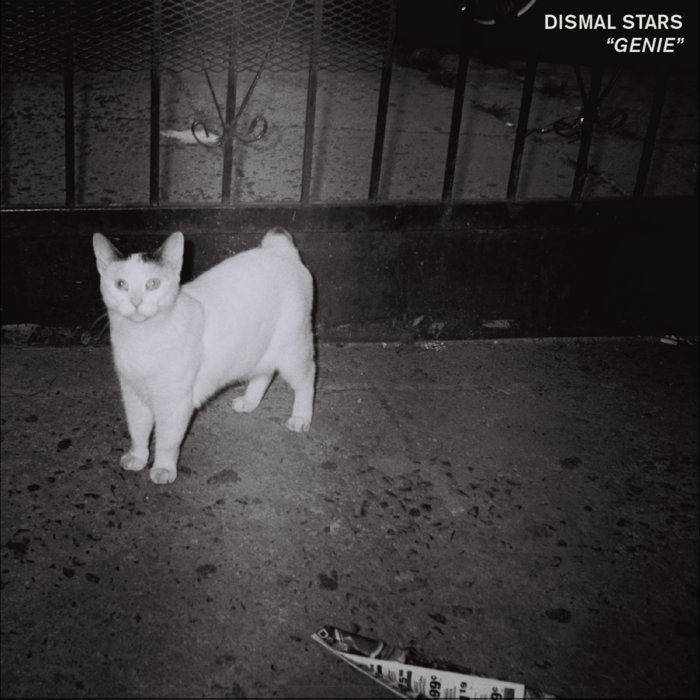 I sing and write songs in an indiepop band called The Boy Least Likely To and I've got an alt-country band called Legends Of Country too. At the beginning of March, a week before all this, I was in the studio recording new songs for both of them, but all that's been put on hold until we can leave the house and do stuff together again. For the time being I'm just trying to write songs on my days off, but the mail order side of Rough Trade has been busier than ever so I haven't really had that much spare time. Pete, the other half of The Boy Least Likely To, has been going through old tapes and hard drives of recordings and we've found some pretty fun stuff so we might do something with them at some point. It'll be nice to have something to work on. Oh. And I'm one half of indie pop superduo Bubble & Squeak with Poppy from Girl Ray. I should call her. We need to try and record something during all this. People are going to need us now more than ever.
Album or artist that was your biggest influence to make music?
Patrik Fitzgerald. Ivor Cutler, Lee Hazelwood, Kenickie, Orange Juice, Marty Robbins, Johnny Cash, Wham!
Currently listening to?
Crystal Gayle mainly. All I want to listen to is soft seventies pop country, so Jody Miller and Barbara Mandrell and Lynn Anderson and stuff like that too, but mainly Crystal Gayle. I made a playlist called Soft Lights and Slow Sexy Music so I'm spending most of my evenings working on that. I need to get it just right.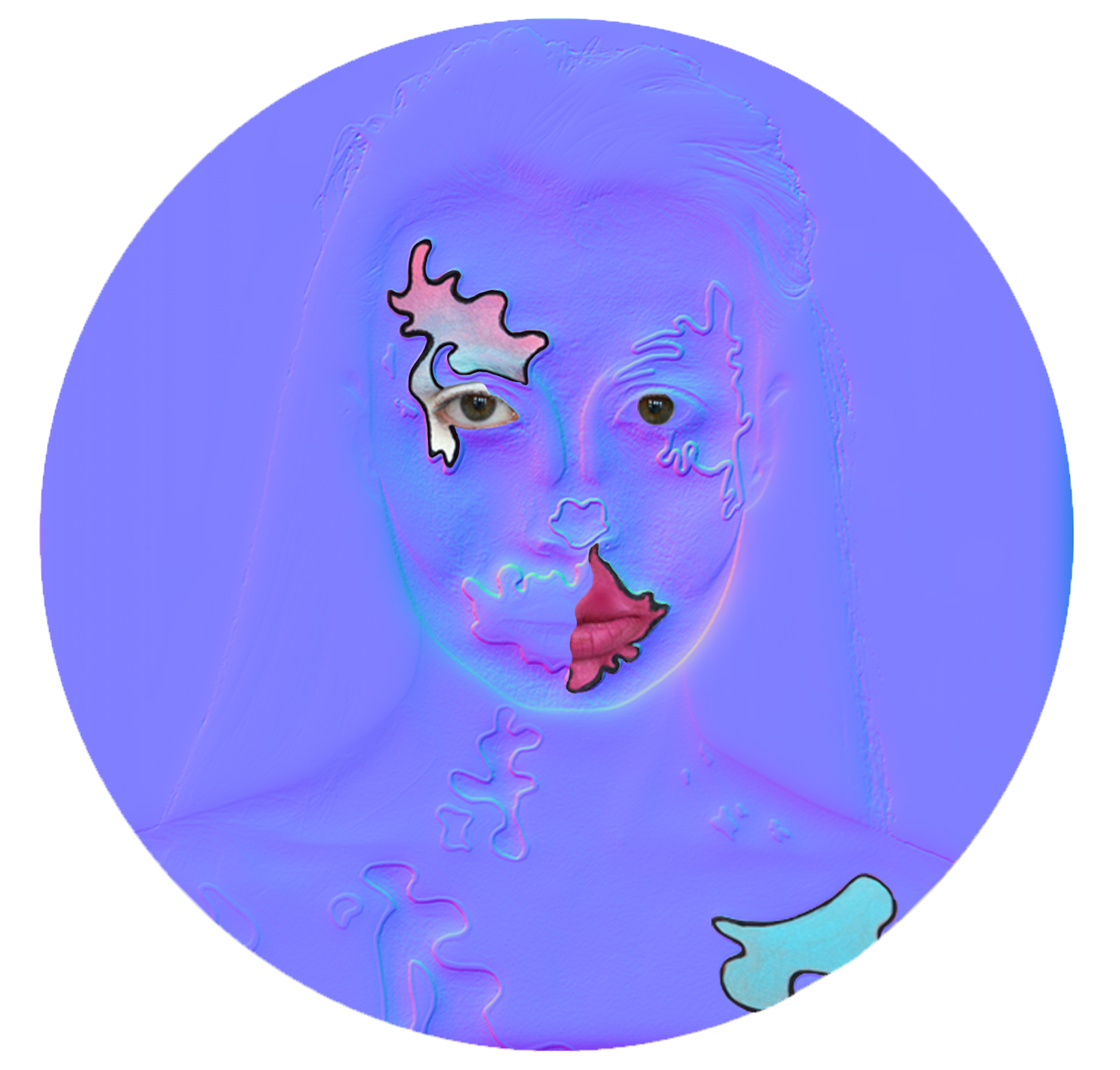 With emotion-soaked songs written from a distinctly feminine perspective on heartbreak and finding strength in the aftermath, toxic friendships, the complexity of loneliness, little moments of joy ala great sex and cannabis clouds, and confronting the patriarchy, Razor Braids' sound is as eclectic as the group of women comprising the band. Razor Braids draw influence from a variety of genres, decades, and the power they admire in one another. Their music is injected with elements of punk, 90's grunge, and deep, dark, and heavy singer-songwriter stylings with an alternative ethos. Dripping with electric energy, Razor Braids' songs roll around in your head, ignite your body, and jolt your heart. It's rock, baby. Razor Braids is lead vocalist, bass-wielding, on-her-back-floor-dancing Hollye Bynum, Janie Peacock ripping and riffing on lead guitar as well as illustrating and designing all of Razor Braids' visual content, rhythm guitar and the sweetest backing vocals you'll ever hear carried by Jilly Karande, and her majesty, the ultimate badass, Hannah Nichols who took her seat at the drum throne.
Album or artist that was your biggest influence to make music?
When I was in 2nd grade I dressed up as Paul McCartney for career day.
Currently listening to?
Yves Tumor, Arthur Russell, Faye Webster, Shormey, Ty Segall, Fugazi, Phoebe Bridgers, Thin Lizzy, The Replacements.
Lucy Hepke
Lucy, Rough Trade Nottingham
Taking a fine art practice out of university sub-culture and into lockdown makes some weird sh*t happen. Exploring themes of gender identity, motherhood, self-expression, personification…(the list goes on) through performance, video and installation. Not being able to access my usual studio space means that I have been playing with less traditional approaches of making which is actually proving really fun and keeping me as 'sane' as possible... Also working collaboratively within the art collective, Gendersphere for an exhibition that has under the circumstances been transported into the d i g i t a l r e a l m  with an interactive website that interprets the hectic turbulence of these strange times.
Currently listening to?
Caroline Polachek, TOPS, The Big Moon, FKA twigs.
Sunrisa Disco
Wendy and Crystal, Rough Trade NYC

Sunrisa Disco is a DJ Collective that joins our forces to light up dancefloors across New York City with the best 70s disco music from across the world. Our last gig before this all started was at Soho Grand hotel. Now we create mixes for at-home booty shaking on our freshly created website.
Album or artist that was your biggest influence to make music?
Cristina by Cristina.
Currently listening to?
Cristina, Manu Dibango, Christy Essien, Fern Kinney, Susana Estrada, Twinkie Clark, Pino D'Angio, Rupa.
Sub Space
Cam, Rough Trade NYC
Although Sub Space had been around for a few years prior to my joining, releasing a demo and playing DIY punk shows around NYC, spring 2019 saw the band reforming with a new lineup and creative direction. While the 2017 demo drew heavy influence from 1980s Japanese Hardcore ala Gauze/GISM, the new lineup sees the band incorporating psych, hard rock and heavy metal into the mix. Be on the lookout for our debut EP, I Walk The Devil coming this summer on Vanilla Box Records.
Album or artist that was your biggest influence to make music?
I've been playing in bands since 2004, all of which had such varying influences, so it's hard to say. If I had to pick one, it would be Black Flag's My War. It's the record that taught me to think outside the box as a punk musician, and that it's cool to like the Grateful Dead.
Currently listening to?
Cristina, Manu Dibango, Christy Essien, Fern Kinney, Susana Estrada, Twinkie Desire - Escape, Teacher by Chromatics, 1984 by David Peel, Space Ritual by Hawkwind, 2020 by Molly Nilsson, Go To Heaven by Grateful Dead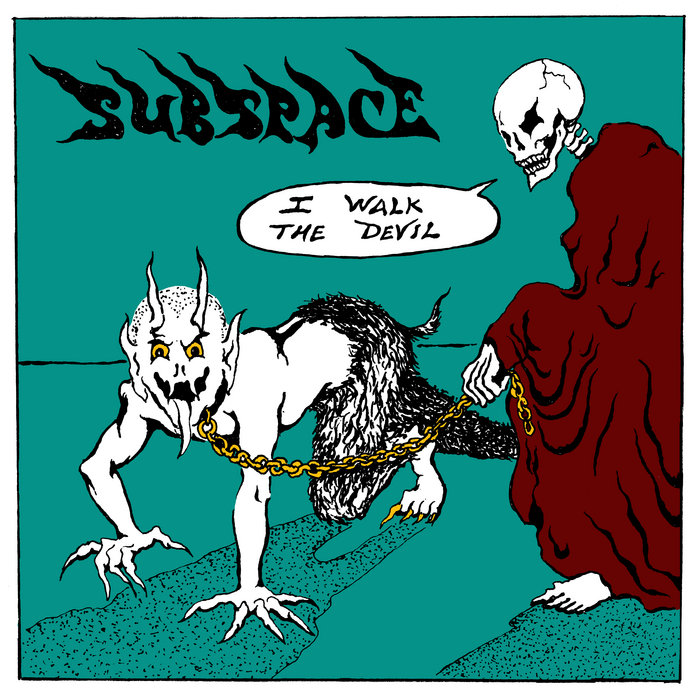 Like what you hear?
Feel free to share/link/follow/like on social media and help support the music Beyond The Counter x