The Sidekicks' Steven Ciolek introduces superviolet, a new solo project that includes a close collaboration with Saintseneca's Zac Little and Sidekicks drummer Matty Sanders.
The debut album from superviolet is a welcome addition to a substantial catalog of music; a serene conjunction of folk overtones and 60's pop rock, reminiscent of rolling hills seen through the passenger side of a car on a road trip. Steven Ciolek's distinct writing holds true throughout this record. While The Sidekicks were known for their punk rock roots, superviolet's sound is much more relaxed and easy while incorporating the midwest sound he is known for in his lyrics.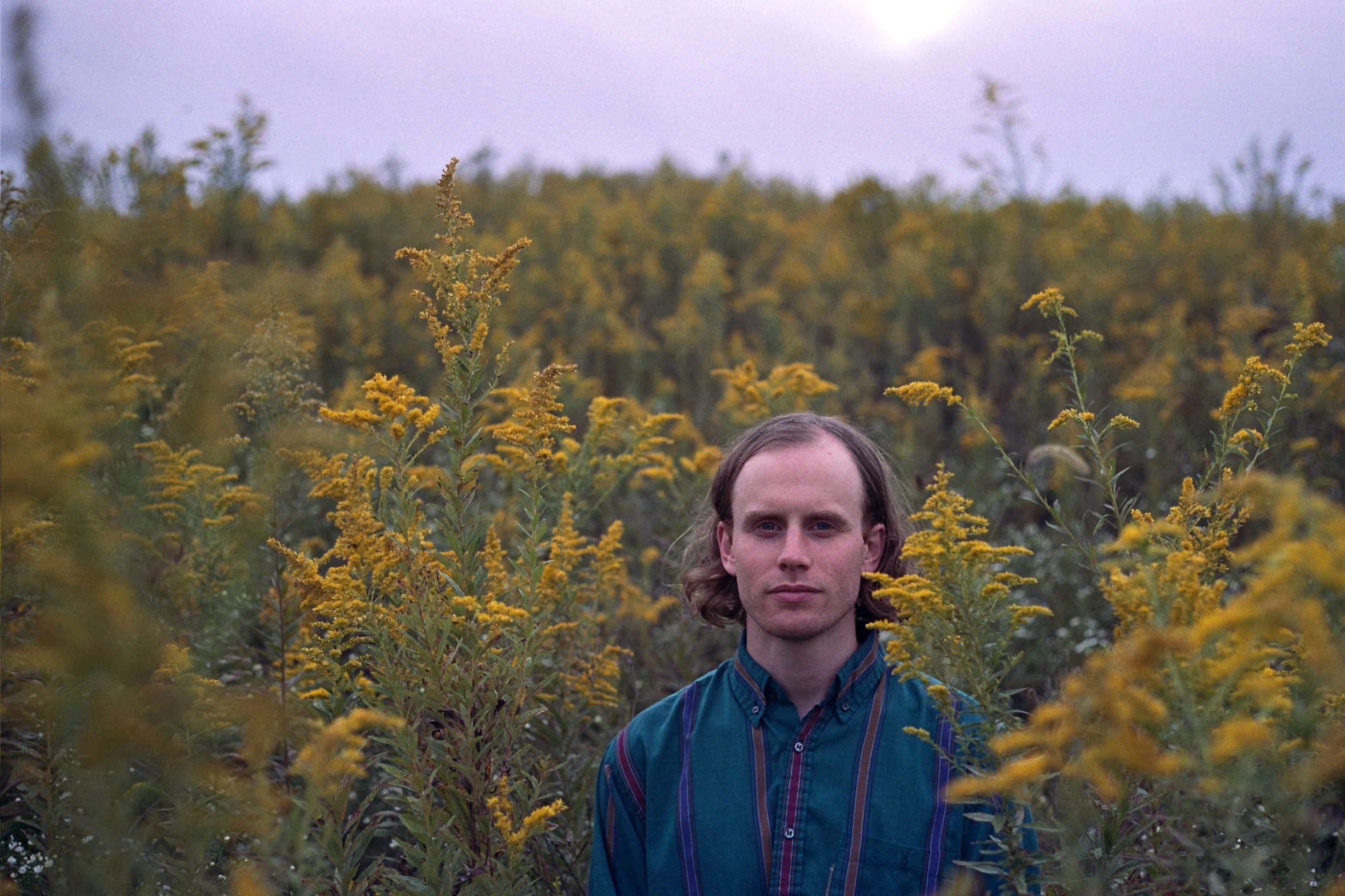 We're excited to announce superviolet as part of On The Rise, our dedicated curation putting a spotlight on the emerging music we are the most excited for you to hear, to follow and become a fan of. Read on to discover more about the artist in their own words and make sure you check out forthcoming album infinite spring which comes out April 21 via Lame-O Records.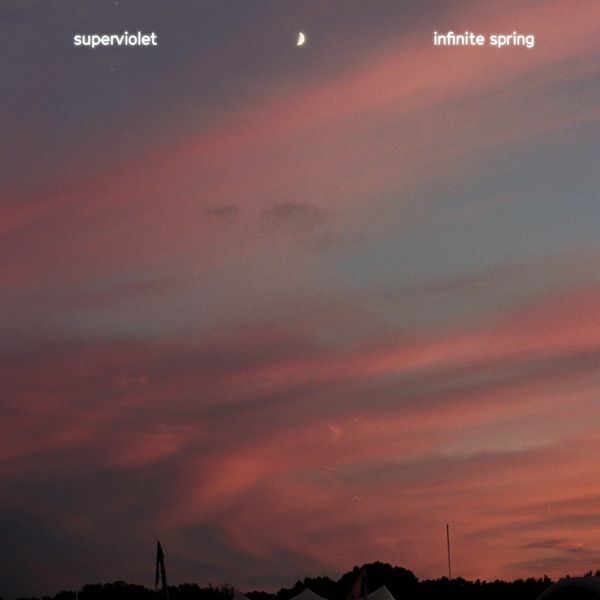 superviolet - infinite spring
Buy Now
Listen to the first single "Overrater" now!
---
Steven Ciolek on superviolet
A self-penned bio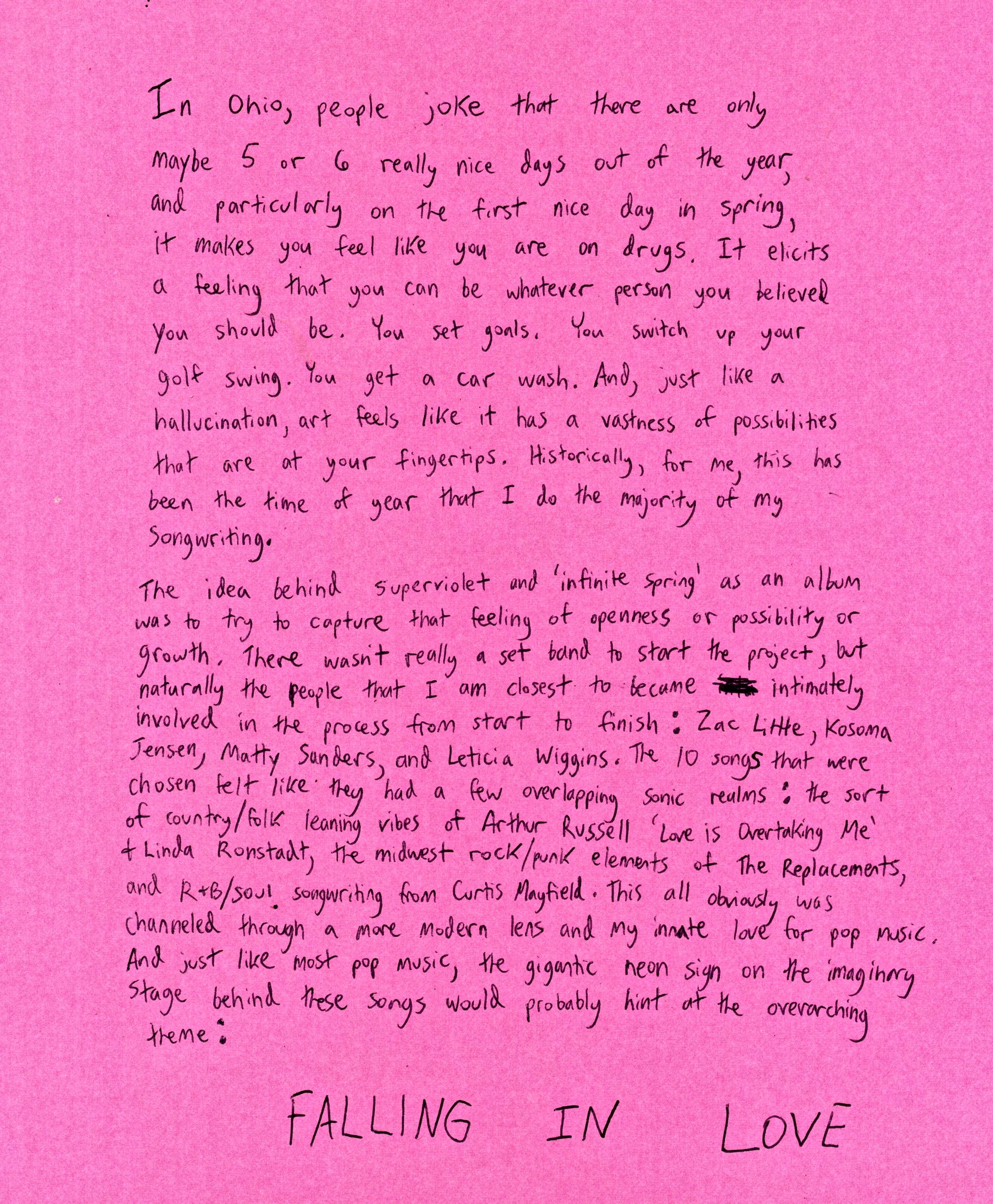 Describe superviolet in 5 words:
dream dating Saturday at dawn
5 records you listened to prior to making your album?
Al Green - I'm Still in Love With You
Curtis Mayfield - Curtis
Frankie Cosmos - Zentropy
Arthur Russell - Love is Overtaking Me
The Replacements - Tim
Top 5 career moments?
never losing a pickup basketball game with The Sidekicks
getting to make albums with sonic wizards Phil Ek, John Agnello, Mike Mogis, and Eric Cronstein
going down the rabbit hole of finding sounds for Infinite Spring with Zac Little and Matty Sanders
playing "I Can't Hardly Wait" by the Replacements with Kosoma at our wedding
touring to the west coast for the first time with Tigers Jaw, felt like a dream road trip
You host a pre-release listening party for the album. Who are your 5 VIP guests (dead or alive)?
Jasper II my pet parakeet (rip)
Chris Farley
Joni Mitchell
SZA
Elliott Smith
Top 5 essential tour apples?
cosmic crisp
fuji
jonagold
evercrisp
winesap