The immediacy of Chicago quintet Divino Niño is apparent from the get go. They're a band that recognizes that a verse can be as much of an earworm as a chorus. Their first instinct is to engage. While their roots recall a washed out version of other Chi-town garage rock, they've contorted themselves in shimmering psychedelic-and-synth-pop for Last Spa on Earth.
The potential for coming-of-age movie soundtracks or even crossover appeal is viable from the first two singles. "Tu Tonto" is a dance track that effectively sees its reggaeton beat go haywire, while "Nos Saltamos" has the formula for 80s revival anthems down to a science. There's a mischievous toying with genre convention throughout without ever becoming clever for clever's sake. Both intricately designed and remarkably effective, it's all in good fun.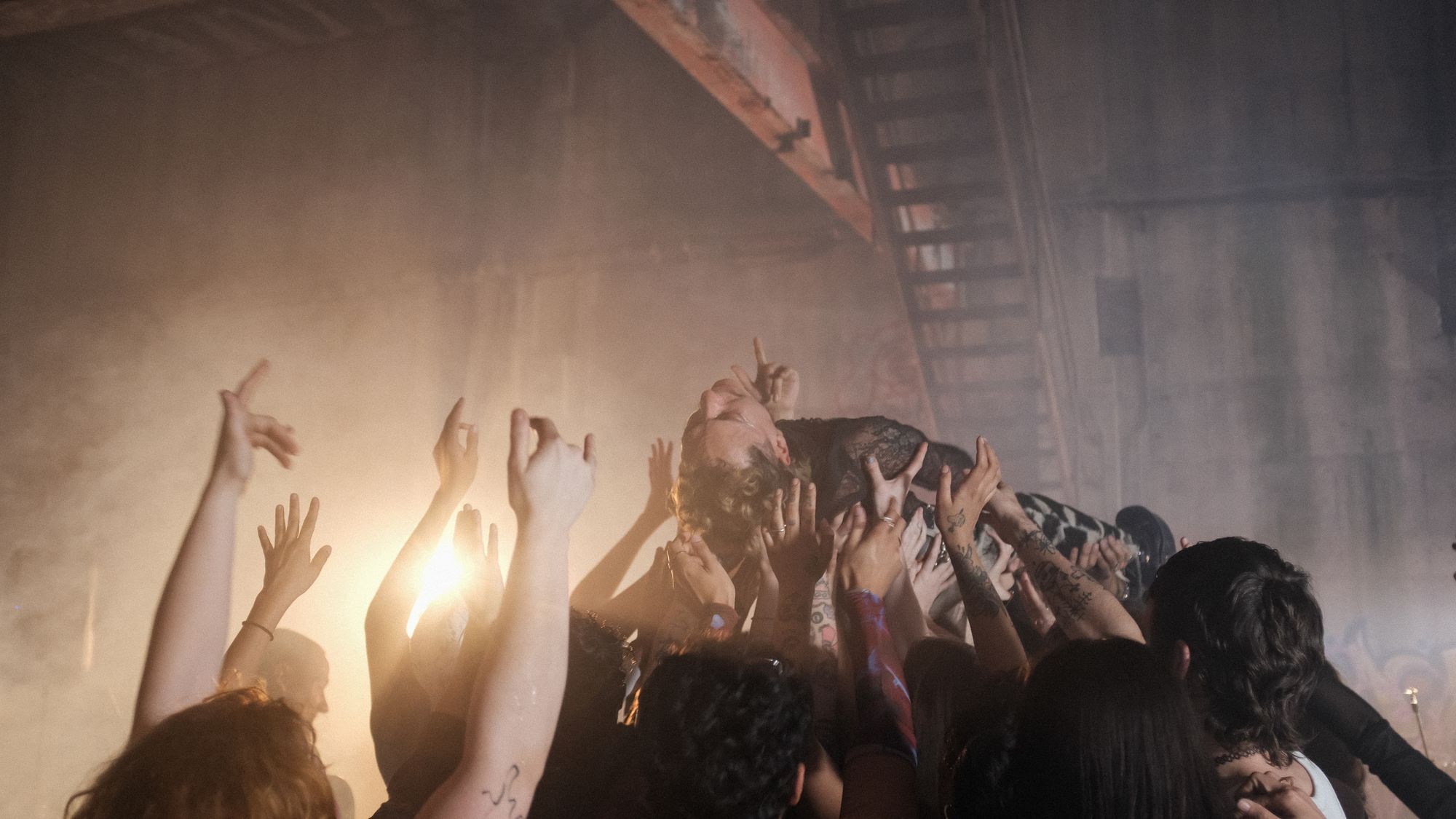 We're excited to announce Divino Niño as part of Rough Trade On The Rise, our dedicated curation putting a spotlight on the emerging music we are the most excited for you to hear, to follow and become a fan of. Read on to discover more about them in their own words and make sure you check out forthcoming album Last Spa On Earth, out on September 23rd.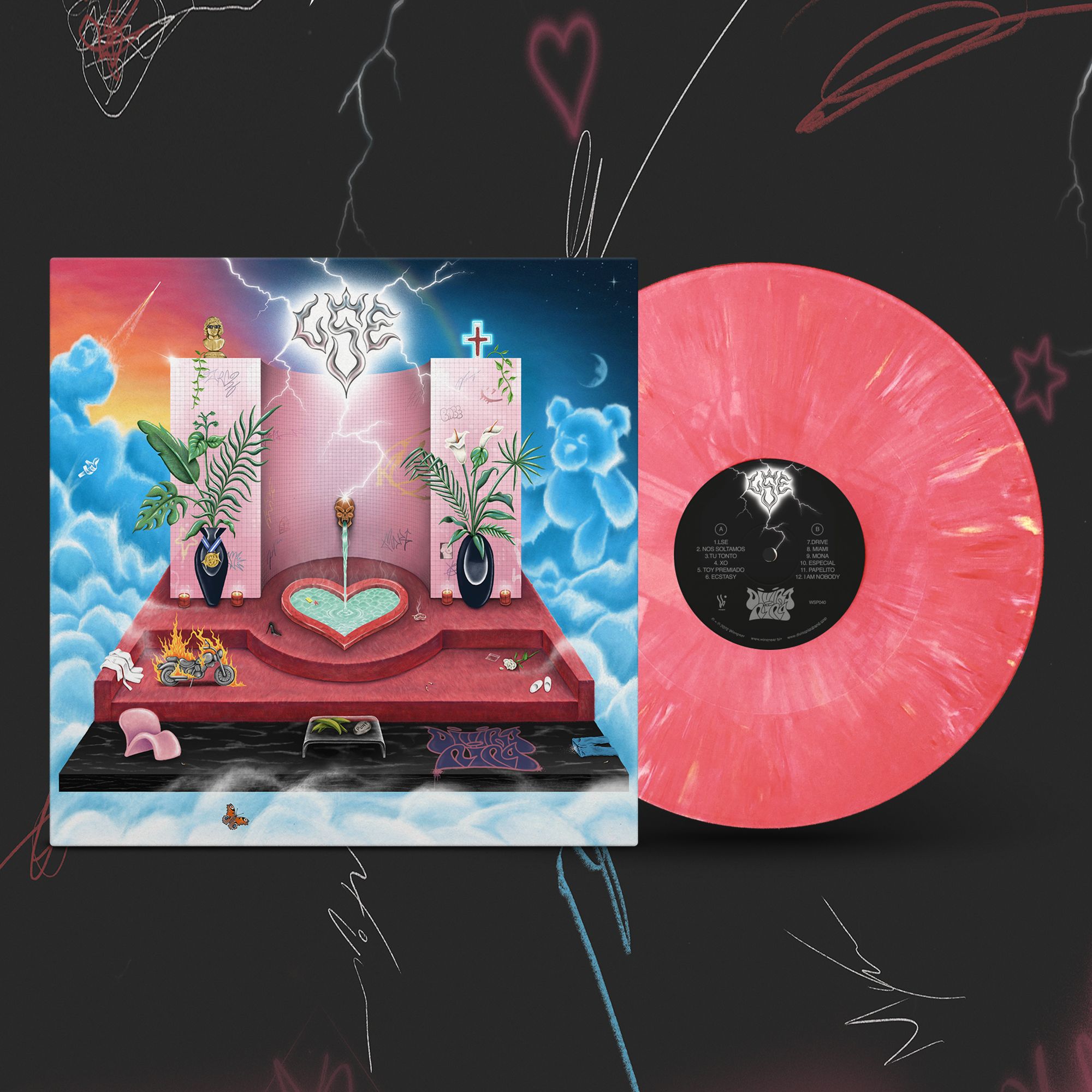 Divino Niño - Last Spa on Earth
Buy now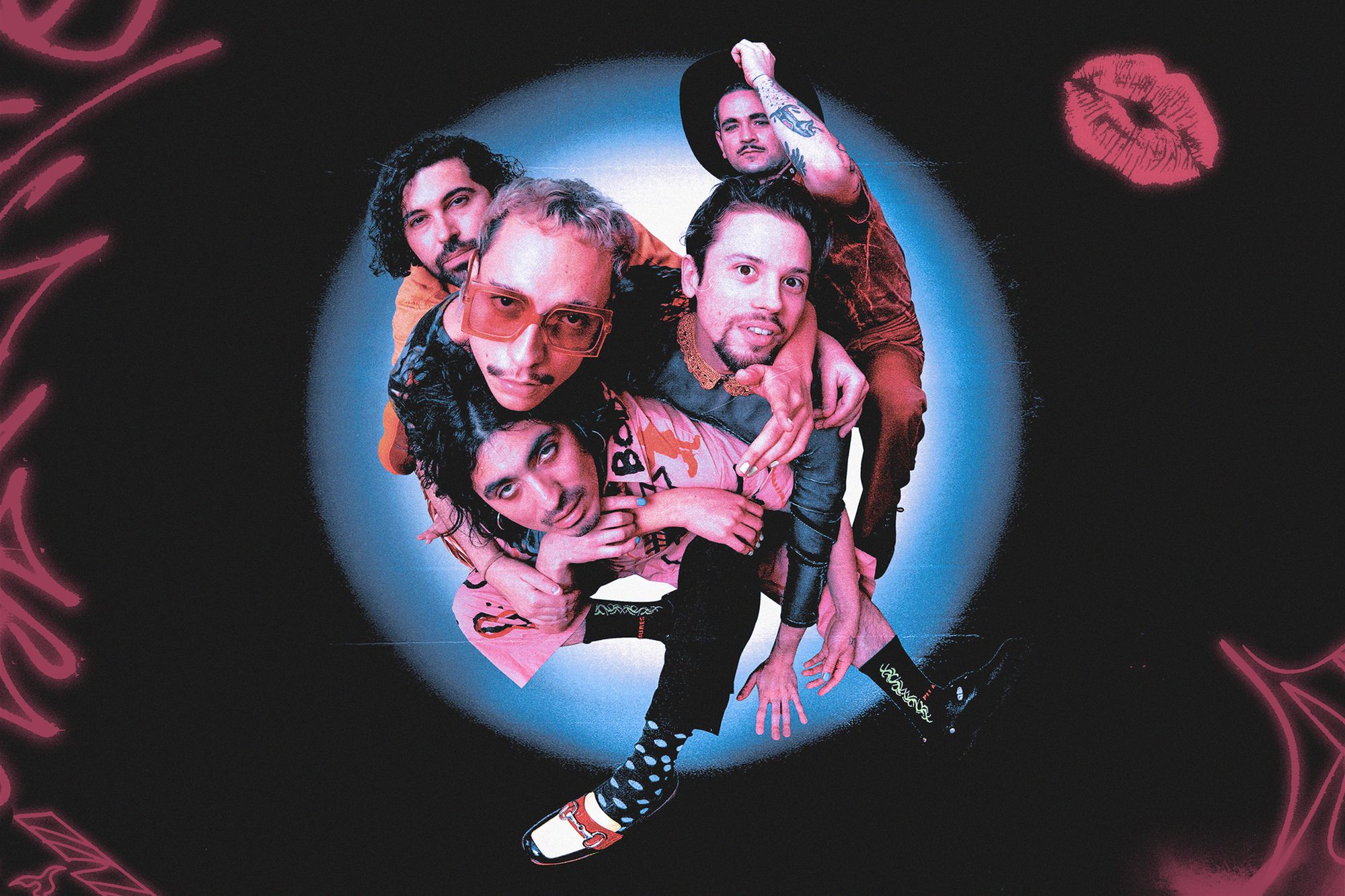 Divino Niño on Divino Niño
A self-penned bio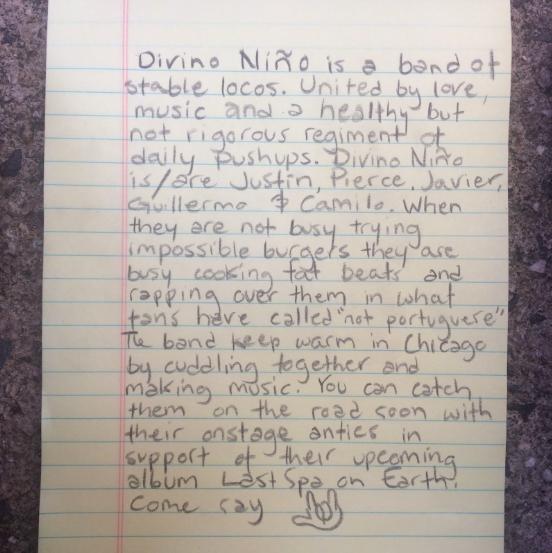 Five by Five
Describe your band in 5 words.
Guillermo: what a bunch of bozos
JV: in love with each other
Pierce: Chaotic, Serene, Rhythmic, Kismet, Divine
Camilo: CAPTAIN PLANET FAB 5 NSYNC
Javier: trilliant-ruby, earth, water, fire, air
5 records you listened to prior to making your album?
Guillermo:
Frankie Reyes - Boleros, Valses Y Mas
JV:
Gat Decor - Passion
TDJ - SPF INFINI
Pieri - Quien Paga repeat
Paco Amoroso - Saeta
4strings - Take Me Away (into the night)
Pierce:
Charli XCX - How I Feel Right Now
Makaya McCraven - Universal Beings
Bad Bunny - YHLQMDLG
Yves Tumor - Heaven to a Tortured Mind
Spirit of the Beehive - Entertainment.Death.
Camilo:
VEGYN - only diamonds cut diamonds
THE GARDEN - kiss my superbowl ring
MS NINA - perreando y llorando
Javier:
J Dilla – Donuts
Nala  Sinephro - Space 1.8
Paco Amoroso – SAETA Craneo
Lasser – Musica para Lagartos
Isabella Lovestory (she doesnt have an album, but all her singles on repeat),
Top 5 career moments?
Guillermo: signing records for the "fans"
JV: Making the Tu Tonto and Nos Soltamos music vids
Pierce: Playin P4k post a pandemic.
Camilo: Headligning Lincoln Hall Jan 2020.
Javier: putting out LSE and going on a co-healining tour this fall!

You host a pre-release listening party for the album. Who are your 5 VIP guests (dead or alive)?
Guillermo: Don Francisco
JV: Randy Rhoads
Pierce: Dead or alive?  I'd give the 5 VIP passes to our future dead selfs. Full bottle service for our future homies.
Camilo: La Goony Chonga, Tomasa Del Real, and their friends
Javier: hehe listening parties are a bit stressful for me cause I get caught on still trying to tweak sounds. Nonetheless, Id just send out a group text to all my friends inviting them to the listening party at some beach house in union pier. If Arca, Rosalia, Yohji Yamamoto, Demna Gvasalia, or Jean Basquiat decide to show up I wouldn't be upset

Top 5 essential tour snacks?
Guillermo: tap water
JV: ghost pepper peanuts
Pierce: 3 Yerba Mates and 2 bags of Honey Roasted cashews please
Camilo: Sparkling water + Gas station Cantaloupe
Javier: trail mix, beef jerky, can of BANG!, hot cheetos, chicken nuggets