Dazy has come to put an end to bedroom pop's era of chill vibes.
The Richmond project has been prolifically releasing tracks across the past few years but the time has come for their debut record. Signing to Lame-O Records, they've concocted OUTOFBODY, the tightest, most energetic batch of songs they've ever written.
Mastermind James Goodson specializes in contrasts, building his blissful choruses out of a cloud of fuzz rather than within. Thick guitars layered on top of immediately resonant hooks, Dazy's roots dig beyond 90s indie rock into the origin of punk music itself: classic pop song structures devastated by a barrage of distortion. The end result is a debut album that is endlessly catchy and exhilarating on a physical level.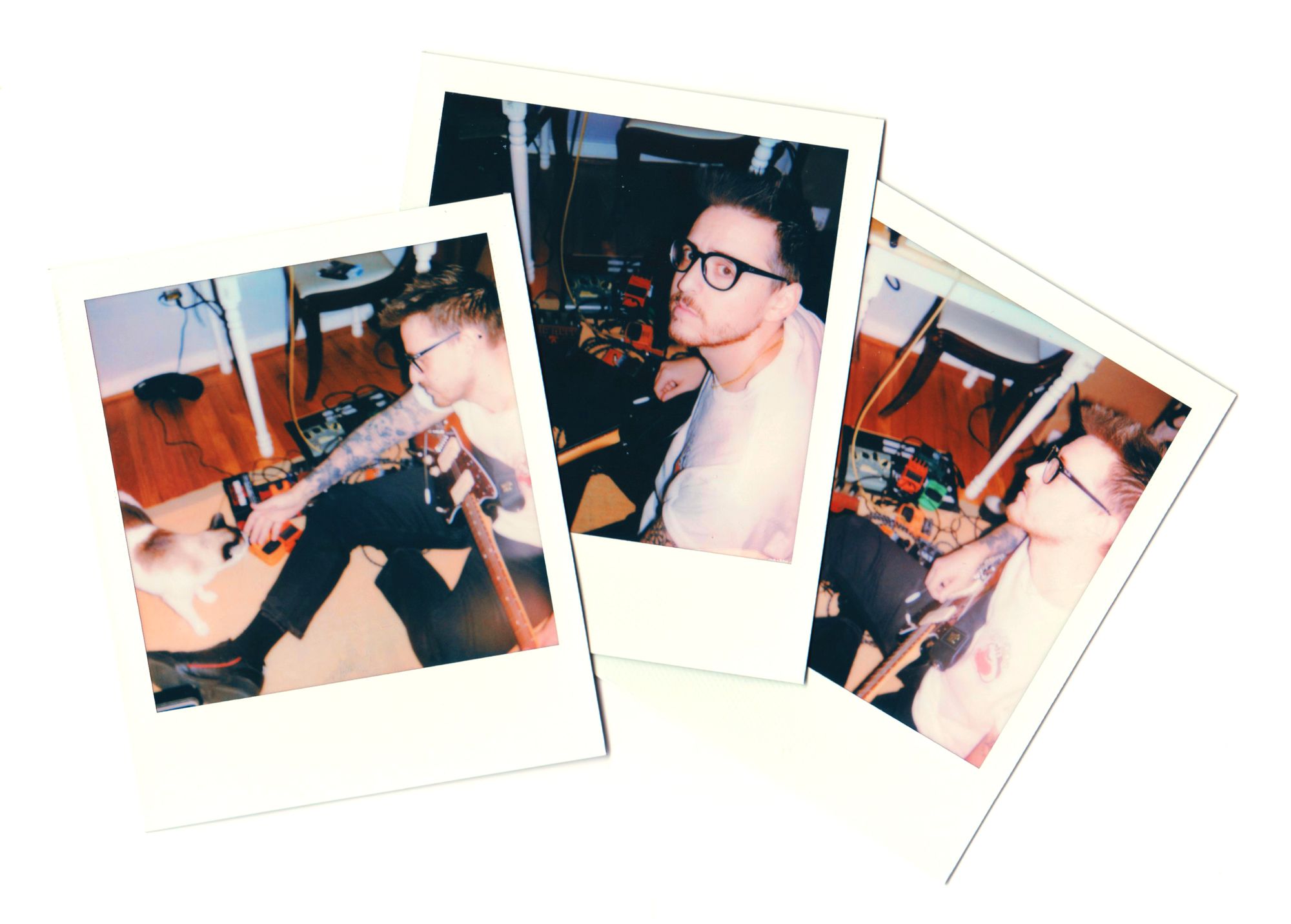 We're excited to announce Dazy as part of On The Rise, our dedicated curation putting a spotlight on the emerging music we are the most excited for you to hear, to follow and become a fan of. Read on to discover more about the artist in their own words and make sure you check out forthcoming album OUTOFBODY, coming out on Lame-O Records on December 2nd, 2022.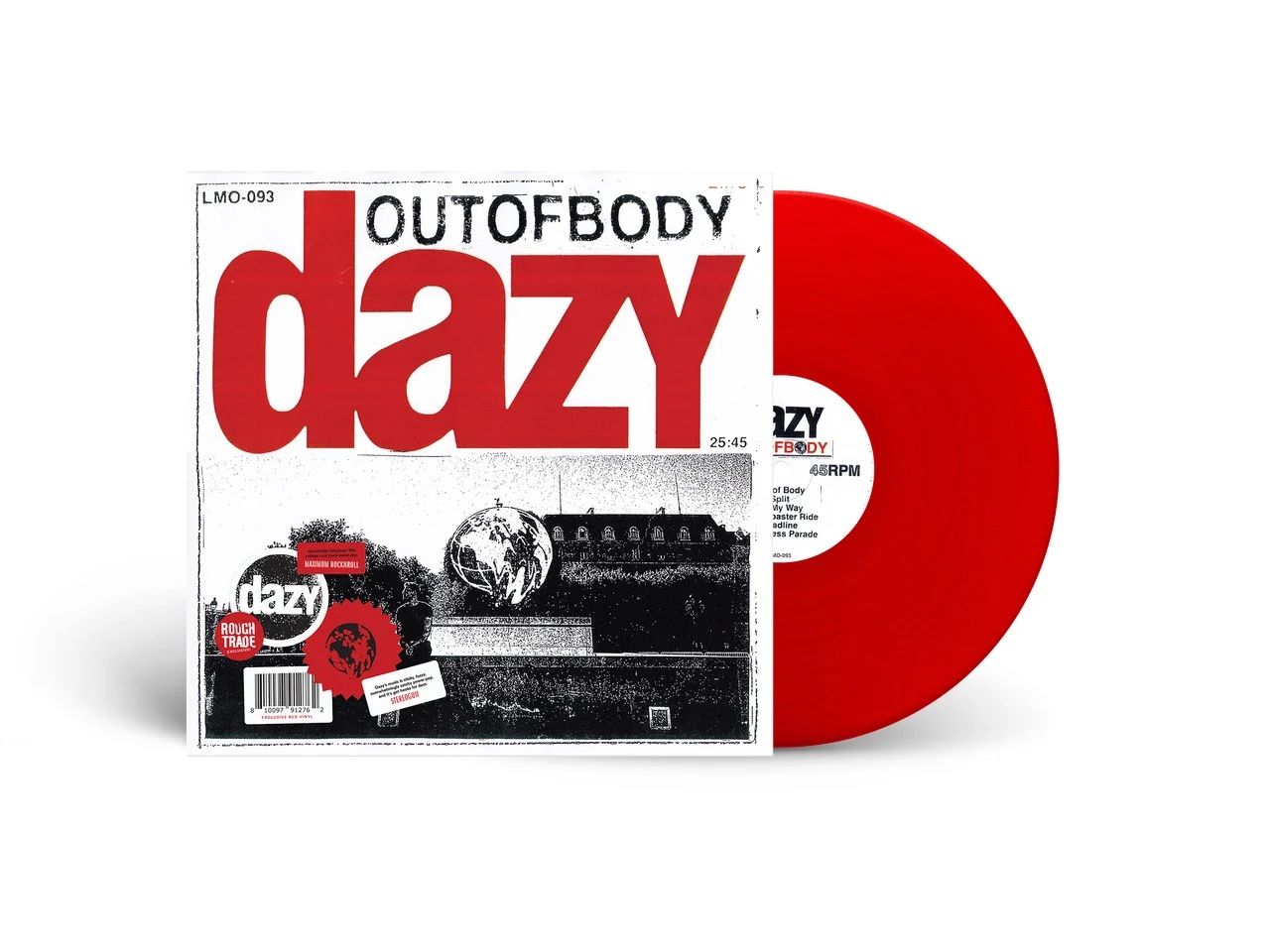 Dazy - OUTOFBODY
Rough Trade Exclusive Red Vinyl
Pre-order now
DAZY on DAZY
A self-penned bio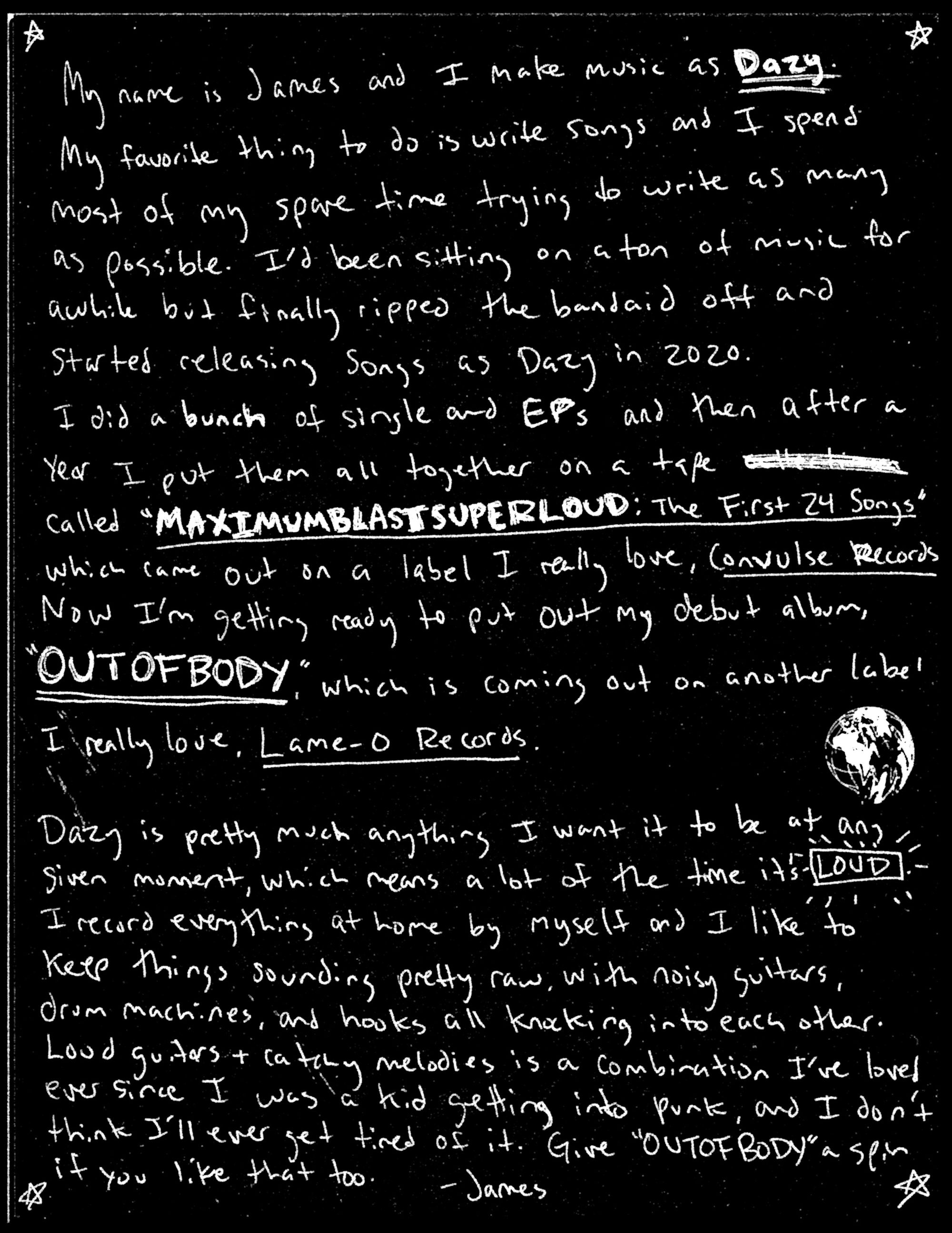 My name is James and I make music as Dazy. My favorite thing to do is write songs and I spend most of my spare time trying to write as many as possible. I'd been sitting on a ton of music for a while but finally ripped the band-aid off and started releasing songs as Dazy in 2020. I did a bunch of singles and EPs, and then after a year I put them all together on a tape collection called MAXIMUMBLASTSUPERLOUD: The First 24 Songs, which came out on a label I really love, Convulse Records. Now I'm getting ready to put out my debut album, OUTOFBODY, which is coming out on another label I really love, Lame-O Records.
Dazy is pretty much anything I want it to be at any given moment, which means a lot of the time it's loud. I record everything at home by myself, and I like to keep things sounding pretty raw with noisy guitars, drum machines, and big hooks all knocking into each other. Loud guitars plus catchy melodies is a combination I've loved ever since I was a kid getting into punk, and I don't think I'll ever get tired of it. Give OUTOFBODY a spin if you like that, too.
Five by Five

Describe Dazy in 5 words.
MAXIMUM
BLAST
SUPER
LOUD
songs
5 records you listened to prior to making your album?
The Jesus and Mary Chain - Honey's Dead
East River Pipe - Shining Hours In A Can
The Bevis Frond - Northern Circular
The Amps - Pacer
Medicine - The Buried Life

Top 5 career moments since forming?
Collecting my first year of singles and EPs onto one cassette release and having it come out on Convulse Records. Doing a cassette collection was my one and only goal from the jump and everything since then has been above and beyond.
Finally playing a show after starting Dazy in the middle of the pandemic and having it just be a recording project at home. It was really exciting to hear the songs in a new way and play them in front of people.
Making the song "Pressure Cooker" with Militarie Gun. I loved getting to collaborate with one of my favorite current bands and the response to that song has been unreal.
Performing "Pressure Cooker" with Militarie Gun at Outbreak Festival in Manchester, England. Playing this song with MG was great; playing it for the biggest audience I've ever been in front of was wild, and actually having people sing along was even wilder.
Joining Lame-O Records and getting to make a full-length. It's been really fun to work with them and I'm so stoked to see what we do together next.
You host a pre-release listening party for the album. Who are your 5 VIP guests (dead or alive)?
Joey, Dee Dee, Johnny, Tommy, Marky. CJ can come, too.
Top 5 essential tour snacks?
Salt and vinegar chips
Coffee
Primal Strips
Taco Bell
Dried mango (for pretending you're being healthy)