Glasgow indie-pop sweethearts Belle and Sebastian have held a reputation for being an international sensation since their 1996 breakthrough.
Accomplishing mountains of acclaim in their nearly two-decade run, Belle and Sebastian started their journey with debut album Tigermilk, a sensational and vibrant look into the mind of the Scottish musicians. In the same year the band also released If You're Feeling Sinister, launching them into being front runners of the indie-pop genre.
With 12 studio albums, countless EPs, and heartbreakingly beautiful live performances, Belle and Sebastian not only created a sound known the world over but paved the way for indie-pop bands and set the standard for the genre.
Their newest endeavor Late Developers sees the band going back to their indie roots and showing just how versatile they truly are. Not long after the release of their 11th album A Bit of Previous; Late Developers was announced and released earlier this year via Matador Records. This new project is a full-hearted embrace of the band's brightest tendencies. Belle and Sebastian is a group that will always be there for you with the perfect word or melody for the moment, while admitting tunefully that
Every girl and boy / each one is a misery
"Juliet Naked" channels frantic Billy Bragg-energy with rugged electric guitar and a football stadium worthy chant from Stuart Murdoch. The aforementioned "When The Cynics Stare Back From The Wall" is an unearthed 1994-era pre-Belle and Sebastian gem, with help from Camera Obscura's Tracyanne Campbell. "So In The Moment" is breathless psychedelic pop that is arguably one of Stevie Jackson's best ever songs. "When We Were Very Young" is Smiths-esque jangle rock that is bittersweet, devotional and yearning:
I wish I could be content / With the football scores / I wish I could be content with my daily chores / With my daily worship of the sublime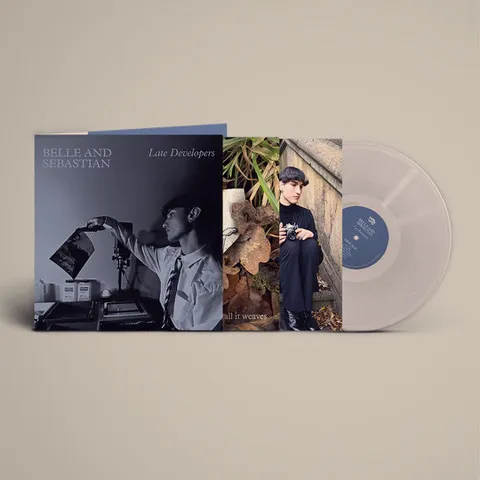 Belle and Sebastian - Late Developers
Rough Trade Exclusive Clear Vinyl Housed in Gatefold Sleeve with Printed Inner.