Through hundreds of outstanding albums to satiate our thirst for new music, we've learnt, grown, applauded and fallen in love all over again. Because a year well lived isn't complete without a soundtrack to underline all of its moments - big or small.
A reflection of the past 12 months in music, informed by the discerning Rough Trade community made up of customers, artists, labels and staff, Rough Trade Albums of the Year is a combination of what has been most in demand over the counter and what has been lusted, loved and lauded over behind the scenes, reflecting the variety across our stores' record racks and diverse customer base, including thousands of gig-goers.
Whittling it down to a list of 100 is alway a challenge, but we're beyond excited to champion all the projects you'll find below and as with every year that passes, we're proud to be a communal force in the UK music scene. Long may it continue to evolve and thrive.
Here are our favourite albums from 2022, including some very special Rough Trade Exclusive editions.
---
Album of the Year
Jack White - Fear of the Dawn / Entering Heaven Alive
Once poised to be an upholsterer, Jack White's talent for covering things pre-dates the riveting notes of Jolene and in 2022 he goes so far as to cover himself, twice (Taking Me Back).
It's the kind of stuff that makes us such admirers of White. Constant, carefully curated reinvention, the output of which always retains familiarity, its presentation always on brand. Something of a musical mastermind, not only as an artist in his own right, but as a producer and label owner extraordinaire, Jack White is also a champion of the vinyl format, celebrated with record stores and a world-class boutique pressing plant.

But at the very heart? A DIY ethos, a devotion to his craft and a penchant for detail. As such, let our crowning of Jack White as Album of the Year 2022 also take heed of his great contribution to music and our community here at Rough Trade across two decades.

Thank you Jack, we've adored every rip-roaring minute.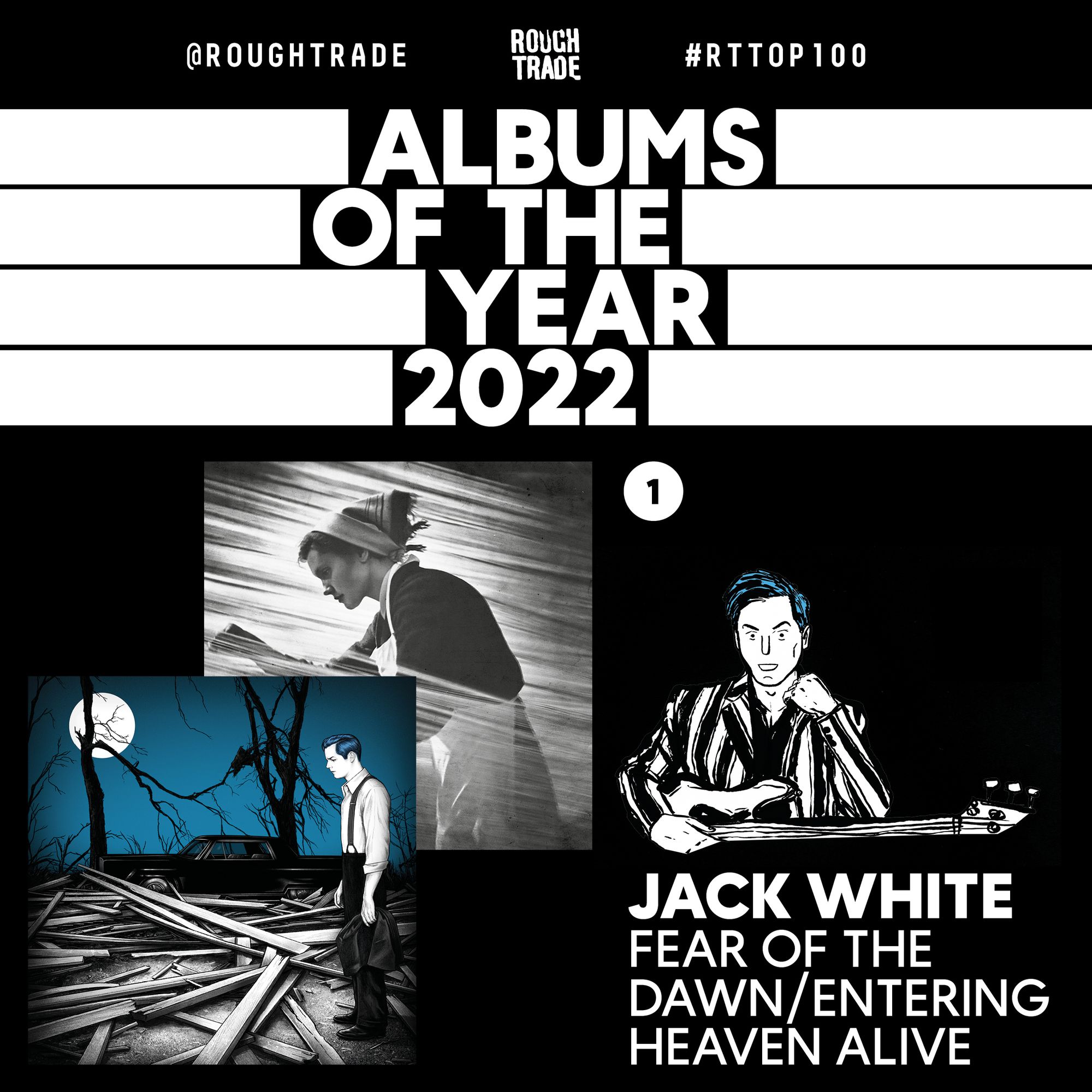 Bringing in two records in 2022, Jack White's Fear Of The Dawn is weird, wacky and well thought out. A hypnotic dream of a record meandering into the wonderful inner workings of White's mind. Listed as the only player on this record, we see Jack White show his prowess with his polished garage rock with plenty of overdubbed instrumentation and sonic textures. If you've ever turned all your guitar pedals on and cranked everything to 11, you are in the ballpark for the sonic palette of this record, containing more fuzz than on your nan's chin.
Nick, Office
EXCLUSIVE: Fear Of The Dawn on splatter vinyl  + Entering Heaven Alive on splatter vinyl + Live From Marshall Street 3 LP bundle and Rough Trade x Third Man x Jack White Limited Edition tote bag *

*Get £5 off when purchased together - use code JACKWHITE2022 at checkout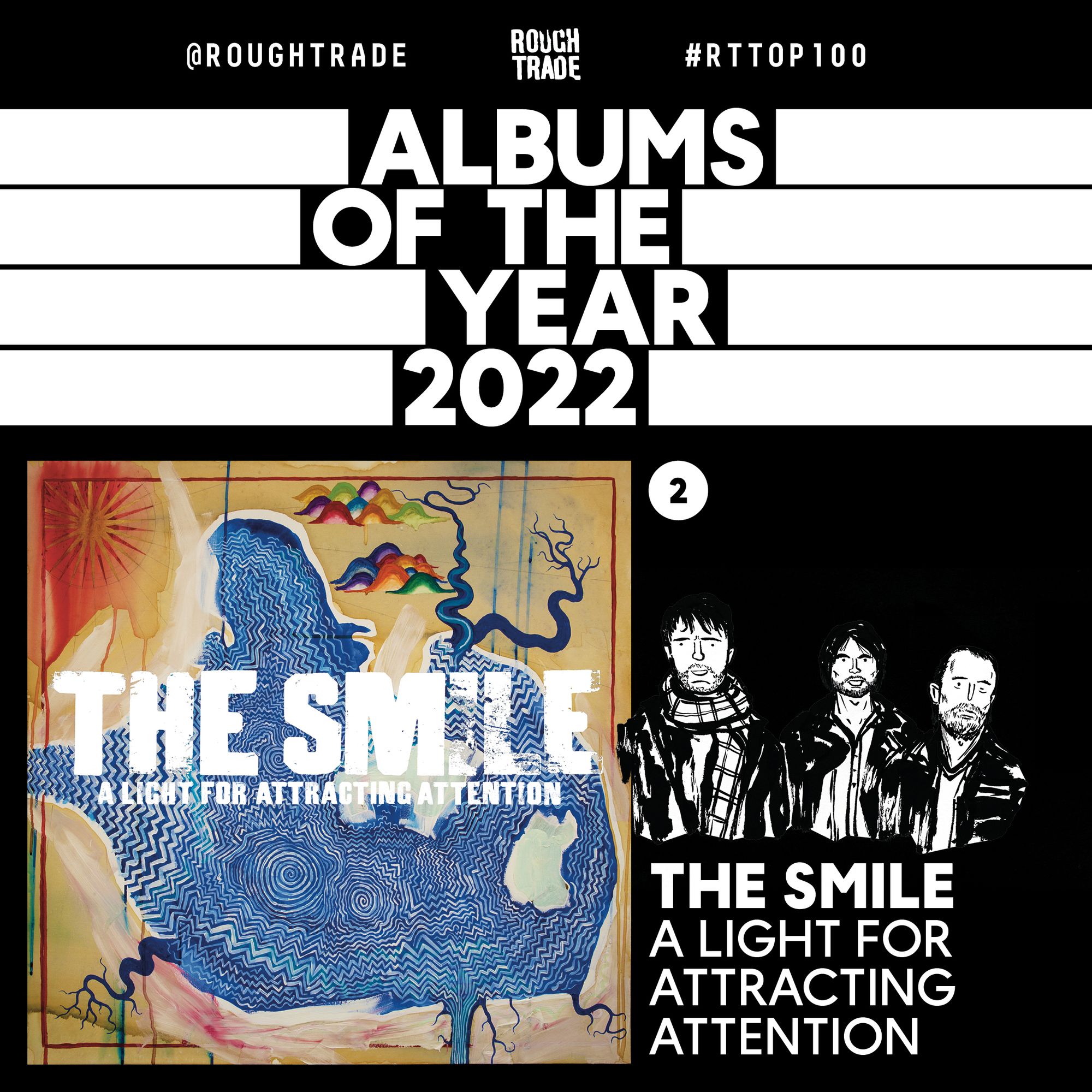 It's difficult to divert from your own DNA code, it forms the very basis of your being. A Light For Attracting Attention is unmistakably the combined brainchild of Yorke and Greenwood. Offering a comforting embrace of familiarity, harking back to the infancy of Radiohead. However, the introduction of former Sons of Kemet drummer Tom Skinner provides the perfect evolution of drive and pace forging new unexplored layers in which these titans are set to dive headfirst into exploring. Straddling a line between the unyielding alluring charm and blissful serenity.
Matt Smith, Warehouse
EXCLUSIVE: A Light For Attracting Attention on smokey vinyl with alternate sleeve art, A Hairdryer / Open The Floodgates 10" ft. 2 new tracks + spoken word by Cillian Murphy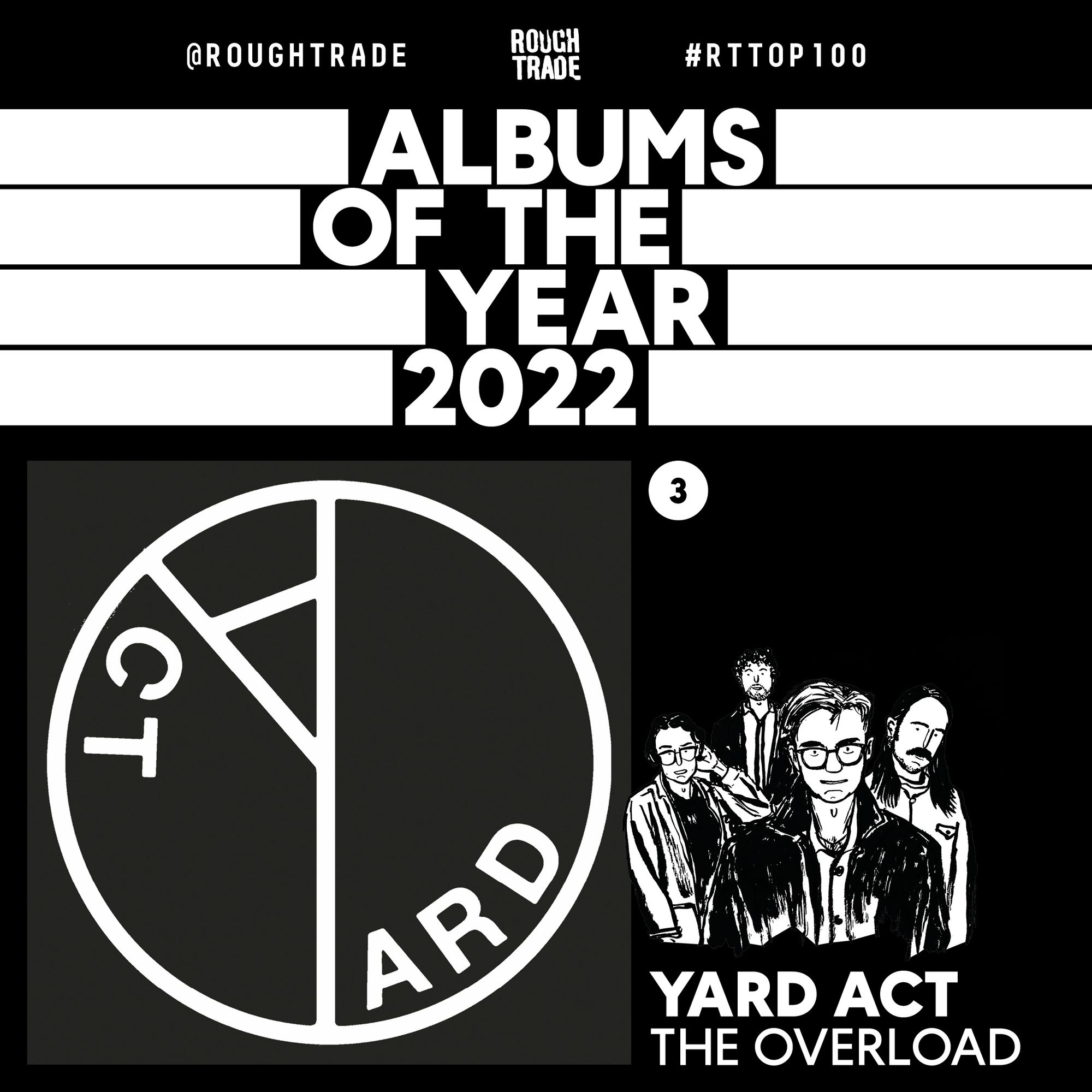 Busting through the thicket like a rutting stag, Yard Act followed up their excellent Dark Days EP with this absolute scorcher of an album,  The Overload (released all the way back in January, which in today's money is about five chancellors of the exchequer ago). Plenty of stories and ironic wit, but with the added bonus of angular guitar pop so sharp it can't be sold to minors.
EXCLUSIVE: The Overdub - whole album remixed by Mad Professor
The Office Cat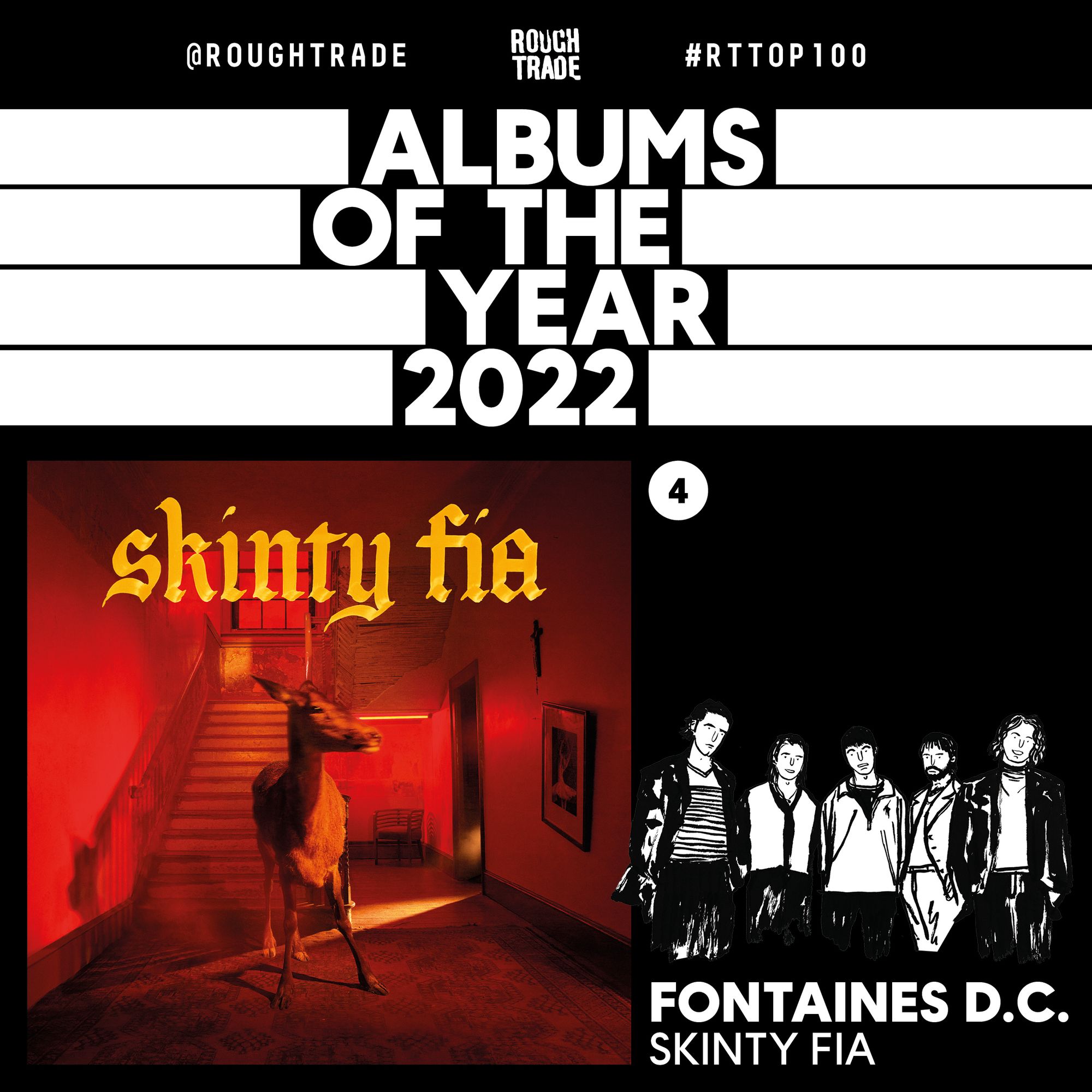 The third album from everyone's favourite Irishmen is their most sonically cohesive and dynamic album yet. Skinty Fia really hones in on ideas of identity and the hardships faced of identifying as Irish in alienating times and places, whilst the band try to find their feet over 45 minutes of slow-burning and dark anthems. We are treated with gorgeous, deep instrumentation and Grian Chatten's best vocal performances to date, not forgetting the lush group vocals of In ár gCroíthe go deo. An opening track that possesses an urgency and intensity that shows that its the only way is up for Fontaines D.C.
Dylan, Office
EXCLUSIVE: Skinty Fia with alternate sleeve art on red/black marbled vinyl, Skinty Fia Sessions live 4-track EP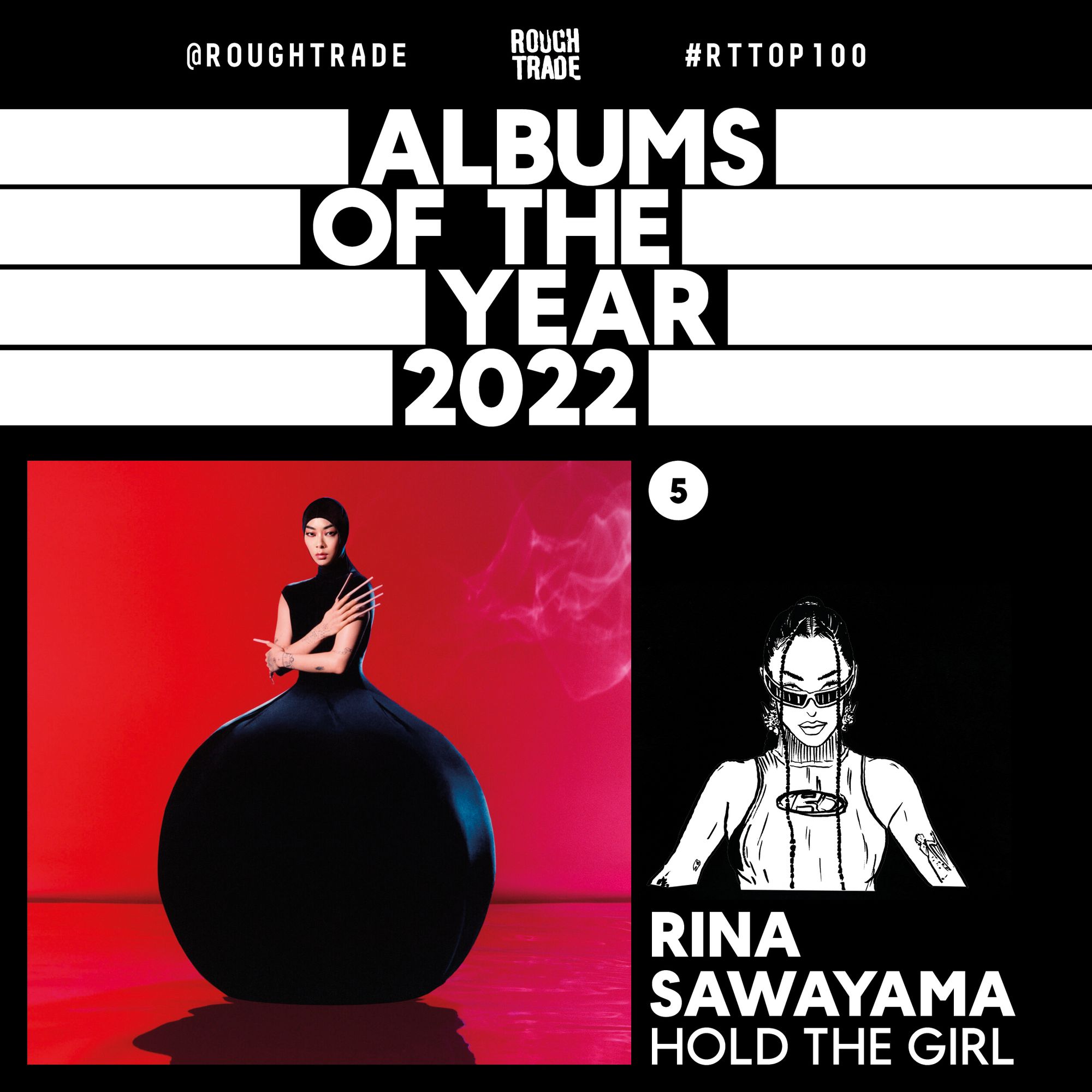 Rina Sawayama wears her heart on her sleeve. She oceans effortlessly between ballad and banger like a curious toddler playing dress up, unafraid to radicalise her influences, but with Hold The Girl we get to experience Rina 'reparent' herself in real-time and heal her inner child. Meeting all the young, queer and Asian people at her Rough Trade signings this year really hammered home how important an artist she is - whether it's speaking out against LGBTQ-Conversion Therapy or literally changing the Brit and Mercury Awards rules of eligibility for non-British citizens - Rina Sawayama has planted her own roots.
Tilah, Warehouse
EXCLUSIVE: Hold The Girl on lemonade/black vinyl, Rina 2017 mini-album on orange/blue marbled vinyl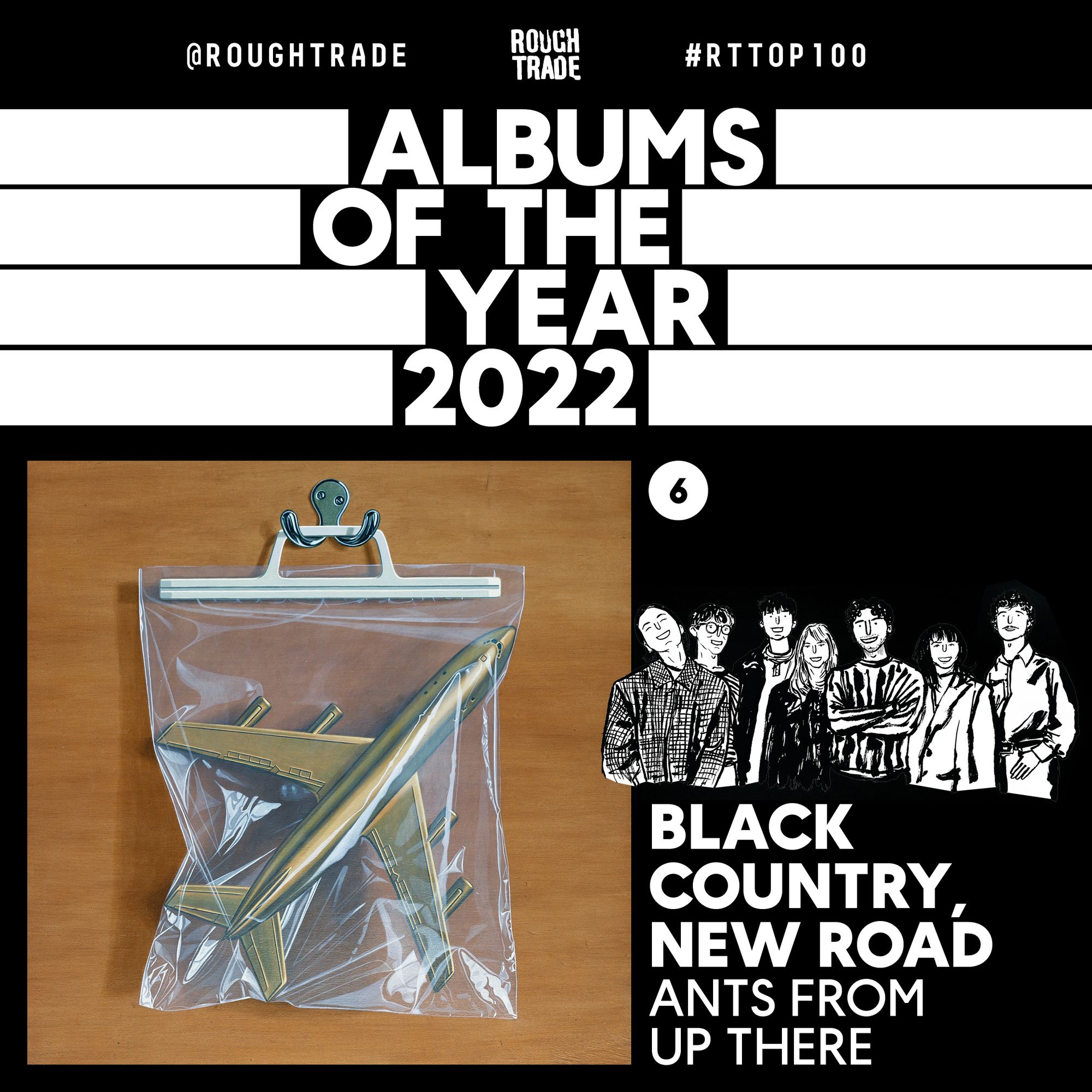 This genre smash of joyous melancholy has lingered and echoed with many of us since its release. Creating and ending a chapter in the group's history in one devastating swoop, Ants From Up There makes for a hearty meal of an album, calling you to be thrown and pulled by abstract song structure with humorous and harrowing lyrics. Laden with tracks that hold you and ask to be held in return, BCNR gave us this album in the cold of February and saw us through to spring. The group have caught and held our gaze with this record and we're not blinking in case we miss what's next.
Immy, Rough Trade Bristol
EXCLUSIVE: Ants From Up There on transparent vinyl, Never Again Pt.II 4-track covers EP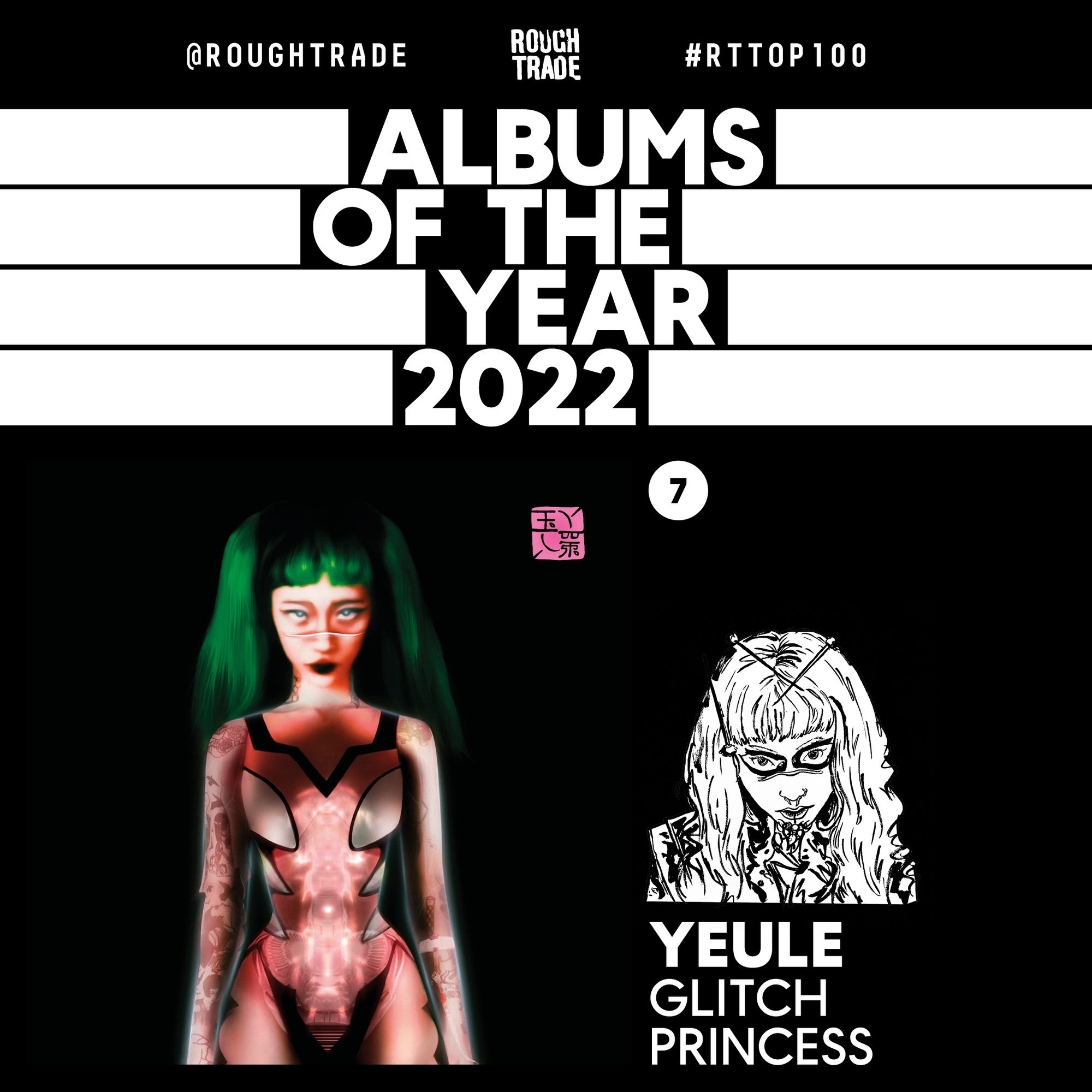 With a talent for world-building, yeule invites us into just a corner of their insurmountable creativity on their second album Glitch Princess. Both conceptual and candid, yeule's beautiful climatic soundscapes present the theory of 'glitch', weaving ideas of digital deconstruction, reconstruction, imperfections and identity.
Georgia, Office
EXCLUSIVE: Glitch Princess on transparent vinyl with holographic artwork sleeve  and The Things They Did For Me Out of Love b/w Intermission live track flexi disc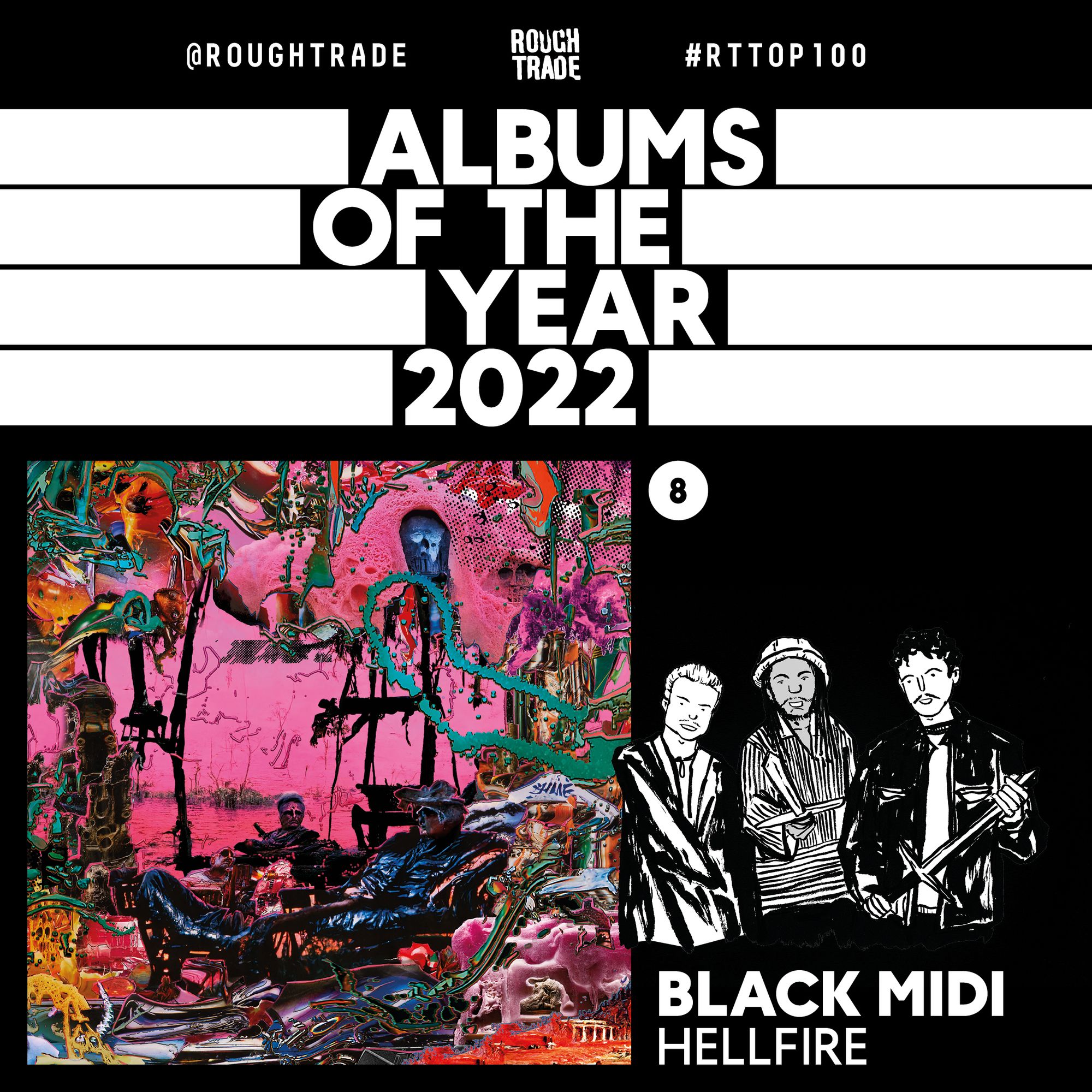 2021's Cavalcade had a number of impressive moments, particularly Slow, which has seen a spike in popularity this year thanks to incredibly silly TikTok videos. Hellfire amplifies the intensity and thrills that Black Midi are known for, providing a fitting and superior sequel to their previous effort. Welcome To Hell's driving intro reminds me of all my favourite Clinic songs (see Walking With Thee), with the added theatrical bite that would stand up perfectly on any Cardiacs and Primus albums. Although the three-piece still have many hearts to win over, they cannot be denied the fact that Hellfire is "the sporting event of the year".
Dylan, Office
EXCLUSIVE: Live Fire album of songs recorded live at Primavera Porto in July of 2022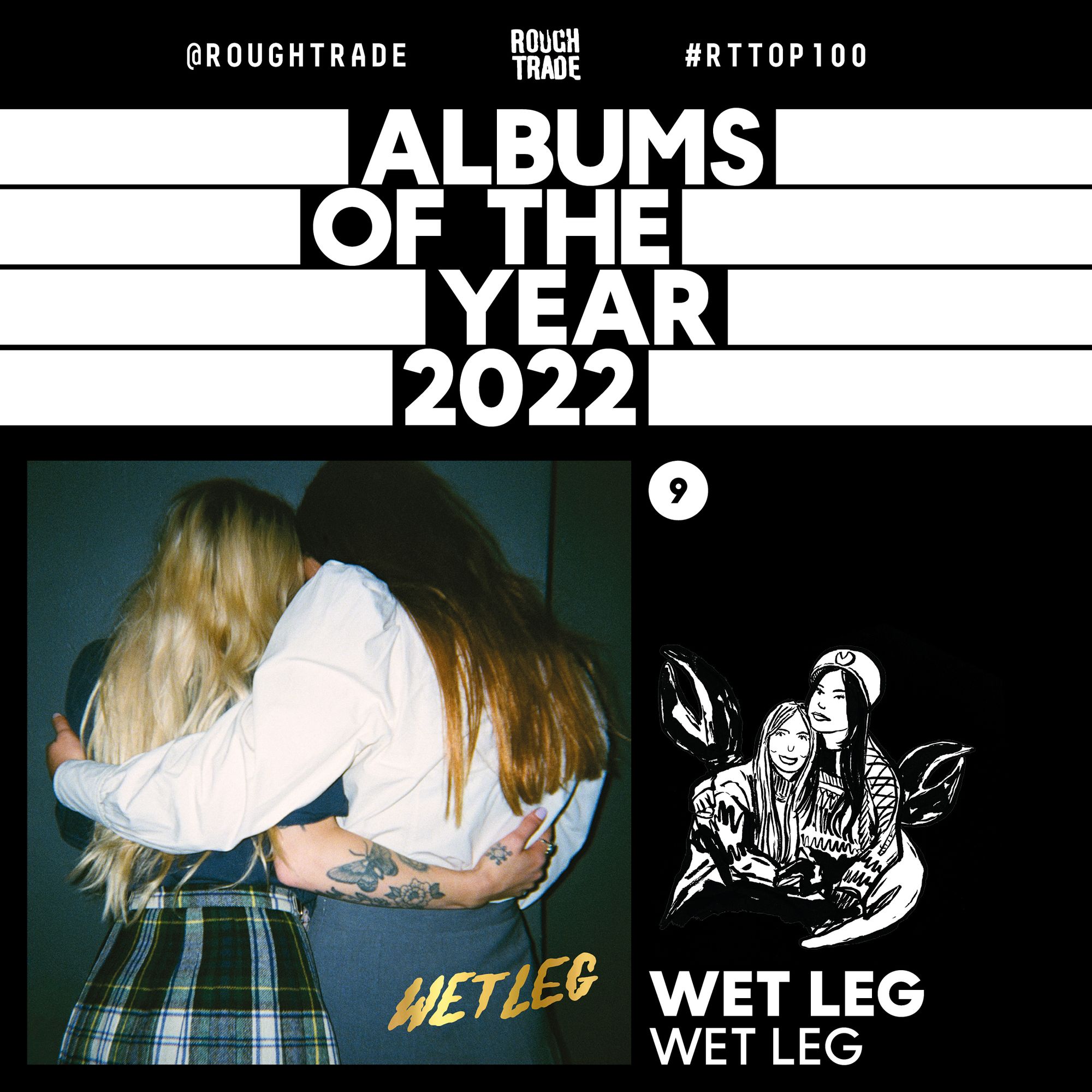 The gearing up for Wet Leg's self-titled debut was filled with a tremendous amount of excitement and hype and we were undeniably not let down. After dealing with the fallout of the pandemic and the current cost of living crisis, I definitely needed a feel-good, fun record. Rhian and Hester delivered an album I could lose myself in, while singing along to every word. To all their haters that are always leaving hateful comments on their social media, do yourselves a huge favour and give up because they're not going anywhere anytime soon.
Collette, Rough Trade East
EXCLUSIVE: Wet Leg on gold vinyl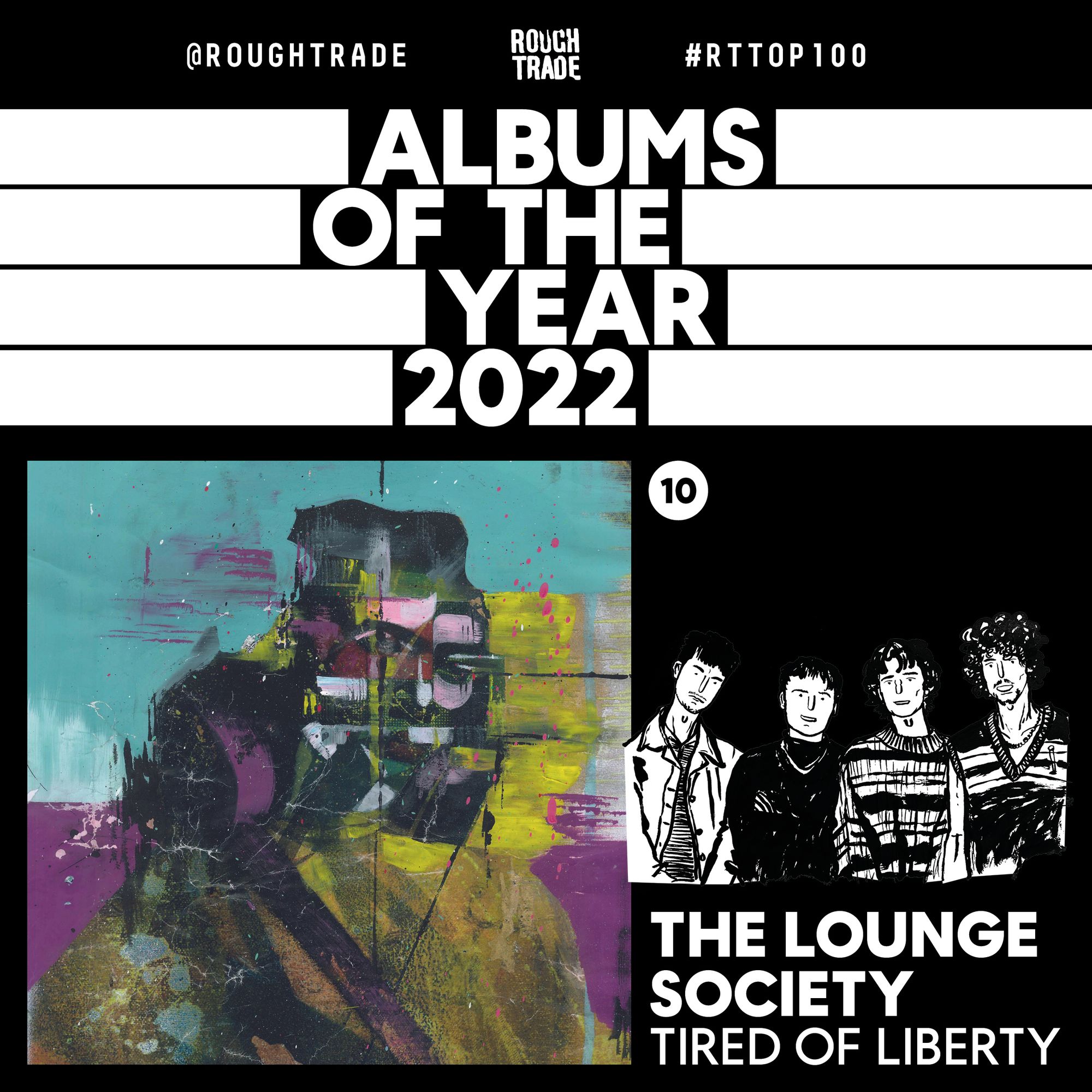 Guided by our highly trusted tastemakers at Speedy Wunderground with production from the one and only Dan Carey. On Tired Of Liberty the Hebden Bridge risers deliver an eleven-track opus of masterful storytelling, chaotic instrumentals and addictive riffs. An energetic statement made to be played live, The Lounge Society are the new breed of post-punkers ready to rip up society with unabashed commentary and polished sonics. It's just the beginning, yet with this debut the band cement themselves as one of the greatest emerging UK rock acts of the moment.
Georgia, Office
EXCLUSIVE: Tired of Liberty on transparent violet vinyl and a Test Recordings EP of pre-album sessions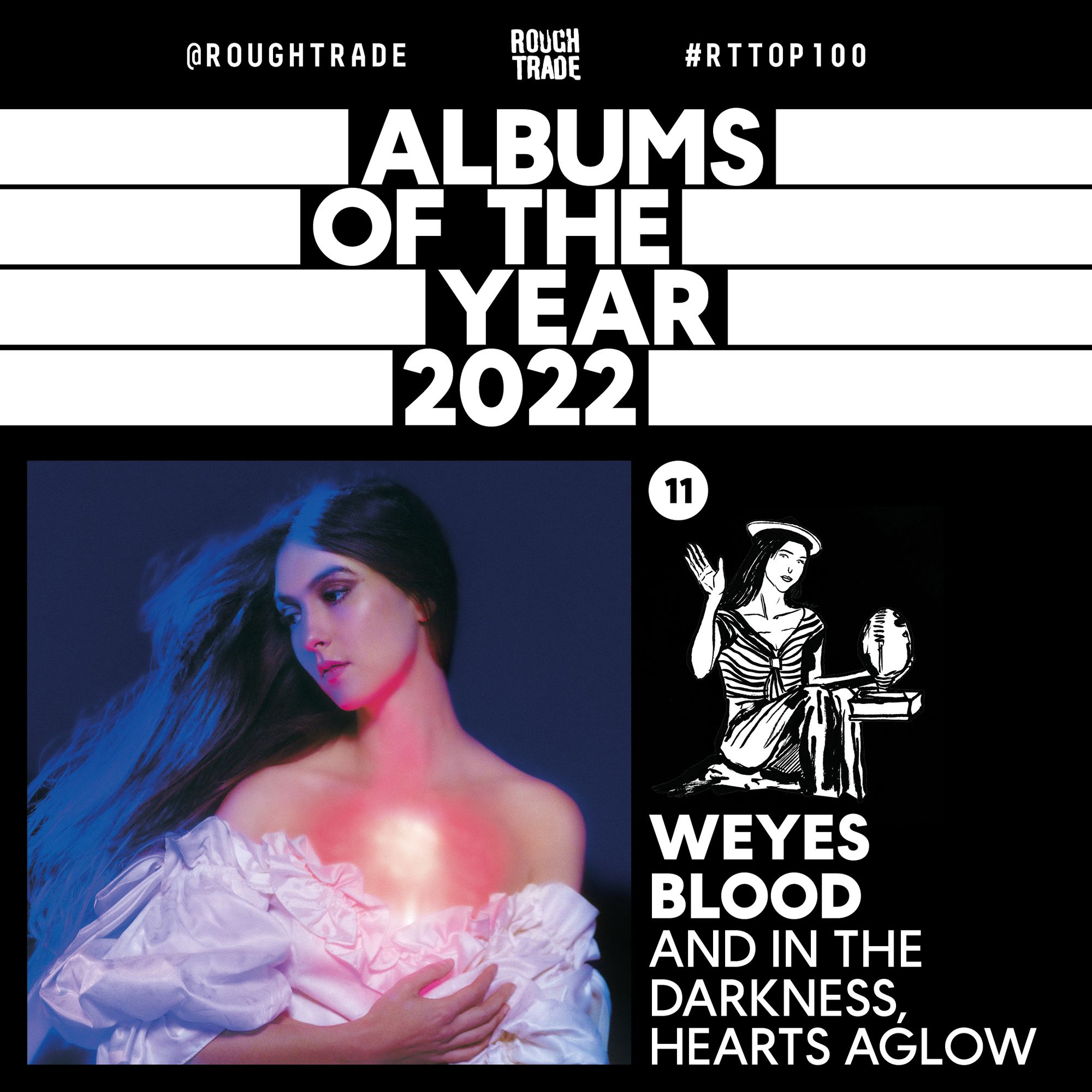 As a group of people lucky enough to be able to spin this one ahead of release, trust us when we say each revolution of Natalie Mering's sumptuous, effortless folk-pop masterpiece is worth its weight in musical gold. Transcendent and sublime.
Emily, Office

EXCLUSIVE: And in the Darkness, Hearts Aglow on pink vinyl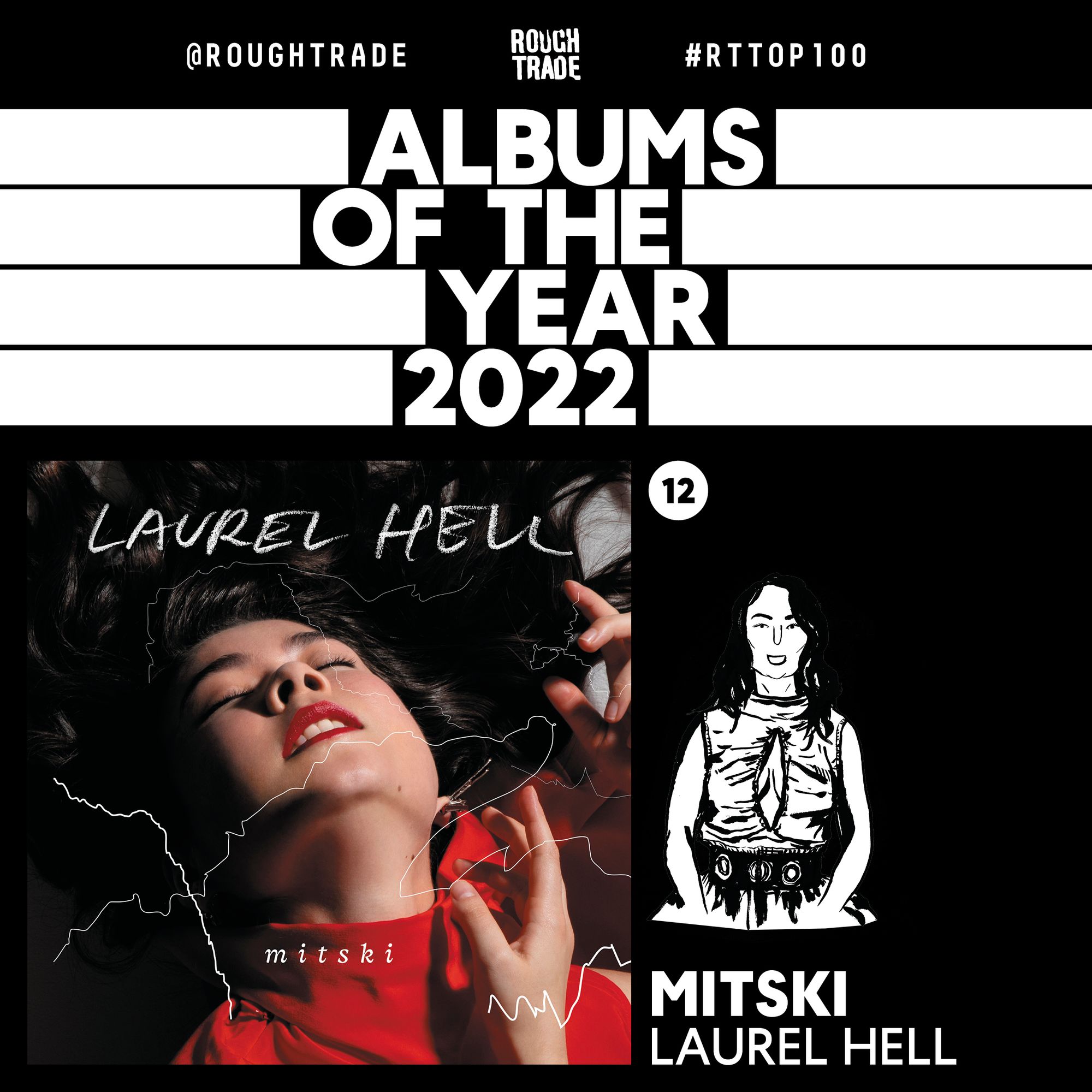 As a Mitski ride-or-die Laurel Hell is a real treat. In a tidy 32 minutes she examines the relationship between herself and her craft resulting in some of her best work to date. Sonically its a culmination of a decade of work building on and refining the best elements of her previous albums whilst creating an atmosphere entirely of its own.
Annabel, Rough Trade Nottingham
EXCLUSIVE: Laurel Hell on ruby/white bloom vinyl, Stay Soft Get Eaten EP of demos on opaque bone vinyl.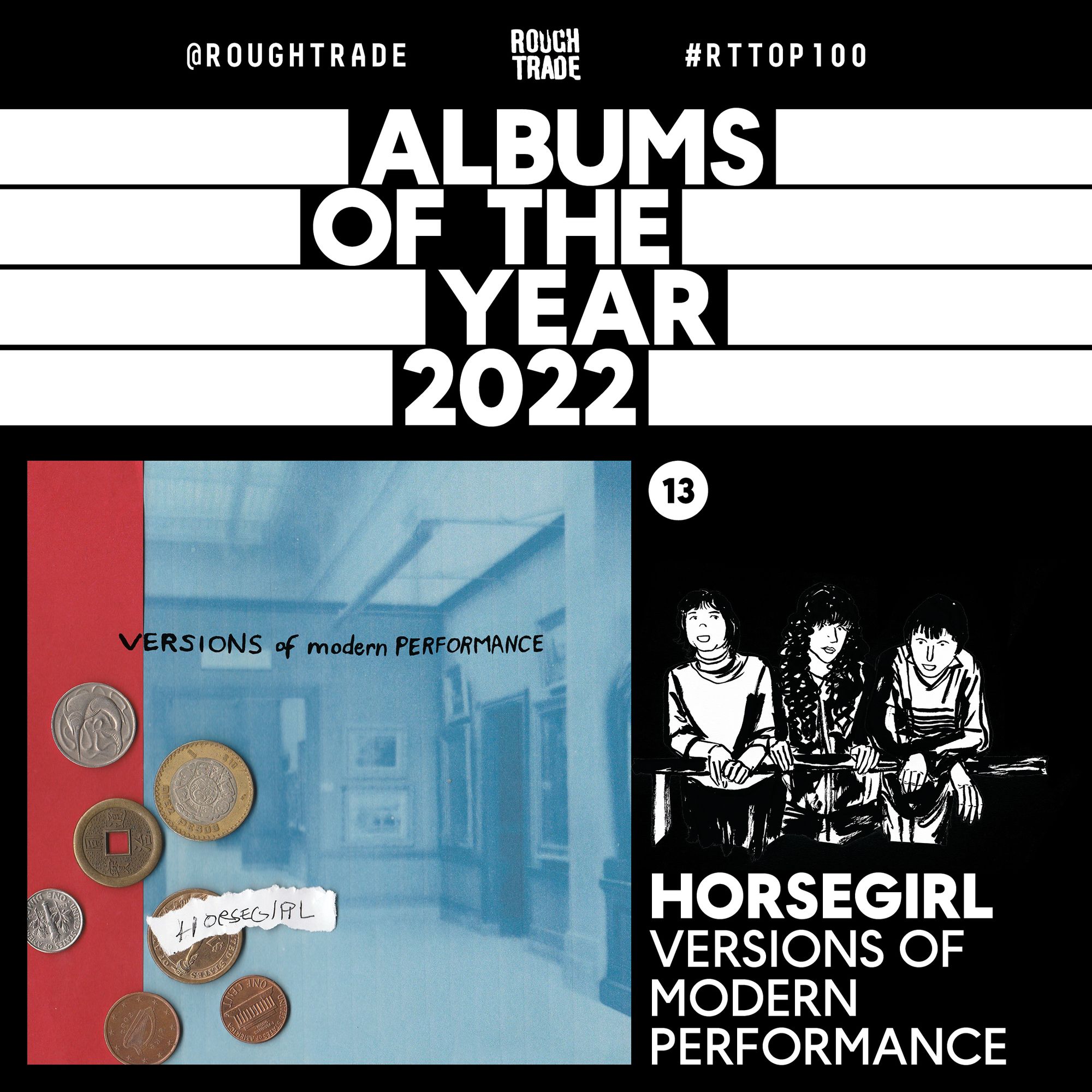 Cascade through anthemic leads to swells of tremelo, delay and reverb on gorgeous instrumental tracks in Horsegirl's Versions of Modern Performance. Like a warm embrace in familiar arms, the album recalls the sounds of Sonic Youth and other legends in the shoegaze/college art periphery. Horsegirl's authentic experience in the DIY scene is all laid bare here to enjoy - catchy hooks, jazzmasters laden with warmth and crunch. It is reminiscent, whilst being achingly original- each track being under 4 minutes is digestible for the modern listener, yet nothing is forced. Versions is the sweet delicacy we need in 2022.

EXCLUSIVE: Versions of Modern Performance clear yellow vinyl and Rough Trade Super Disc of demos and covers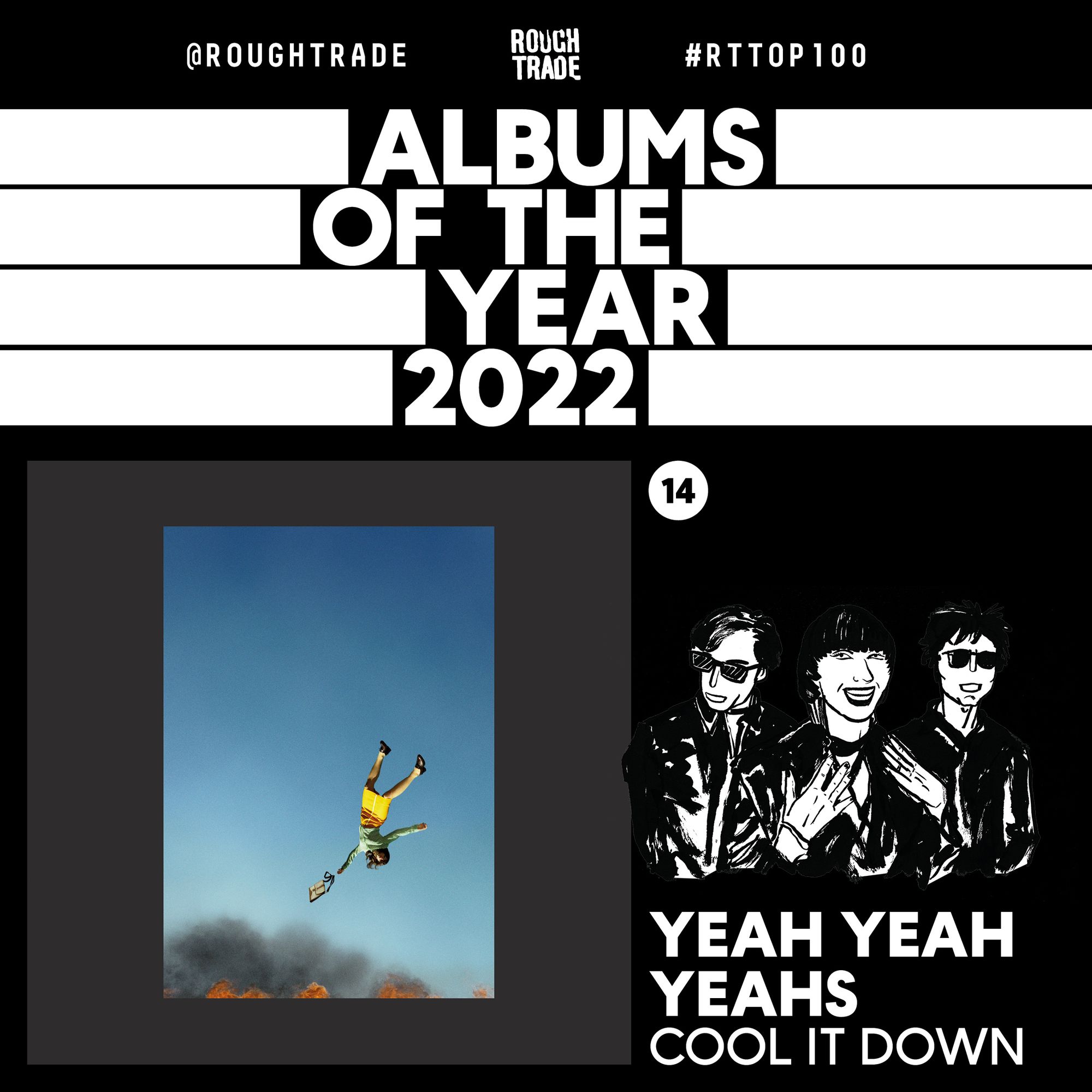 At just eight tracks in length, the first new album from the esteemed indie rockers since 2013 needed to pack a punch. Thankfully, it does so and then some. Although the Indie Sleaze resurgence is fully on trend for 2022, Yeah Yeah Yeahs have been wearing cool their entire career. And as Lizzy Goodman gears up for the release of her long-anticipated documentary exploring the book of the same name, it couldn't be a better time to re-appreciate the magnetic trio's mastery with the enlivened grooves of Cool It Down. Bassier? Yeah. Grander? Yeah. On repeat? Hell yeah.
Emily, Office
EXCLUSIVE: Cool It Down on Cornetto blue vinyl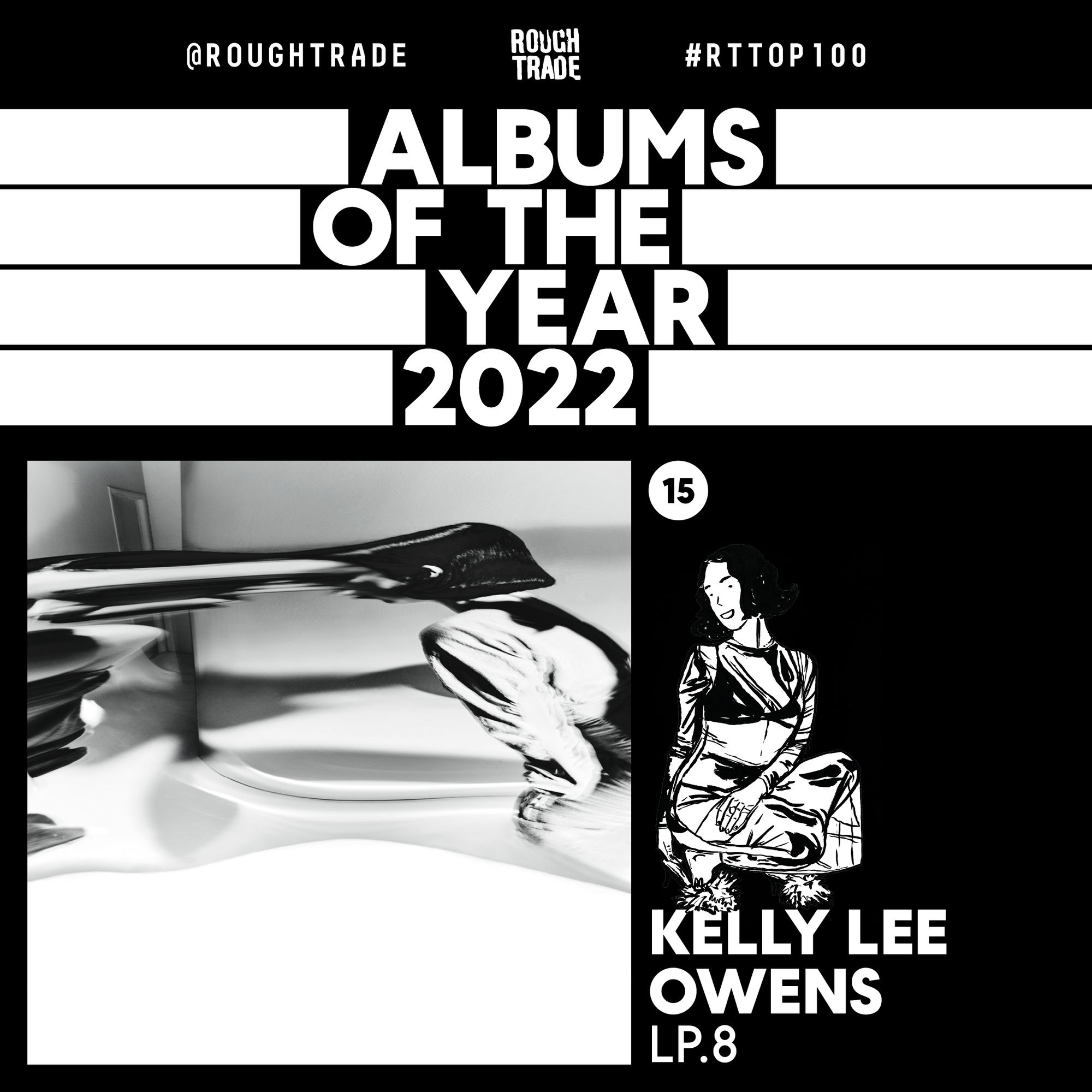 Self-described as an 'outlier', Kelly's third studio album builds on the dark techno loops of her previous projects, a significant step away from the dreamscape melodies and symmetry which came before. Although some ambient moments, the album is most engaging for its industrial aesthetic, with quaking reverberations, stark drums and stabbing synths. Working with esteemed noise artist Lasse Marhaug in the isolated and icy territories of Oslo, LP.8 melds inspiration from the seminal works of Enya and Throbbing Gristle, resulting in an ambient love child which would not be out of place amongst Howard Shore's soundscapes of middle earth. Some seriously spiritual stuff.
Georgia, Office
EXCLUSIVE: LP.8.2 - 4 tracks of new music produced by Kelly and Lasse Marhaug (Jenny Hval)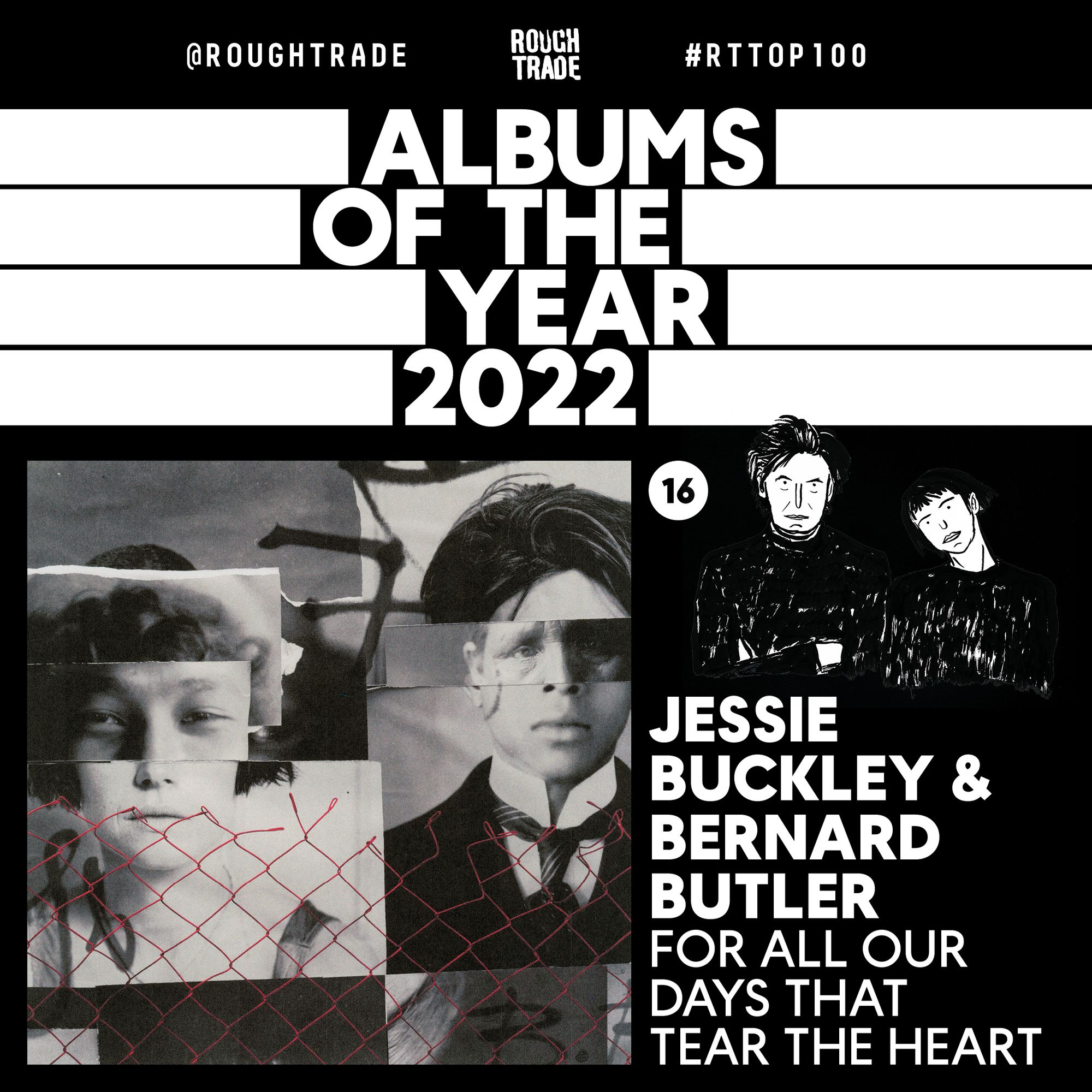 Oscar-nominated Jessie Buckley and British music giant Bernard Butler deliver a rich, dreamy album you can sigh wistfully to. Buckley's vocals command, rather appropriately, like a well-read monologue, but there's an intense intimacy here to make you feel like you're the only one in the theatre. For All Our Days That Tear the Heart is wrapped in the warmth of acoustic guitar and a wealth of folk tradition, Butler plays with the delicacy of tender violin and piano before tearing through with aching crescendo. There is drama everywhere, as much in the soft, quiet moments as in the grand surges.
Sophie, Rough Trade Bristol
EXCLUSIVE: For All Our Days That Tear The Heart on transparent vinyl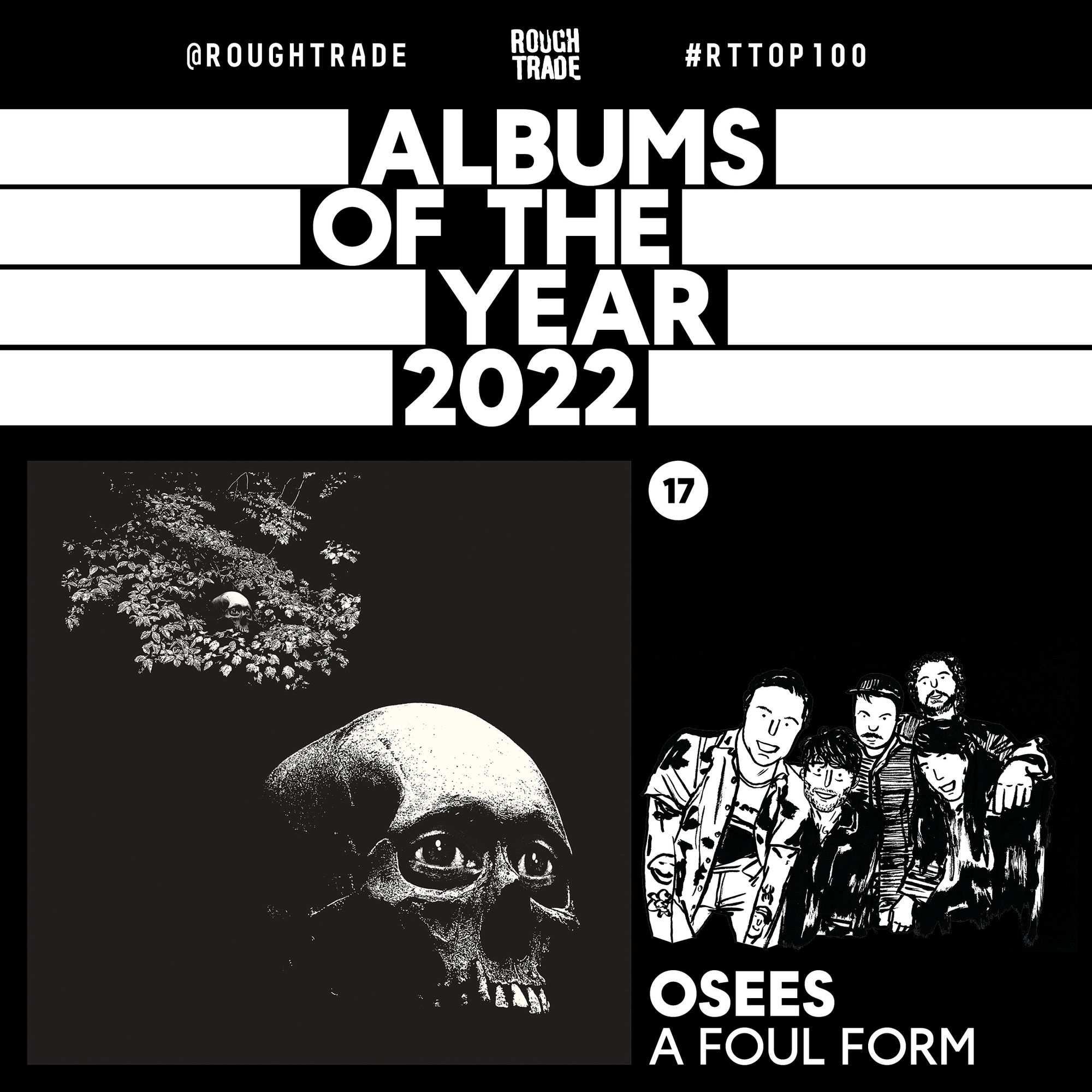 At last! Can't tell you how long I've been waiting for John Dwyer and his crew to drop the double LP psych jams (even though I love those as well) and get busy with the nasty stuff. A Foul Form clocks its ten songs in at just under twenty-two minutes (the perfect album length) and doesn't let up once. Short, sharp and shocked out is the order of the day here allowing Dwyer to get back to his roots and really tear shit up! Noisey as all hell and hands down their best yet. Easy.
EXCLUSIVE: A Foul Form on white vinyl with crass-style sleeve and poster
Chris, Rough Trade West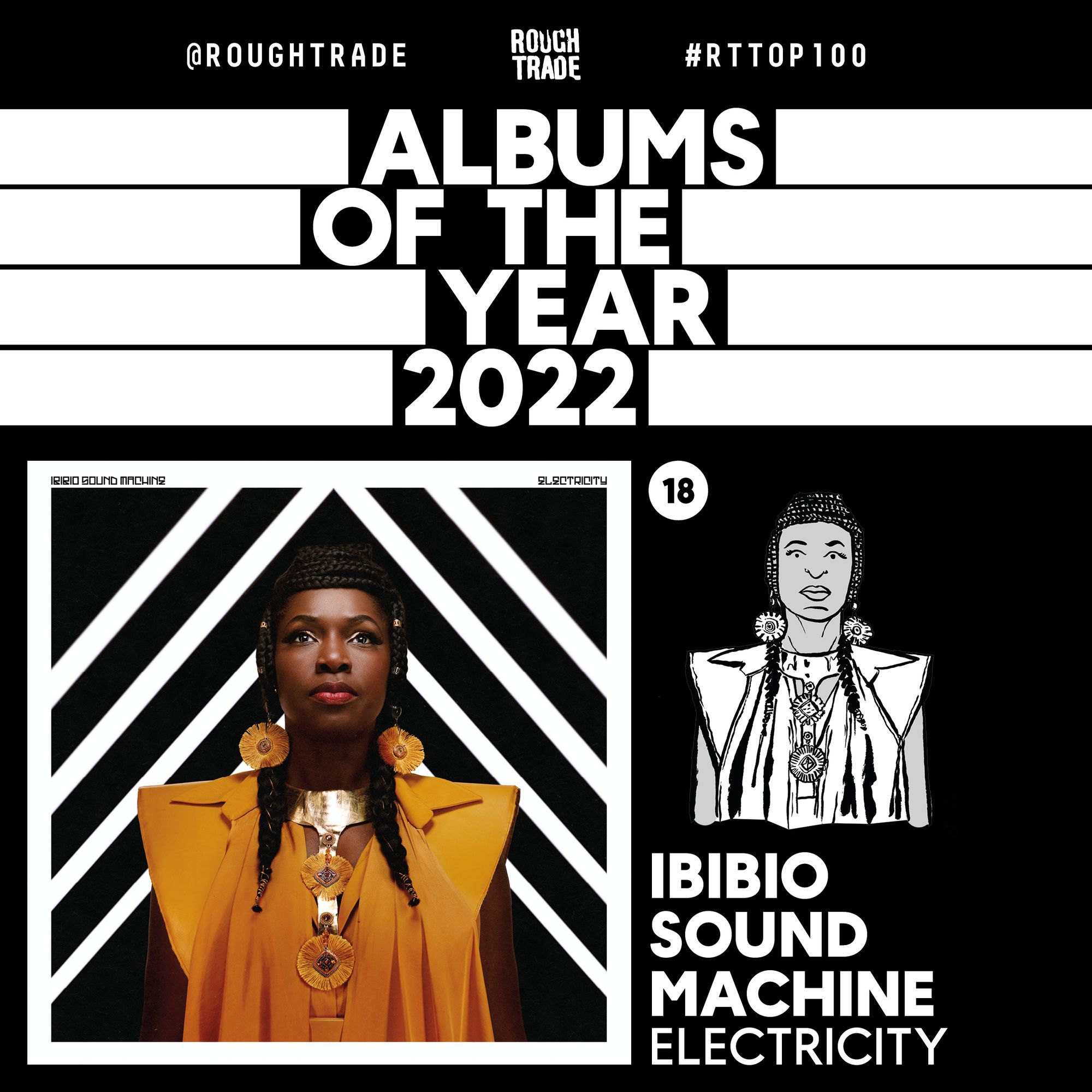 The longstanding London-based ensemble perfect and build on their addictive clash of African and electronic elements on Hot Chip produced Electricity. House snare rolls, cool percussion and uplifting gospel disco vocals from frontwoman Eno Williams, the eclectic dance band truly are a feel-good indulgence and have made no sacrifice of slickness and authenticity along the way.
Georgia, Office
EXCLUSIVE: Electricity on a triple split vinyl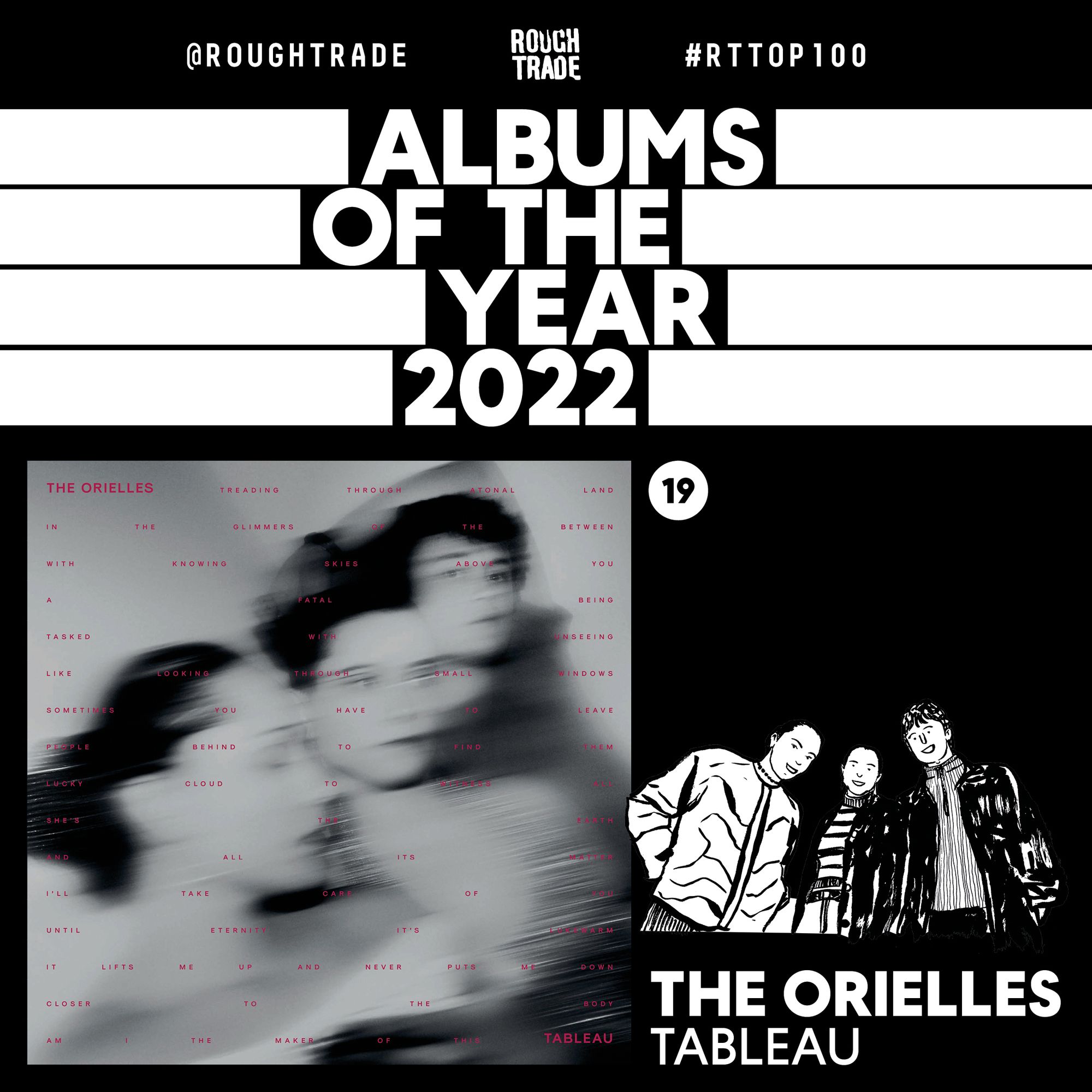 With Tableau, The Orielles are now three albums into their career, three albums that sound like they were made by three completely different bands. On their newest offering the gang from Halifax ditch the solar-powered cosmic funk of Disco Volador, for shadowy experimental pop, where their influences melt, mutate and merge until they're completely unrecognisable, like visions from a dream.
Paddy, Office
EXCLUSIVE: Tableau on violet vinyl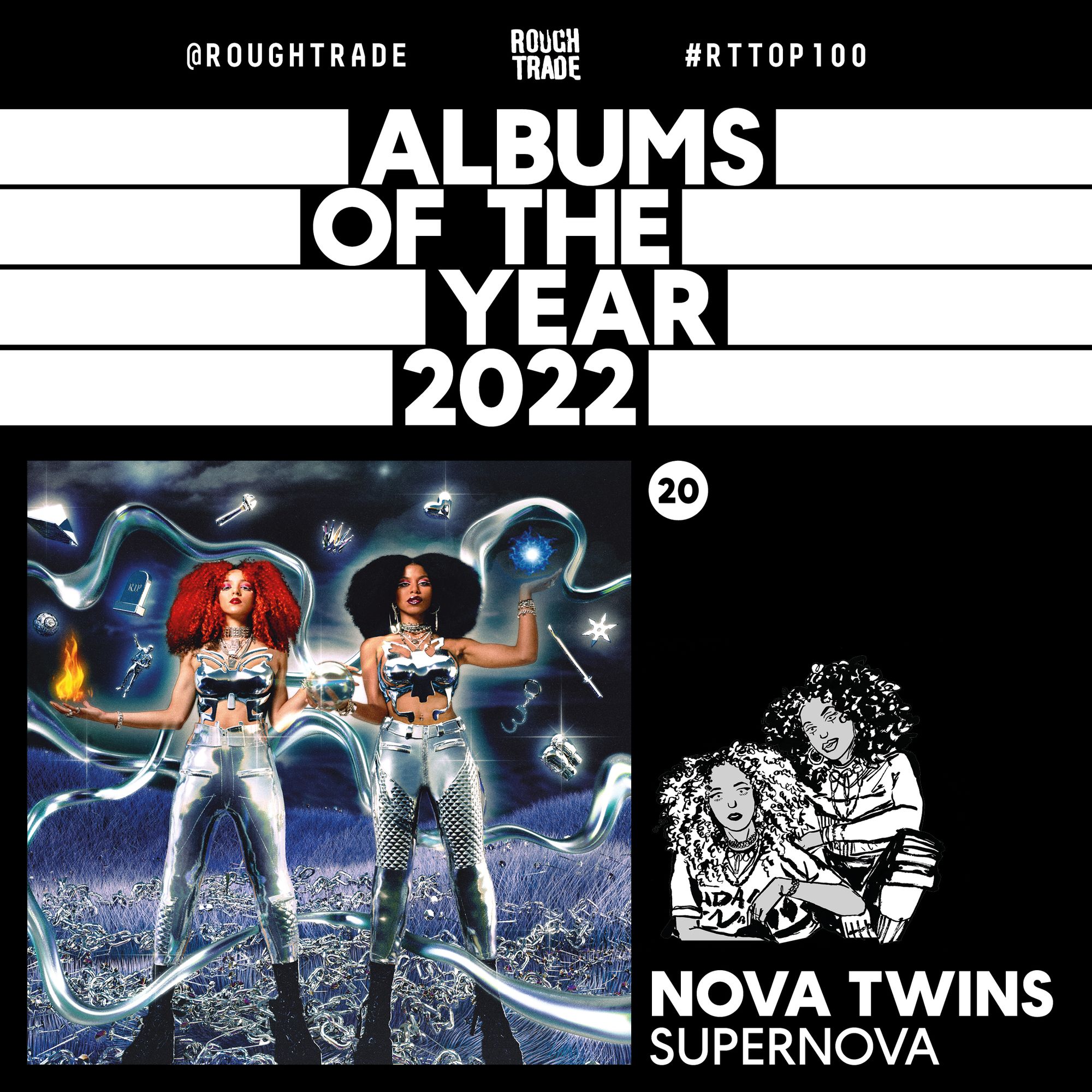 A fuse of punk, metal, hardcore and grime, the dynamic duo of Georgia and Amy race to the forefront of modern rock with Supernova, refusing to be boxed in by any genre preconceptions. Searing guitars and a braggadocious but infectious energy the duo are a welcome pair of new faces in alt-rock, recently becoming the first ever Black women to ever be shortlisted for a Mercury Prize nomination under rock & alt music. A trailblazing debut to our list if their ever was one.
Georgia, Office
EXCLUSIVE: Supernova with alternate sleeve on clear vinyl, signed
---