"I consider Dr. John to be like my godfather. I see him everywhere and I get signs and messages from him all over the place. And it's just so funny that I walk in, start rummaging around and immediately this is the first record I see."
Photos by James Potter
Usually found fronting the noteworthy American soul group Durand Jones and the Indications, talented vocalist Durand Jones is no stranger to the limelight.
At the helm of a dynamic collaboration pushing the boundaries of modern soul, whilst still inspired by a timeless 60s sound, The Indications frontman has long been on our radar as one of America's greatest voices of today. Now, allowing inspiration to guide him further, Durand steps away from his band to release his first solo work Wait Til I Get Over, via Dead Oceans. A highly conceptual and affecting record, Jones moves further into his reputation as a modern vanguard of Southern soul. Drawing from rock, folk, church music and R&B Wait Til I Get Over tells a poignant story of the pride and struggle of the Black American experience, Durand's upbringing in the church and understanding his queerness.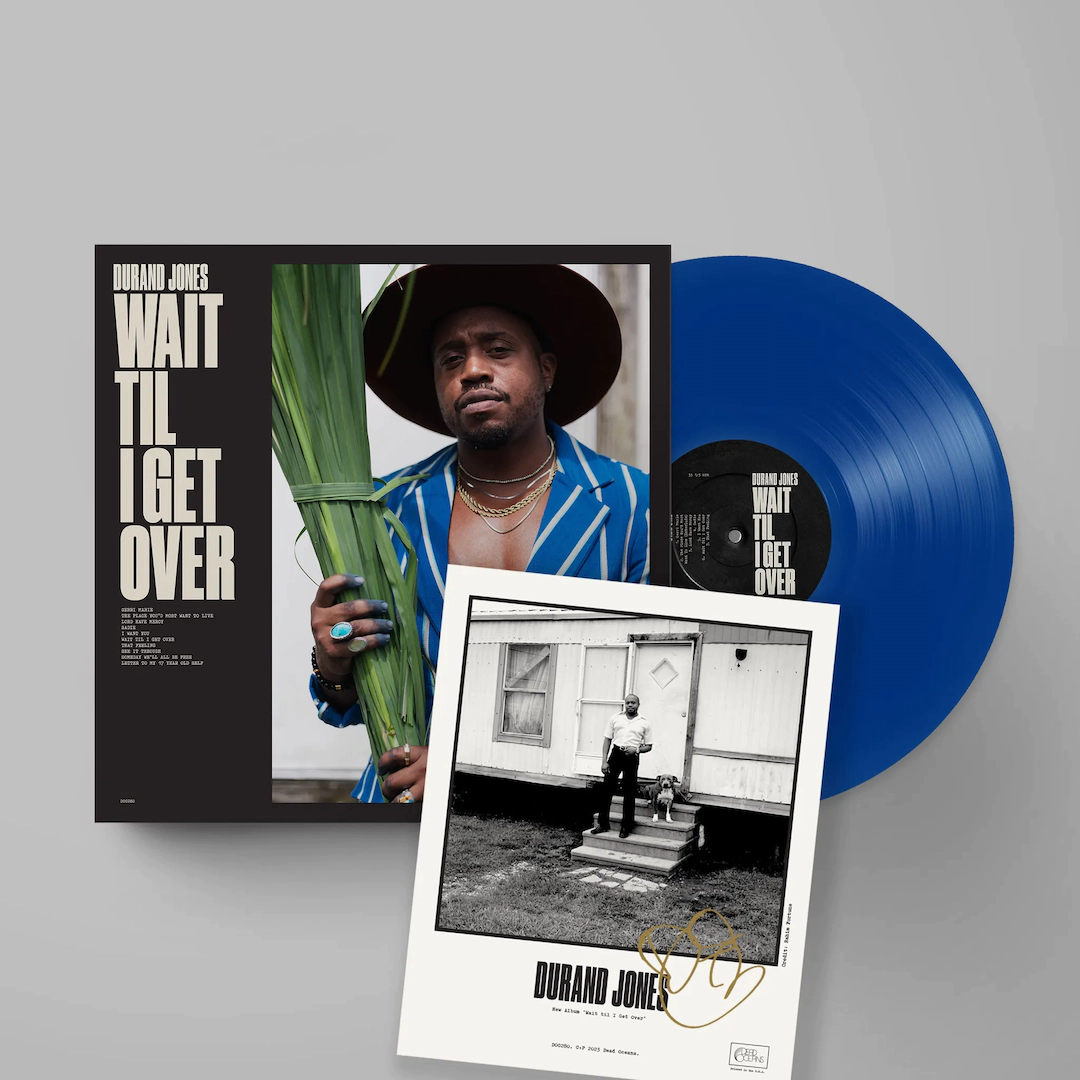 Durand Jones - Wait Til I Get Over
Rough Trade Exclusive blue jay vinyl.
BUY NOW
Whilst in London celebrating the forthcoming release of his debut, we were lucky enough to get Durand Jones down to Rough Trade East for a spot of rack raiding, following a special Rough Trade live set and Q&A show at the intimate venue of Ninety-One Living Room, just across the corner from the shop.
Sharing with us the music he's been listening to lately, musical memories of youth and the artists which most inspire him to take risks, Durand Jones shows off a stellar selection of albums which speak to his expansive creativity.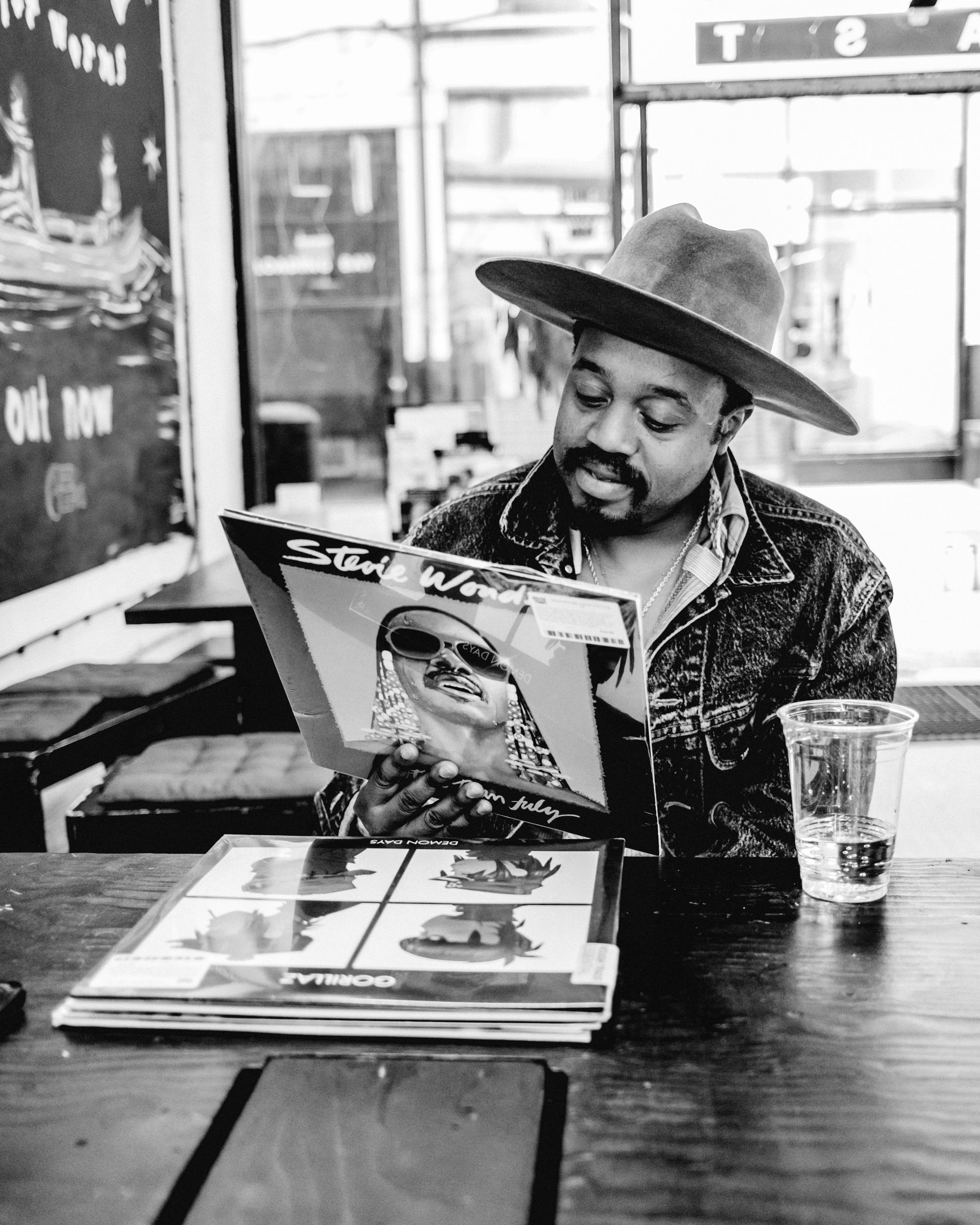 So I've been really getting into the Stevie Wonder discography and just revisiting it once again and listening to it all the way down from the very beginning, all the way down. This record is one that I never listened to all the way through. Until now. It has become my favourite Stevie Wonder record. I think because people will call it a soul record but I feel like it's very post-genre. Did I Hear You Say You Love Me is very rock-influenced and then All I Do is R&B. I Aint Gonna Stand For It is like country, As If You Read My Mind is very dance, Master Blaster is reggaeton. Cash In Your Face is funky and Lately is one of the most beautiful ballads I've ever heard in my life. And then he ends it with Happy Birthday! Who the fuck does that but Stevie?! I aim to do that with my solo work, not just to make a solo record, but to try to push myself to try different genres.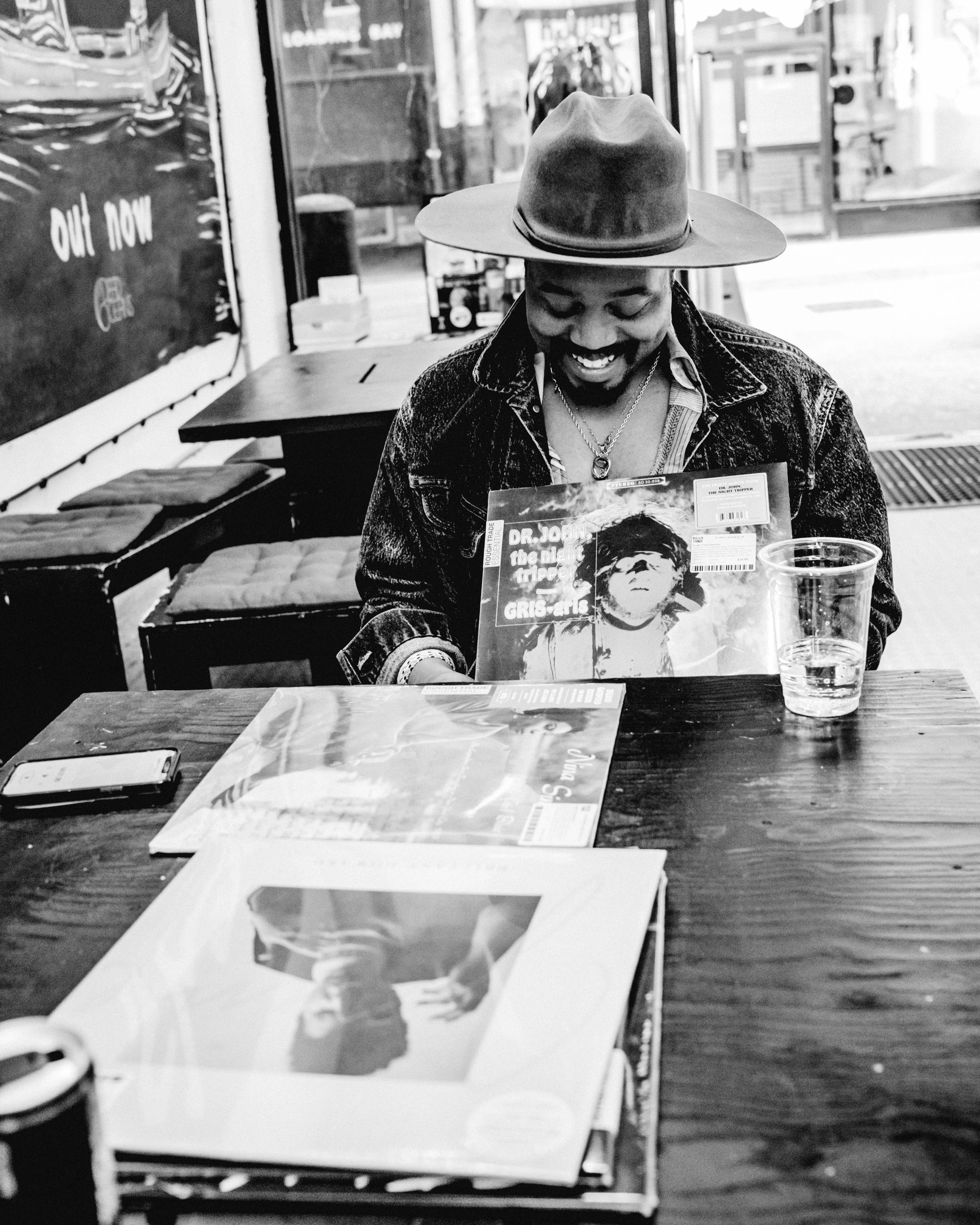 I picked this one because I really do feel like Brittany Howard is a voice of the rural south. Her perspective and her artistry is super important in American music right now. This record is really beautiful and really vulnerable. It showed Brittany in a whole new light to me. And in a way that I don't think that she could have achieved with Alabama Shakes. So this one really, I found to be very beautiful. Stay High, Short and Sweet, Georgia, all great songs. I also really like the remix record that she did with this one. She had Emily King and Childish Gambino and all these really awesome people remix all the tunes. Yeah, I just love her mind. I think she's a brilliant, beautiful, beautiful soul. So yeah, that's Jamie.
This is the very first record that I pulled. This one right here is very, very, very special to me. I consider Dr. John to be like my godfather. I see him everywhere and I get signs and messages from him all over the place. And it's just so funny that I walk in, start rummaging around and immediately this is the first record I see. I use this record for spiritual purposes. I know a lot of people use psychedelics to party, but I like to use psychedelics for spiritual purposes. And this is one record I'd love to put on. While I'm in that state of mind, on that plane, because it really helps me connect with different things and feelings and places. I love how very Louisiana this record sounds and it's a huge inspiration to me. I really highly recommend giving it a listen when you can. It's highly influenced by voodoo and Creole and Cajun culture. And it's a beautiful love letter to Louisiana. It's definitely my top pick.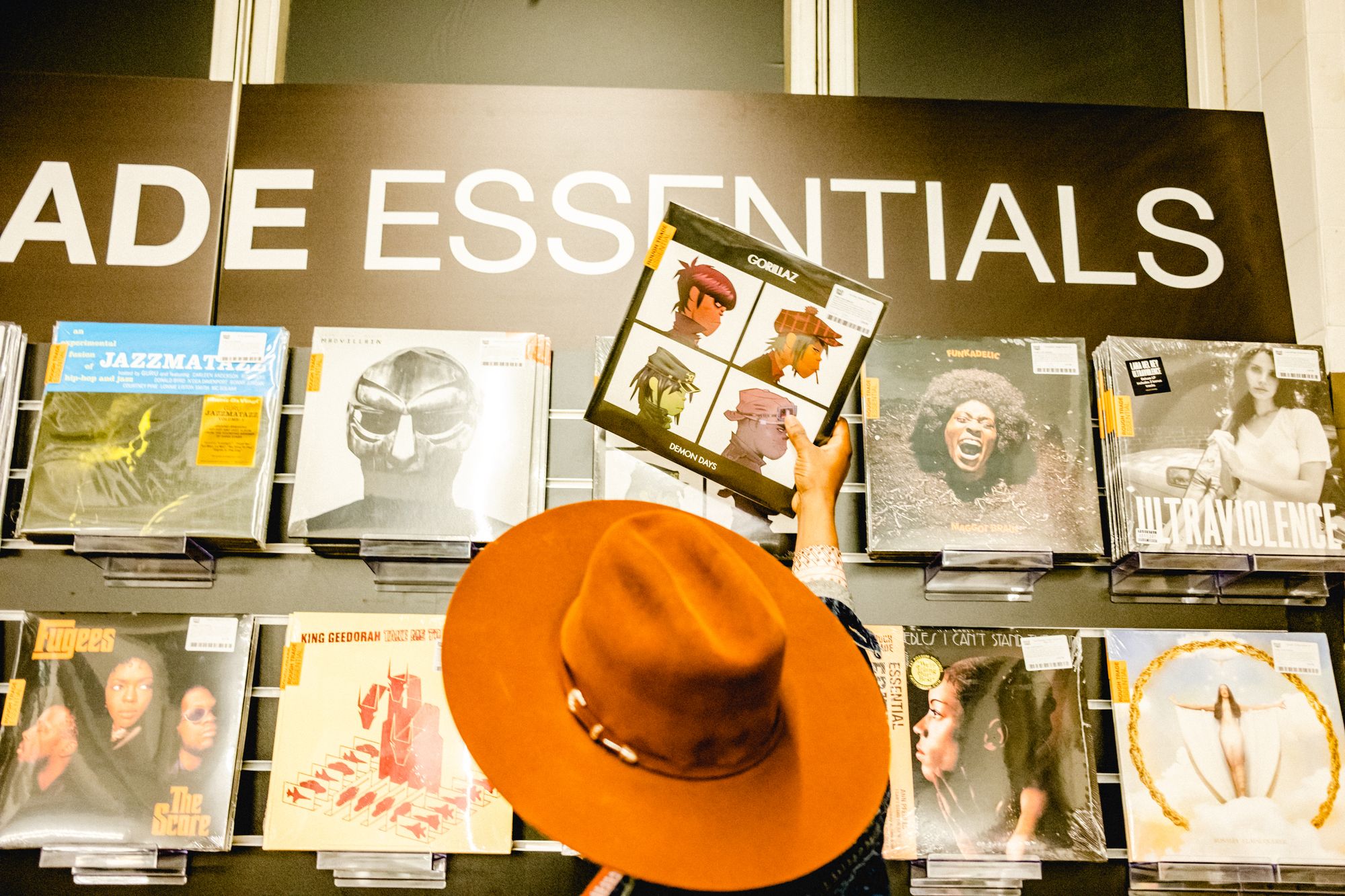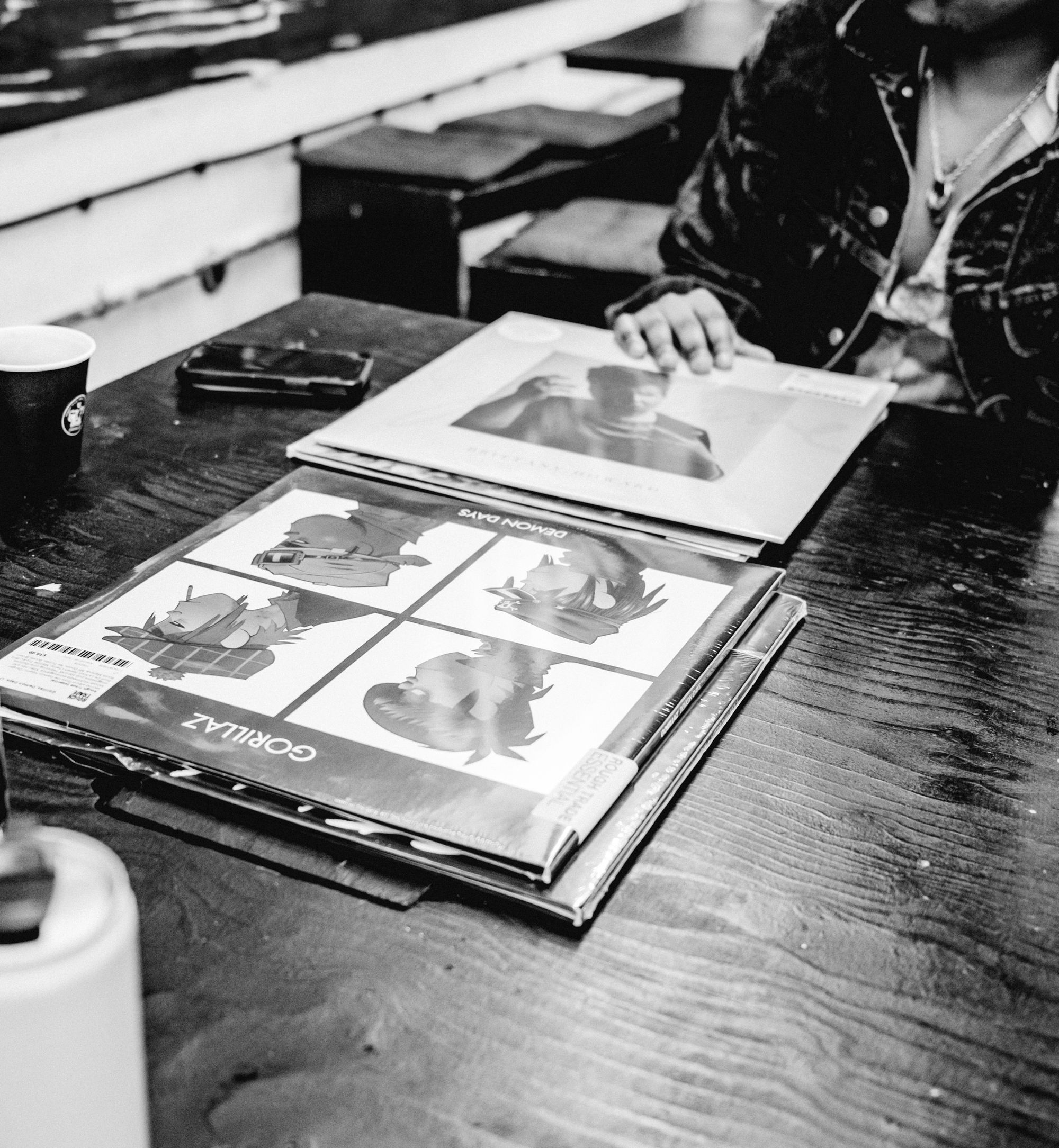 This one definitely stands out. This will always be in my top five, maybe top three records of all time. It brings me back to when I was in high school, waiting in line at my local music store to get this CD. I remember driving home and parking the car and just listening to the entire thing, not getting out of the car before it was over. Man. Yeah, this one's really good. El Mañana is really awesome. Love White Light and Kids with Guns and Demon Days with the choir. It's so good. So ethereal. Man, I just really love just how expansive this record is. It's a masterpiece!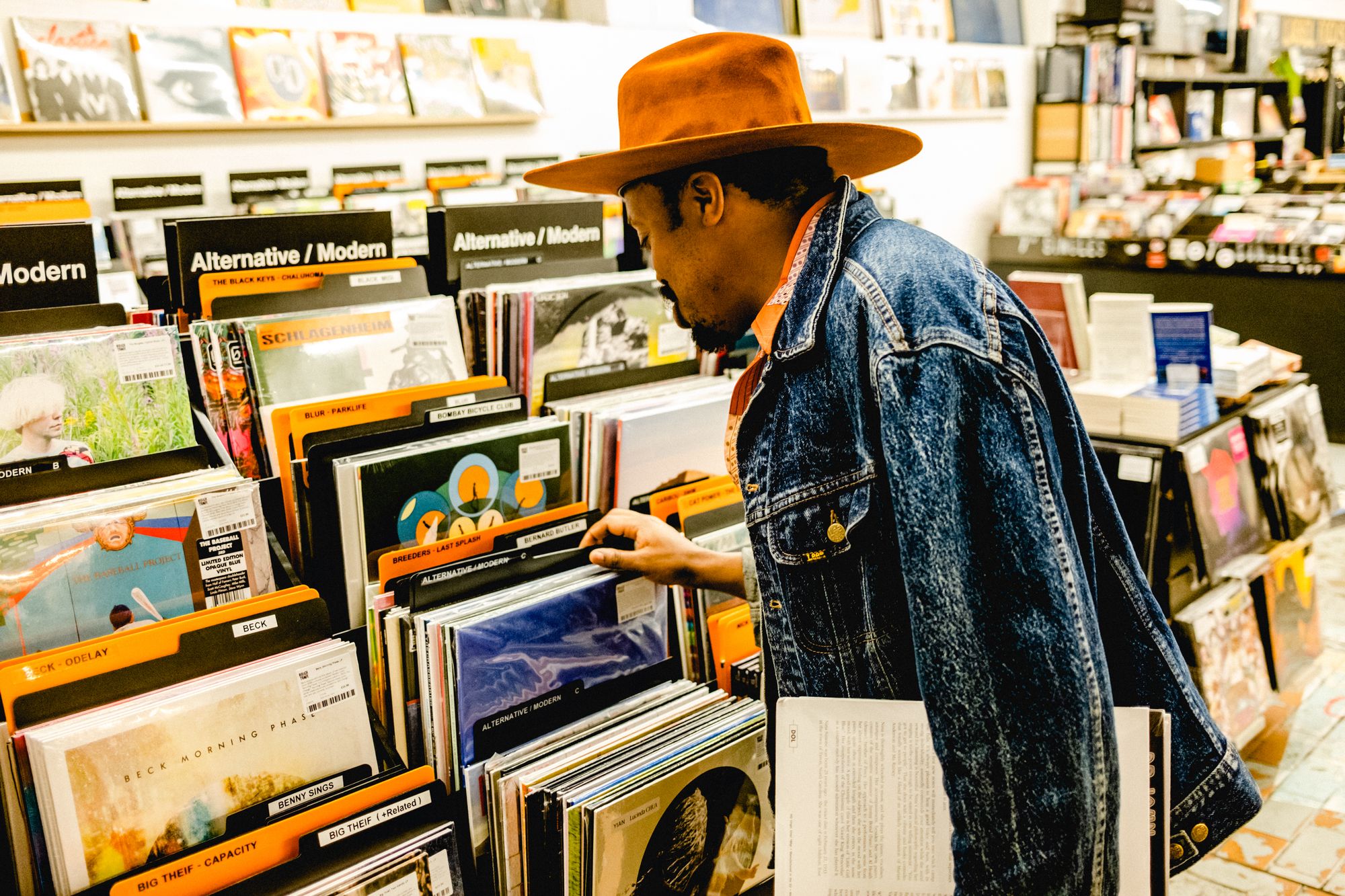 Last but not least, Nina Simone, Little Girl Blue. I'm pretty sure this is her first record. What really stands out to me about this one is that Nina was a classical musician who transitioned into contemporary music. And I have somewhat of a similar story. And so I always took Nina Simone as an inspiration to me. She never really forgot her Classical Studies. You can always still hear it in, in her piano play, which I always found really cool, really beautiful. Love this record. My Baby Just Cares For Me, Love Me Or Leave Me. She does this almost Bach-like cantata solo in there that's just so cool and so innovative. I Loves You Porgy is always going to be a classic, and of course Little Girl Blue. So I love Nina Simone, for this record and for laying the groundwork for me to be doing what I'm doing today.