"While tidying the CD racks I came across a CD I had never seen before. Queens Of The Stone Age. The Kozik-style cover took me at first and then I flipped it to see these three dudes drinking beer - and a UFO. I should listen to this."
On 16th June 2023 Queens of the Stone Age, the riff-loving American rock band fronted by Joshua Homme, return with a brand new album - In Times New Roman - on Matador Records. Rough Trade West Bossman and Queens super fan Chris Summers put pen to paper to whittle down their meaty catalogue to a neat 20 of what he believes to be the band's greatest tunes. Results below.
CAUTION: absolute voodoo swamp rockers could appear at any moment.
---
"There are definite pin points in my life I can say music changed me. Kraftwerk, Duran Duran, Prince, Beastie Boys and Jane's Addiction are the main culprits. Here's one more to add to that list.
I can still remember the day I first heard Queens The Stone Age. Back in 1998 I was working at the Beggars Banquet shop in Putney and it was a quiet weekday afternoon. While tidying the CD racks I came across a CD I had never seen before. Queens Of The Stone Age. The Kozik-style cover took me at first and then I flipped it to see these three dudes drinking beer - and a UFO. I should listen to this. Looks cool. From the opening riff of Regular John my mind was blown. Into pieces. I'd never heard anything like it before. It wasn't just how amazing all the songs were (no skipping tracks here) but the way it sounded. Still to this day there's nothing like it. Josh Homme is one talented boy that's for sure.

Fast forward to now and they are seven albums deep (that's not including the live Over The Years And Through The Woods) with album no. 8 - In Times New Roman - dropping in June 2023. I got set the impossible task of picking their 20 greatest songs (so far). And 20! My first draft I got it down to 48, then 35, then 26. Tough task. With much huffing and puffing here it is - my 20 in no particular order - from one of the greatest bands ever!
Oh yeah - they played at Rough Trade East around the time ...Like Clockwork was released. I was there of course. What a night - but that's a story all by itself. Here's a fact though -  Queens' drummer (The Legendary) Jon Theodore had a drum tech. His name was Amery Smith aka AWOL. I lost my shit. Basically - he was the drummer in the Beastie Boys (and DFL and BS2000) when they would play their punk numbers live. I really lost my shit. As you can imagine I had a few drinks and was probably quite annoying - especially to him - so I would just like to publicly apologise to Amery right now. Sorry I was such a dick."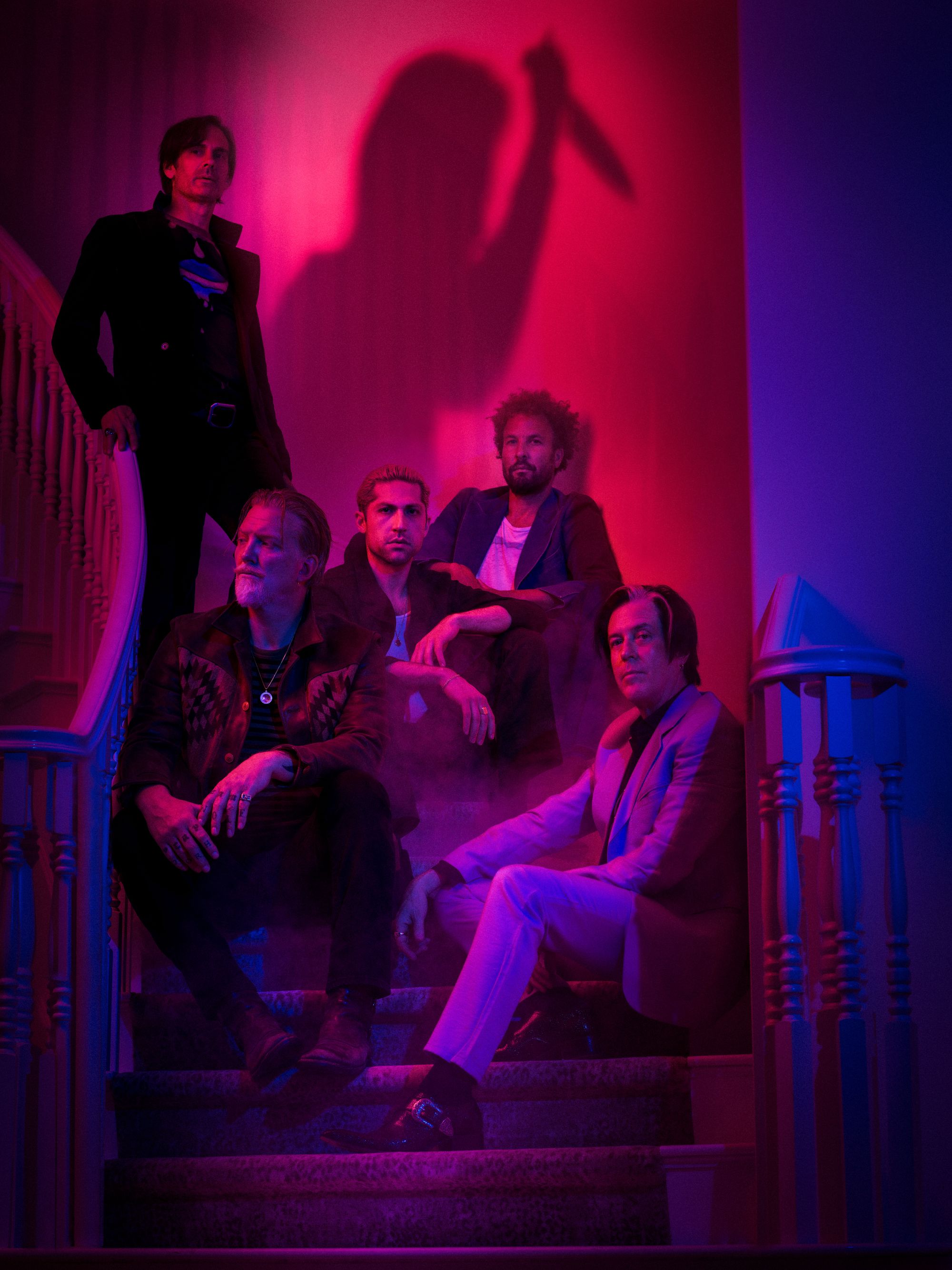 You Think I Ain't Worth A Dollar, But I Feel Like A Millionaire
The best opening song on any album ever. Hands down. No question. How many people have turned that beginning up just to have their speakers blown when it really kicks in? Nick Oliveri is truly menacing.
Hanging Tree
The wonderful Mark Lanegan swings in and puts some real smoked out soul on this classic. Drums courtesy of David Grohl. As with the whole of Songs For The Deaf. Y'all knew that already right?
Broken Box
Lullabies To Paralyze is a great record. Don't let anyone tell you otherwise. It's just a bit of a grower. Josh knows how to make you dance and here's a great example of how he does it. That piano twinkles perfectly as the bass roars. 1 minute and 37 seconds in, it all kicks off.
Misfit Love
Era Vulgaris has this certain sound about it. Songs on there start one way and end another. The rhythms are insane and this is no exception. Take a bow Mr Joey Castillo.
You Can't Quit Me Baby
The simplest of songs built over a throbbing bassline and those rolling drums. Those trademark layered vocals working their magic too. The art of less is more.
The Evil Has Landed
This song has so much swagger it's ridiculous. It's another of those Queens groovers the way it rolls along on that guitar line. Josh's backing vocals work a treat here too. Then it goes all punk. Nice.

Smooth Sailing
If Josh wrote for the Bee Gees with ZZ Top as their backing band it would probably sound like this. Can't believe it hasn't been sampled yet. Funky as all hell. Especially the end.

Make It Wit Chu
PJ Harvey stepped into the fold here going toe to toe with Mr Homme in a very sultry way on the original recording for Desert Sessions (the track later appeared on Era Vulgaris, sans Harvey). Southern soul never sounded so good.

You Would Know
Seems like everything's set to phase here. A motorik riff runs over and over as the song stops and starts - building all the time, layer upon layer. You really need the first album if you don't have it already.

Sick Sick Sick
Let's go. When they rock they rock really fucking hard. That riff rules. And that spooky noise in the background unhinges everything.

Feel Good Hit Of The Summer
Actually - this could be the best opening song of any album ever. One riff. Seven words. Some whispering. Some screaming. Simple.

Quick And To The Pointless
Oliveri in fine form here. The bad side of cheerleading. The bad side of everything.
Little Sister
It's all about that block. It's all about that riff. It's all about speed and simplicity. Perfect.

Monsters In The Parasol
They do unhinged so well and it doesn't get anymore unhinged than this. Oliveri's back whispering too. Listen on headphones.

Turnin On The Screw
Some people found Era Vulgaris a tough listen. Thing is you need to listen properly. It's probably Queens' most 'technical' record. This is a great example of how great that whole album is. Layers of beats that move all over the place all at once.

My God Is The Sun
Big tune. It starts big and just gets bigger. The rhythm section holding shit down as the rest rockets upwards. Troy gets his maracas all over it too. Who doesn't like a maraca?

Do It Again
Queens go glam. I defy you not to chant along with the 'Hey's'! Simplicity again done better than anyone else.

Medication
Like the evil twin of Little Sister. Those drum fills get me every time. They just come out of nowhere. Just under two minutes of magic.

Someone's In The Wolf
The longest song in my list and an absolute voodoo swamp rocker. The repetitive riff works so well. It's got someone cutting into some meat in there too. Well scary.

No One Knows
Nuff said.
---
QOTSA Return
Queens of the Stone Age release their long-awaited 8th studio album, In Times New Roman on 16th June 2023.