A riff-ridden ride of damn good doom-punk.
Meet Witch Fever, the Manchester four-piece wielding their gratifying and glorious grunge poetry, arming their ever-growing fanbase with a memorandum to change the world.
The name 'Witch Fever' is inspired by the hysteria which accompanied the witch trials in Salem, Massachusetts, and Europe, which the band have long considered were a means to belittle, suppress and diminish women. Since emerging in 2017, the quartet have been an impressive voice in advocating for women's rights, standing up to sexism within the music industry and the outdated tropes associated with female expression. Witch Fever do what they wanna do and channel punk attitudes independent of what anyone would otherwise tell them punk should be. Commanding their sublime racket, this is a band who stand for something and we're more than ready to stand right with them.
"We didn't start the band with any genre in mind and it took us a while to find what style we wanted to make but we've always resonated with heavy riffs."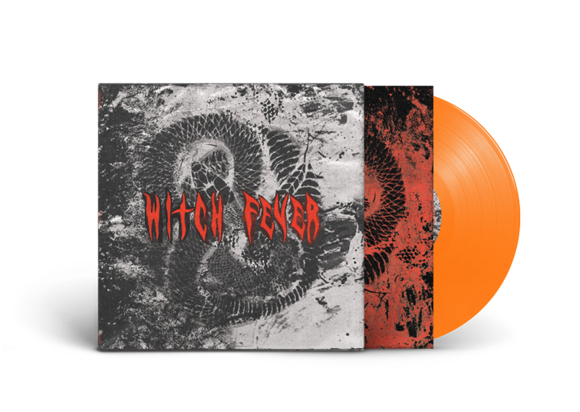 Witch Fever - Reincarnate
The debut EP on Limited orange vinyl.
BUY NOW
We're excited to announce Witch Fever as part of Rough Trade On The Rise, a new curation putting a spotlight on the emerging music we are the most excited for you to hear, to follow and become a fan of. Read on to discover more about the band in their own words and check out their exclusive playlist.
Catch the band at Rough Trade East in celebration of their debut album Congregation, released this October on Music For Nations.
Witch Fever are Amy, Alisha, Alex and Annabelle.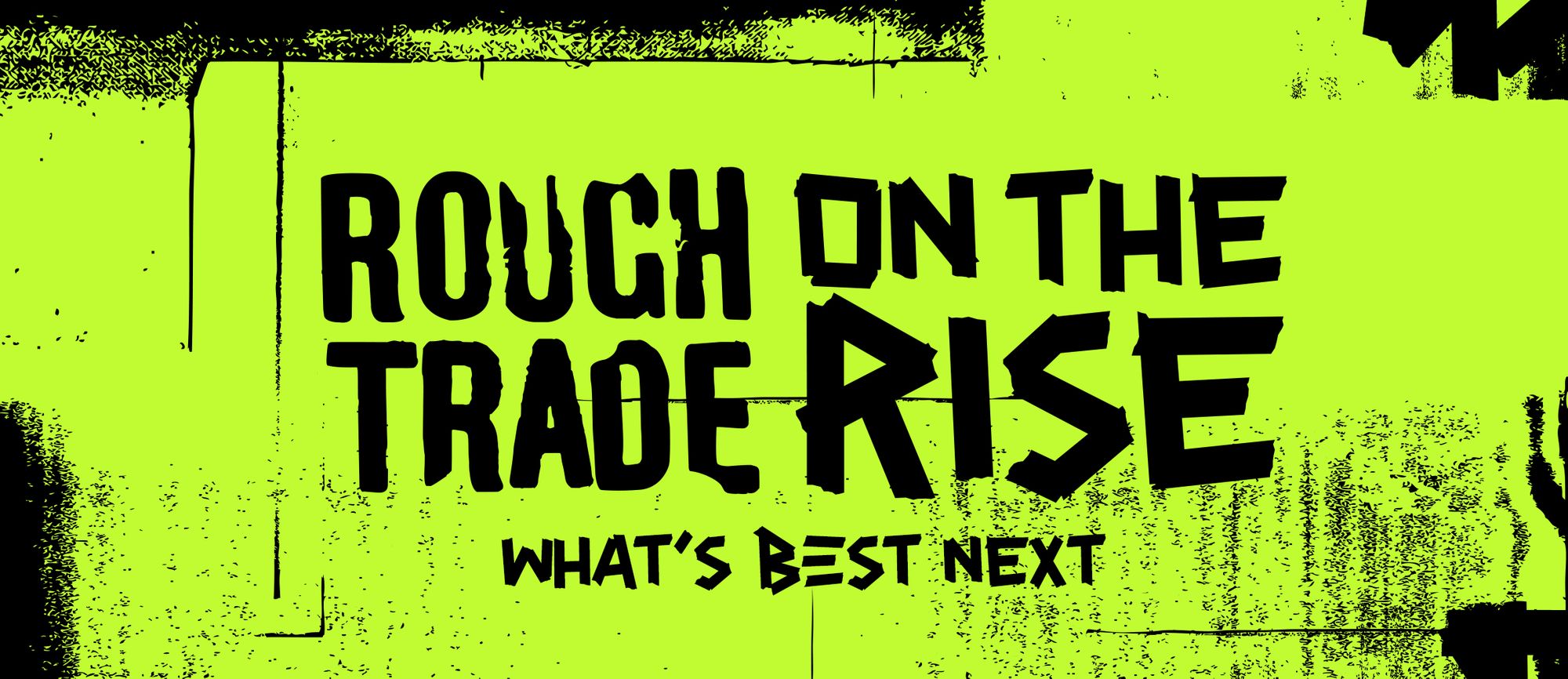 Witch Fever on Witch Fever
A self-penned bio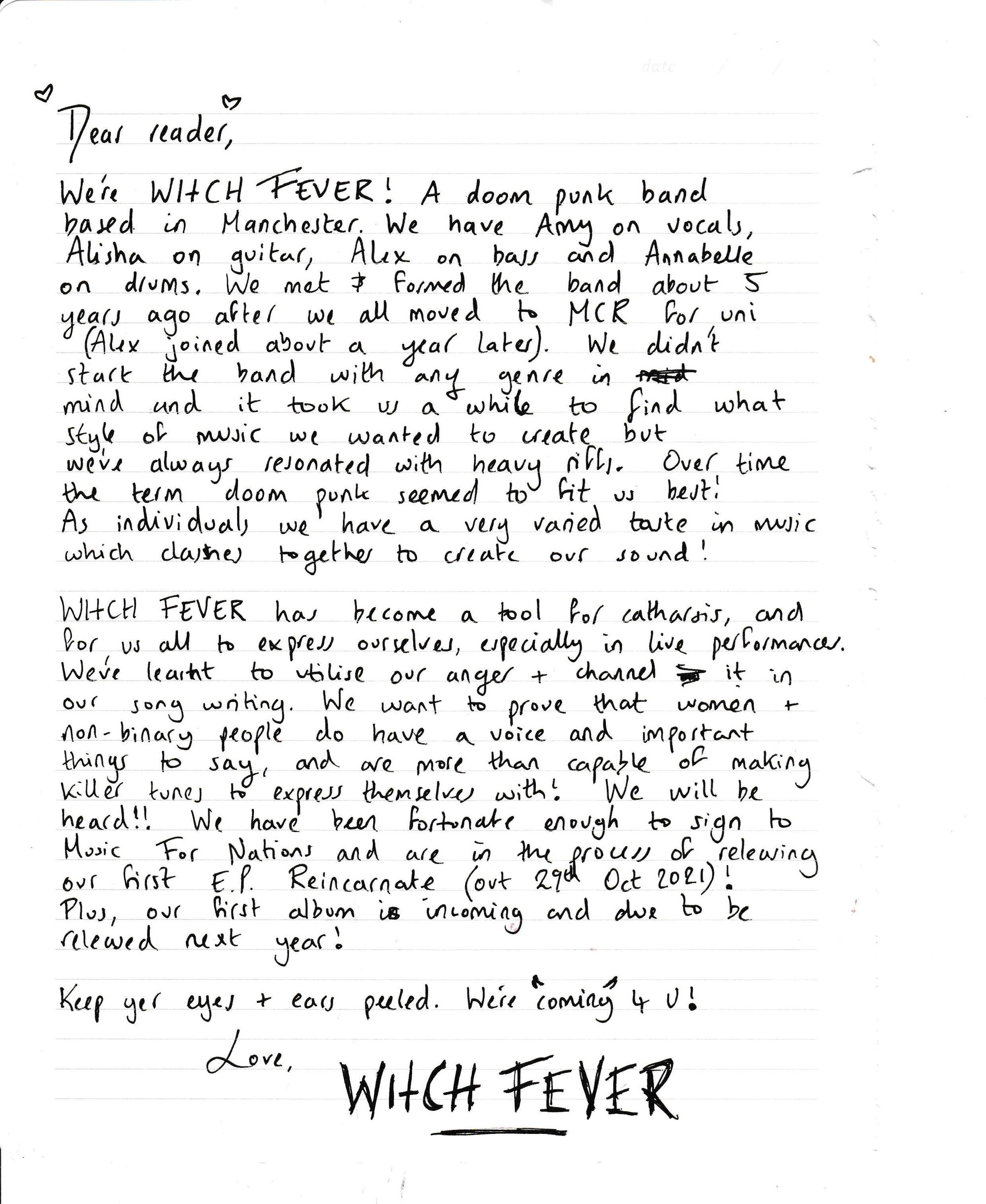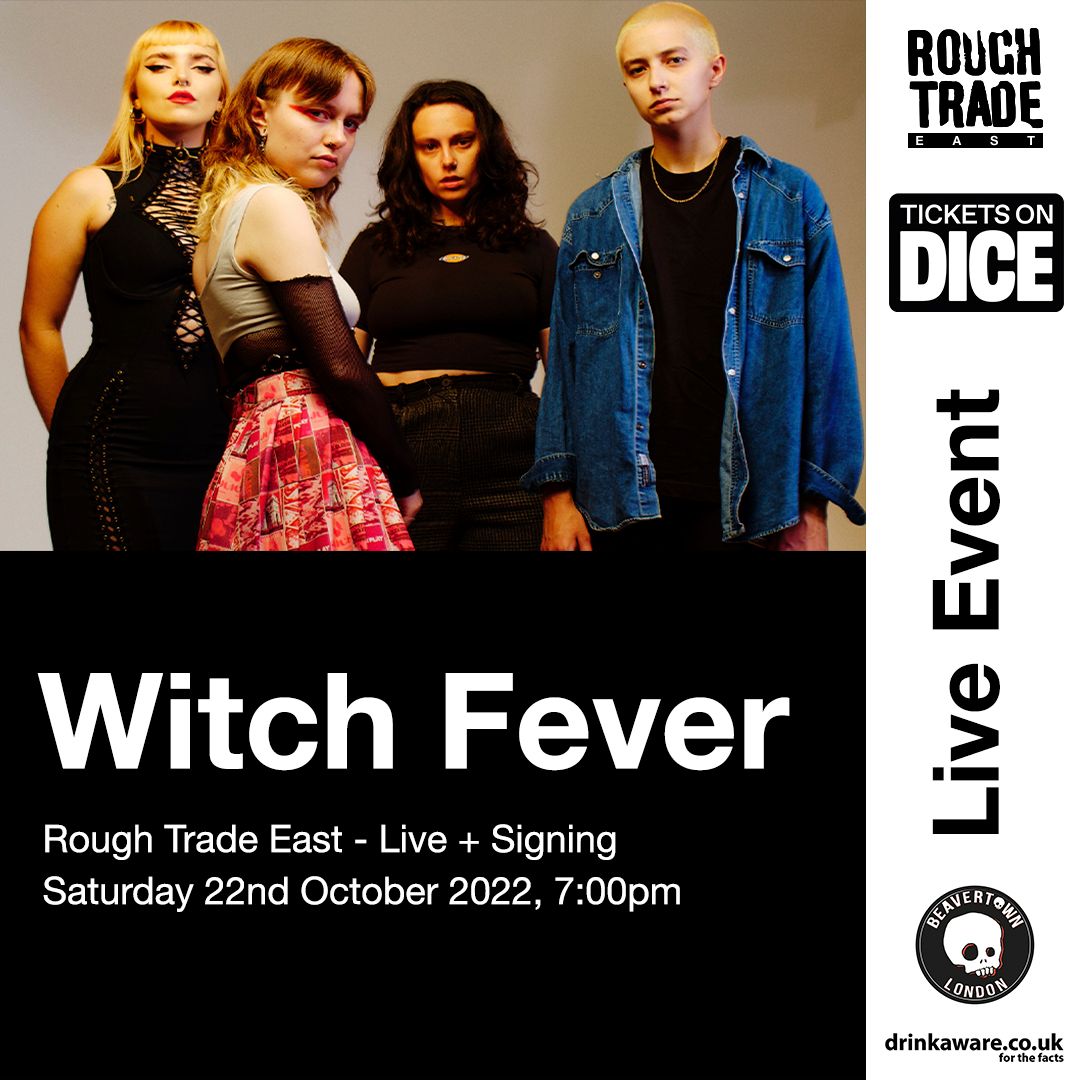 Five by Five
5 Qs, 5 As
Describe Witch Fever in 5 words.
Angry, fierce, unapologetic, cathartic, heavy.
5 records you listened to prior to making your album?
Silence Yourself - Savages
Celestial Blues - King Woman
New Magic Wand - Tyler the Creator
DRM - Sam Gendel
Show Me The Body - Dog Whistle
Top 5 career moments you've shared together since forming?
Headlining House of Vans (and Slipknots bassist V-Man watching us).
Joining Sony's label Music For Nations.
Going on tour with Bob Vylan and Zand after the lockdowns.
Annabelle writing an article on LGBTQ+ issues for Discovered Mag.
Securing dates on IDLES upcoming Euro tour.
You host a pre-release listening party for the album. Who are your 5 VIP guests (dead or alive)?
Stevie Nicks
Linda (Annabelle's mum)
Jenny Hval
King Woman
Debbie Ellis (our manager)
Top 5 essential tour snacks?
Hummus
Bread
Coffee
Crisps
Bananas (we aren't that hard to please, apparently)