Rage and beauty. The UK punks take all the vigour of their hardcore past and channel it into a meticulous swell of sonic optimism.
Former hardcore music makers High Vis (including veterans of Dirty Money, DiE and The Smear) formed in 2016 and set out to create something different, something atypical, but wholly their own. Following debut album No Sense No Feeling in 2019, the post-punk five-piece and London DIY risers got signed to US label Dais Records and got busy making a new record, Blending, set for release this September.
"With our upcoming LP we have taken time to reflect on our own histories, exploring our regional class backgrounds and societal expectation, then forcibly rejecting what hinders our growth. It's sonically hopeful, taking cues from the swirling sounds of the North West such as Echo and the Bunnymen, Ride and A Flock of Seagulls, but always coupled with the punk energy that binds us."

True musical evolution is earned, through learning, experimenting, taking risks, laying it bare. On Blending, High Vis not only welcome growth, they are wilfully in search of it, consequently (and successfully) cultivating their own sonic sweet-spot. Here is a handsome and considered album, built of vehement desire, self belief and acceptance with a decent measure of grit, sweat and tears to fuse it neatly together.
Though their name might suggest otherwise, there is nothing plain about the sight of High Vis. Listen closely though and you'll realise that was the point all along.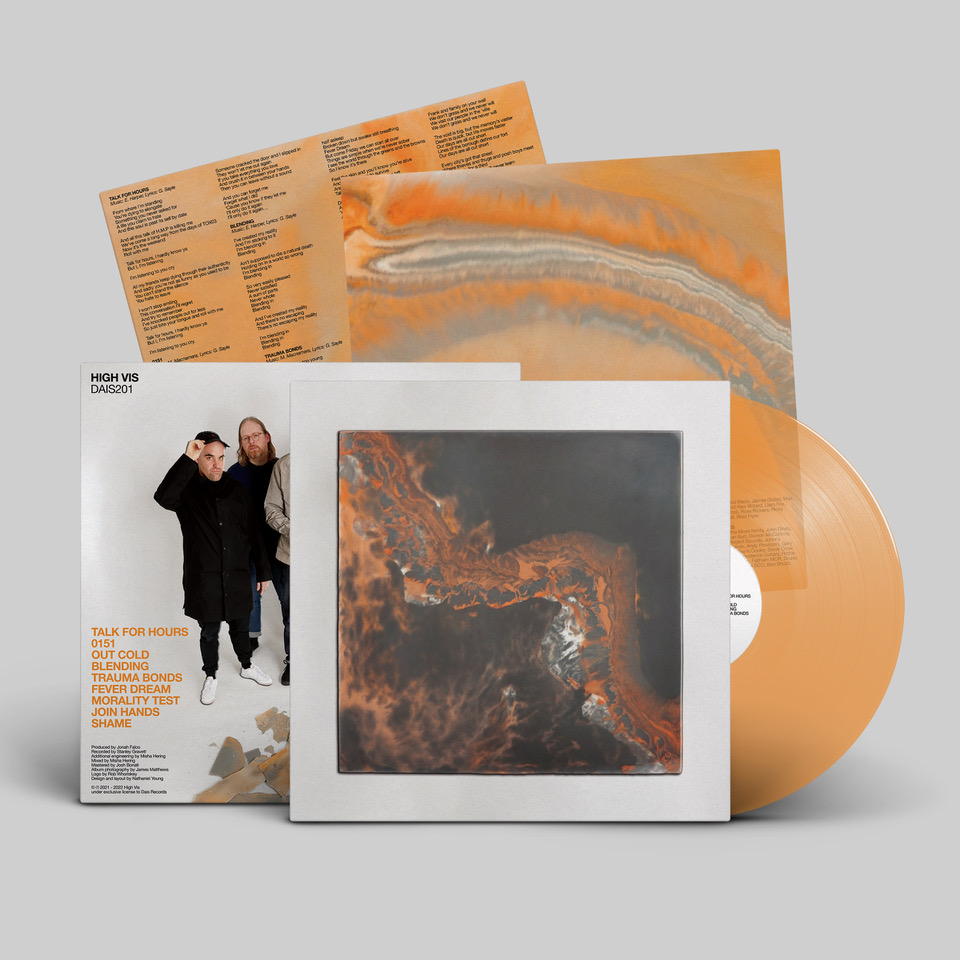 High Vis - Blending
Rough Trade Exclusive clear orange vinyl.
BUY NOW
For fans of: A Flock of Seagulls, The Charlatans, Ride, Joy Division, Fugazi, Echo and The Bunnymen, The Stone Roses
We're excited to announce High Vis as part of Rough Trade On The Rise, our dedicated curation putting a spotlight on the emerging music we are the most excited for you to hear, to follow and become a fan of. Read on to discover more about the band in their own words and make sure you check out forthcoming album Blending, released 30th September 2022 on Dais Records.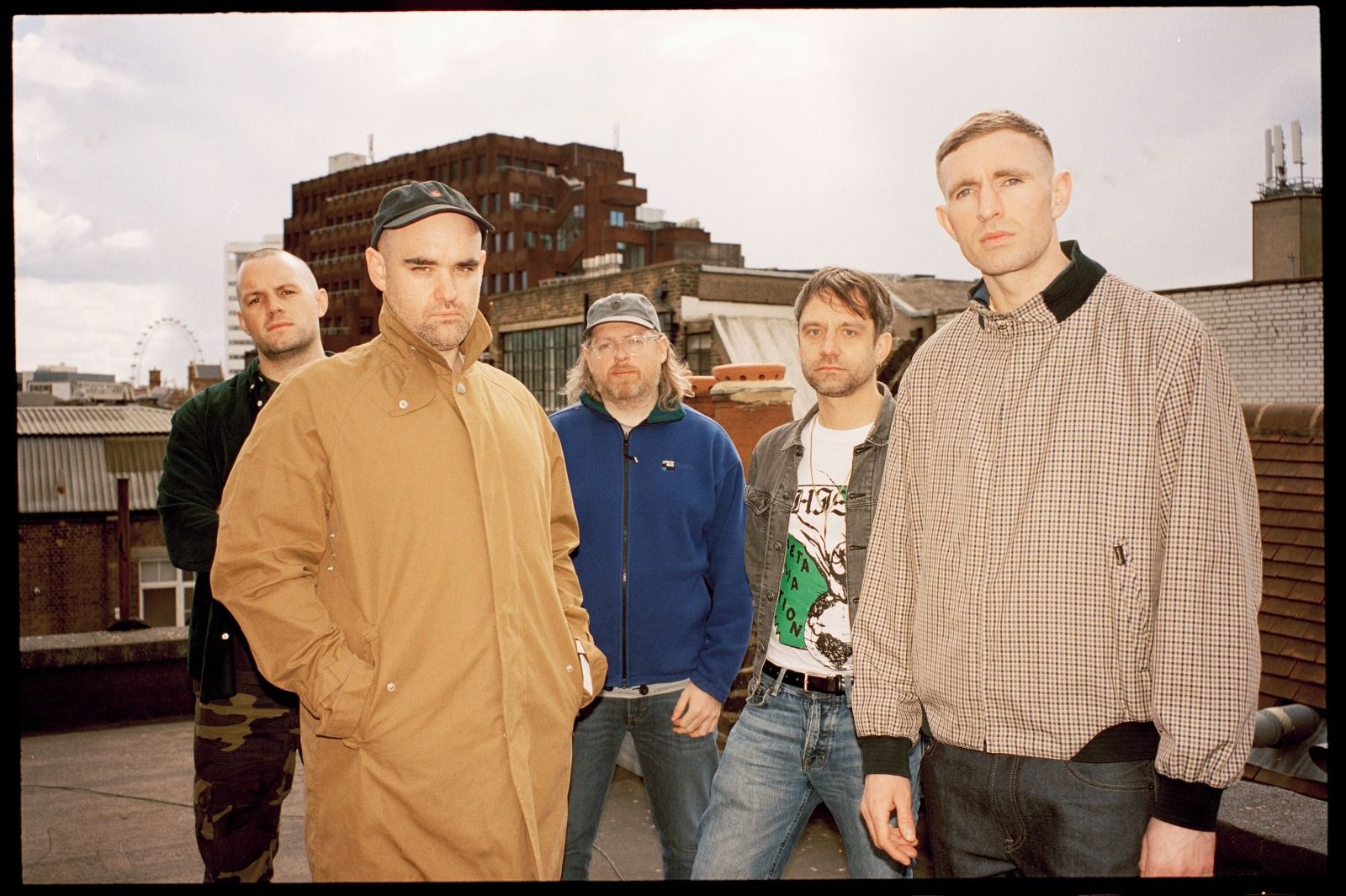 ---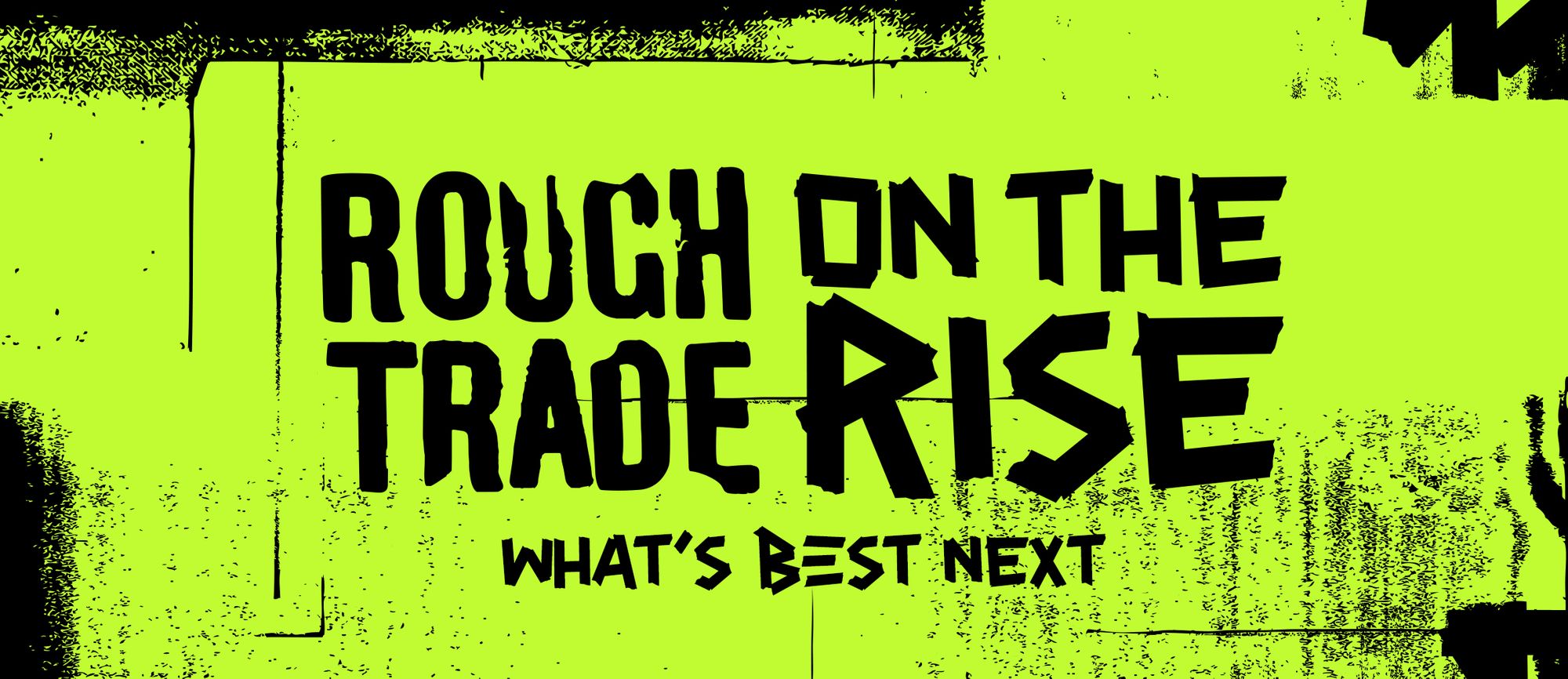 High Vis on High Vis
A self-penned bio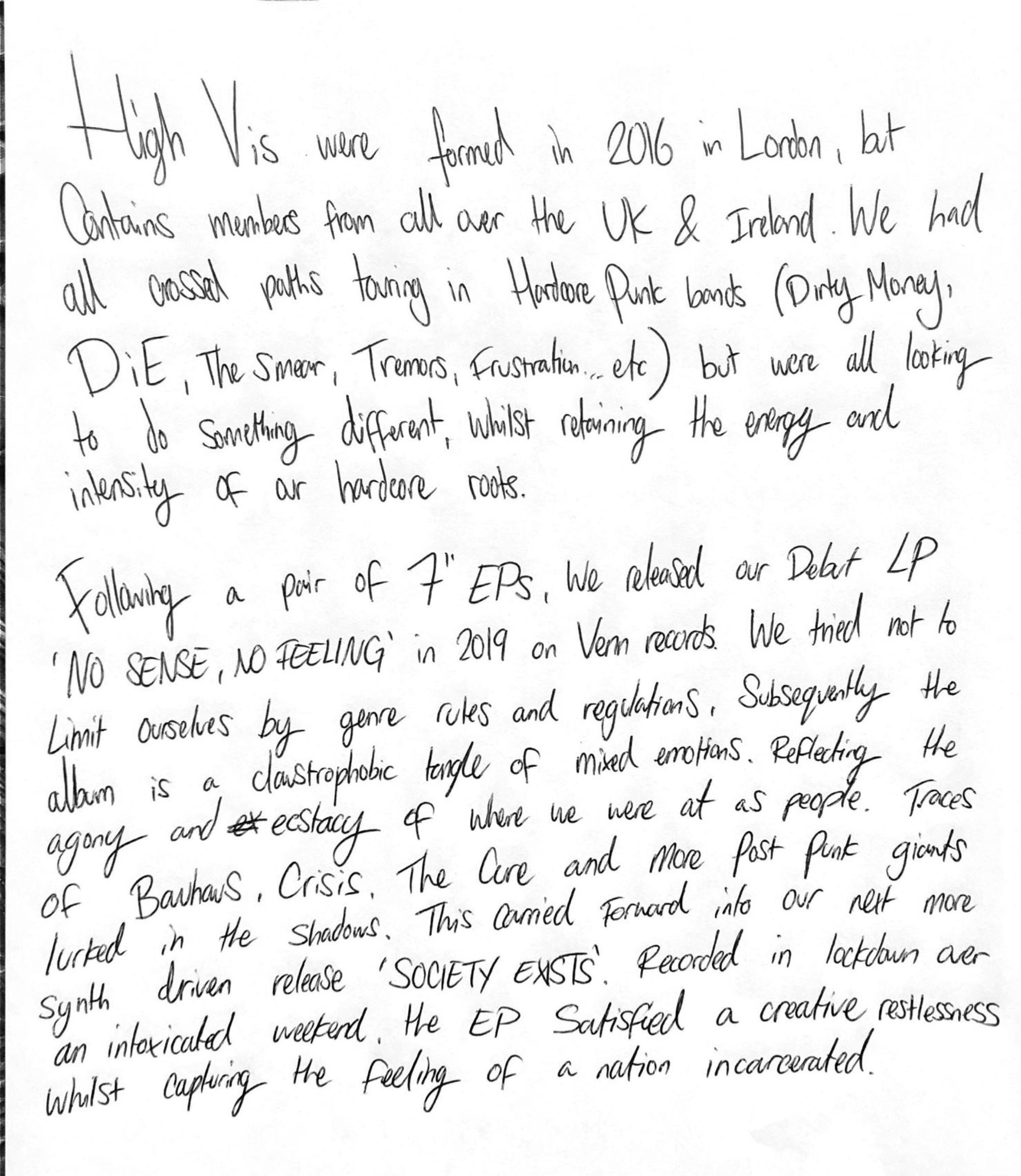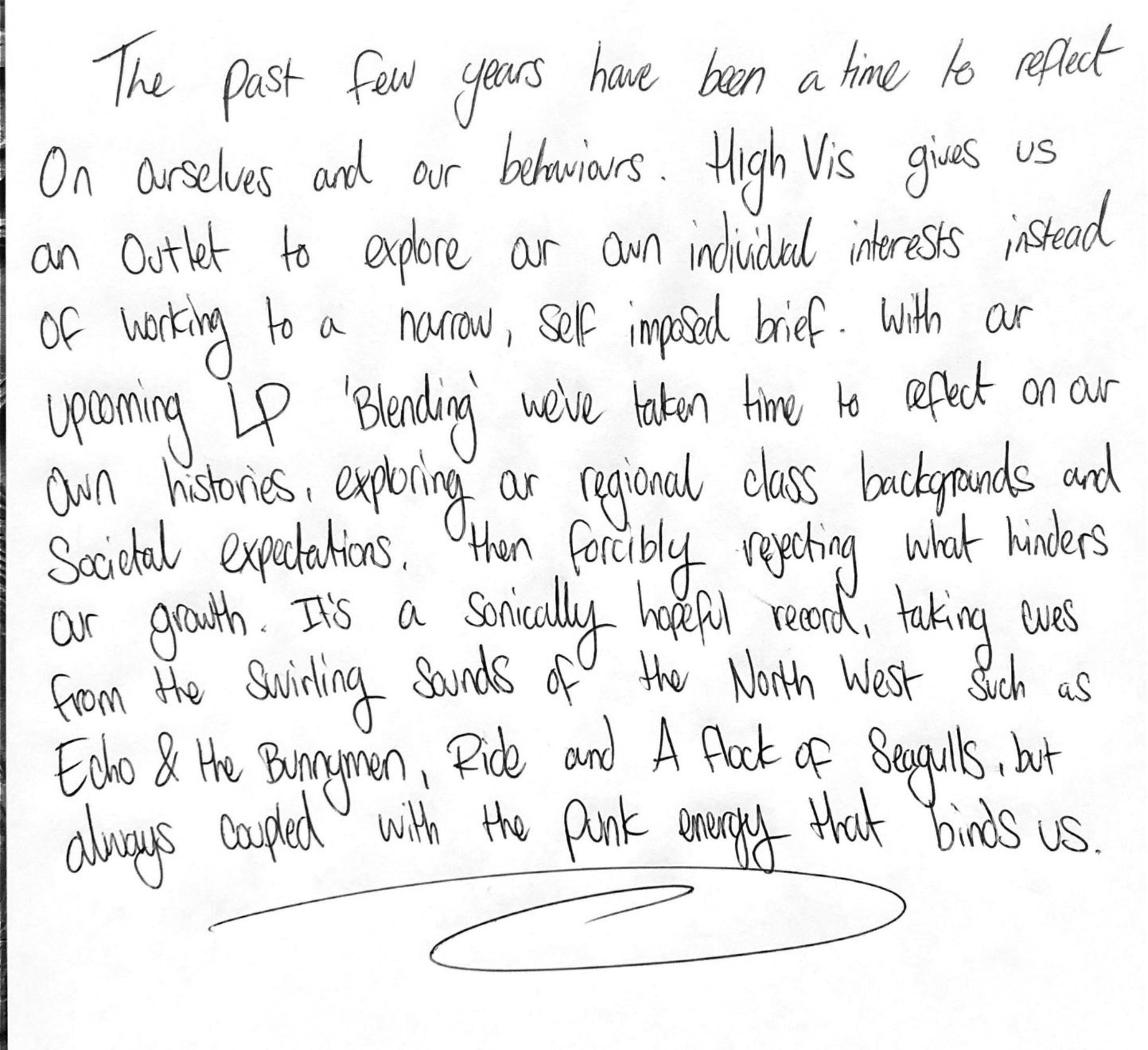 ---
‌Five by Five
5 Qs, 5 As
Describe High Vis in 5 words.
New Wave of New Wave.
5 records you listened to prior to making your album?
The Chameleons - Peel Sessions
The Sound - Jeopardy
The Cranberries - Everyone Else Is Doing It, So Why Can't We?
Husker Du - New Day Rising
New Order - Technique
Top 5 career moments since forming?
Signing with Dais records was a big moment for us. Amazing to be a part of such an exciting, diverse label that we'd always looked up to and respected.

The delayed but positive response to our first LP No Sense No Feeling post-lockdown was big for us - having come out just before Covid, we didn't get many chances to promote it. We assumed nobody cared or that it had slipped under the radar - was nice to see we were wrong.

We recently did a UK tour with our friends in Nothing which was our first time back touring after Covid. It was so good to get out and meet so many new faces and play to such a wide variety of people.

The Concrete Culture outdoor show at The Grove DIY skate spot felt like a big moment for us. There were loads of young kids losing their minds and looking like it was their first show. Cool to be a part of something organised solely by our friends all for a good cause.

Recording a live session at Boom Leeds during lockdown - the first time we got to properly play music together in a long time.
You host a pre-release listening party for the album. Who are your 5 VIP guests (dead or alive)?
These are the musicians that inspired us to play or have had an influence on how we write. Would be nice to see where they think we went wrong:

Adrian Borland (The Sound)
Mark Hovell (Dirty Money/Walk the Plank)
Bob Mould
Dolores O'Riordan
Jimmy Chamberlin
Top 5 essential tour snacks?
Fizzy San Pelly
Petrol Station Sushi
Compote
Salt & Vinegar McCoys
Ginger Shots