"I kept feeling as though I had to create something that was the 'glitch incarnate'. Something that allows me to accept that even though this idyllic reality was not perfect to me, no one else is going to realise it until I let the imperfections happen."
Interview by Georgia Mulraine
Candid whilst highly conceptual, the 'yeule project' (the moniker of Singapore-born, London-based artist Nat Ćmiel) opens our eyes to the blurred lines between the digital world and reality. A rising creative polymath, the singer-songwriter, producer, painter, coder and gamer channels their art-wired brain into world-building and identity deconstruction, reaching the next phase of their impressive artistry with bold sophomore Glitch Princess.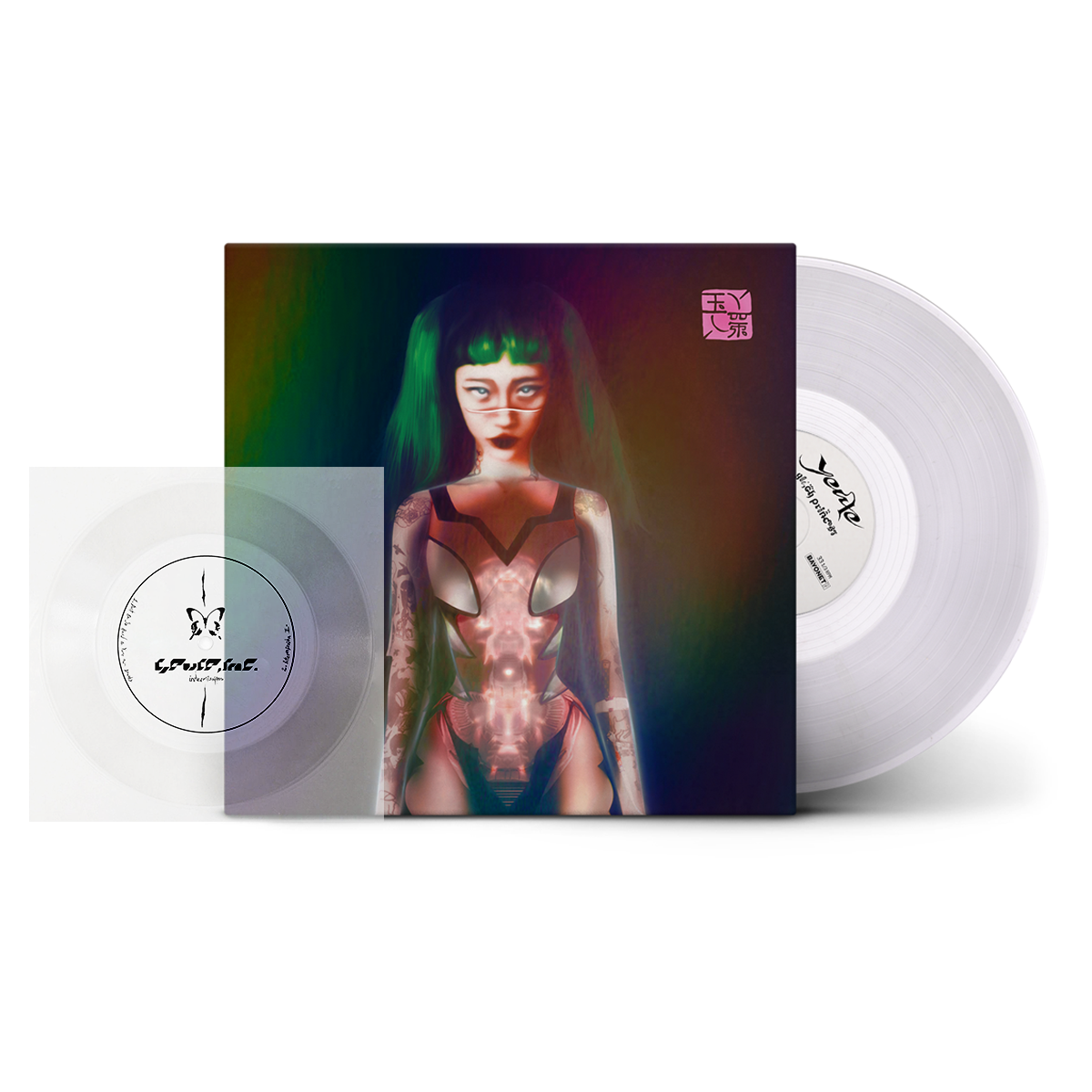 yeule - Glitch Princess
Transparent vinyl with exclusive holographic artwork sleeve + flexidisk with bonus track.
BUY NOW
An Album of the Year Top 10 title, Glitch Princess, produced alongside Danny L Harle, intrigues the cyber aesthete inside of us all.  Taking the sound of malfunctioning technology and crafting it into adventurous compositions, yeule's recent opus is addictively immersive, yet at the same time, only a glimpse of their insurmountable creativity.
Embracing the chance to dive deeper into this intriguing release and yeule's far-reaching creativity, we sit down with Nat aka yeule, for a both inspiring and relatable conversation on the album's sonic direction, creative passions outside of music and the importance of physical releases in a digital age.
---
First of all, congratulations on such a great release with Glitch Princess, we have been very excited to celebrate and highlight this record as an Album of the Year 2022 Top 10 title!
Glitch Princess feels a very complete record, building the dreamy ethereal sounds and harsh electronics we heard in Serotonin to even more beautiful climatic soundscapes. Did you have a specific sonic direction with this album in comparison to Serotonin?
I didn't really have any direction for this, except that I was really obsessed with this idea of the 'glitch'. I always felt like I was ruining everything in my life and nothing I did was perfect. It was wrong. I play a lot of video games as a way to cope with a lot of my mental stuff. I used to play way too much. So I started streaming about three years ago. It's really fun, I just played a lot of MMOs, where you can immerse yourself in a different world to this one.
John Carmack and John Romero wrote the code for the game Doom in 1993. I've been reading this book called Masters of Doom. They made the first-ever first-person shooter MMO. I found it interesting how it brought rise to gamer culture and the art of hacking and modifying these virtual worlds. There's something quite beautiful about letting something be open source too. Carmack released the source code for the gamers who were into modifying the interface. It allows the user to have the freedom to play in it. I really like this idea of being able to 'glitch' it out, making it an entirely portable virtual world, malleable, fluid. Something about the history of this allured me, and I started to embrace modifying and observing my in-game worlds through basic coding, plugins and whatnot. The glitches that came about from heavy mods seemed to break the illusion of the virtual world I was in, especially in modern ones, where the graphics are incredible but then you see a strange render of rocks or a map doesn't load completely. Romero called these "blue voids" in the Quake games. I was obsessed with glitches and tried to find them in my own reality. Maybe God was messing with my reality. With my head.
"Maybe the album is about me coming to terms with perfectionism, the state of my fragmental mentalities, but I constantly related it to the notion of the glitch. Maybe I was seeing patterns or I was obsessed with virtual fragmentation, but I kept feeling as though I had to create something that was the 'glitch incarnate'. Something that allows me to accept that even though this idyllic reality was not perfect to me, no one else is going to realise it until I let the imperfections happen."
I think a lot of my struggle as an artist comes from being self-sabotaging, self-critical. This is what I found was my problem, preventing me from releasing work and creating, by constantly destroying what I made. I was exploring my own limits as a producer, including everything that I love, like piano and classical composition, and how I can ruin a score by running it through distortion over and over until it makes something that sounds like nothing. I didn't aim to make Glitch Princess pop-sounding but I get a lot of post-pop labelling on the record, which is interesting. As in these tracks were not really like typical bangers you hear on the radio but maybe to a niche community of differentiated ears it would be considered pop or avant-nu-pop. I don't think I really had any clear direction, just obsession. I was creating from an ache that cannot be translated with words. Maybe my emotional state at the time also heavily drove it to what the finality of it came to be.
I was writing a lot of words. I was writing every day. In Don't Be So Hard on Your Own Beauty the flow of it is endless and long, the lyrics are drawn out like a never-ending diary entry. I'm singing the whole thing. Just plainly from the page, it was written.
"That's how I spill myself onto a page. No curation, no edits, just the raw."
You mention pop! Many would describe your music as 'genreless' and 'futuristic', yet the intimate and authentic nature of your music has also resulted in it being described as 'digital bedroom pop'. Would you say this is a fair label?
I don't mind my music being labelled or put in a genre box, I think it's not limiting but an interesting way to categorise the sounds, especially new ones that emerge in electronic music. I started out as a bedroom producer and I was writing a lot of music at home with a very basic setup. My first EP was recorded with a Rock Band USB mic, the one that comes with the video game. I couldn't afford my own mic at the time. I really appreciate the likes of Grimes and early witch house, you know like Salem, Crim3s, Clams Casino, Purity Ring, some of the early internet age era of producers to name a few. That kind of music production with unconventional instrumentation and endless possibilities to go wherever with the instrumentals was what drew me to it in the beginning. When I was classically trained I was modifying the original score anyway. I like the freedom and the alien sounds birthed from nothing.
Glitch Princess is co-produced by Danny L Harle, a renowned producer in the dance-pop / hyper-pop scene, producing for various dance-pop oriented artists such as Caroline Polacheck and Charli XCX. What was it like working with Danny?
I went to this noise bar in Kabukichō, it's called Nightingale. I was hanging out there with my friend Hebe. I remember sitting there crying and being upset because something quite sad happened. Masaru, the owner, was really kind to us and lightened the mood by showing us some music and then took a picture of me sitting on the metallic couch looking upset. Masaru posted it on the Nightingale Instagram and Danny L Harle happened to follow him too. That's how Danny and I connected. He saw that I was based in London and he reached out over DMs.
Danny and I have really similar sensibilities and I feel like he is an artist who I can really appreciate and feel safe working with. It felt like he understood my work, where I was coming from. My collaborative work with him has shaped some unreleased work I've made that would've otherwise been destroyed. It's like Danny could see where I wanted to go, and when I couldn't see a path and wanted to delete it all, he salvaged it and turned it into how I imagined it.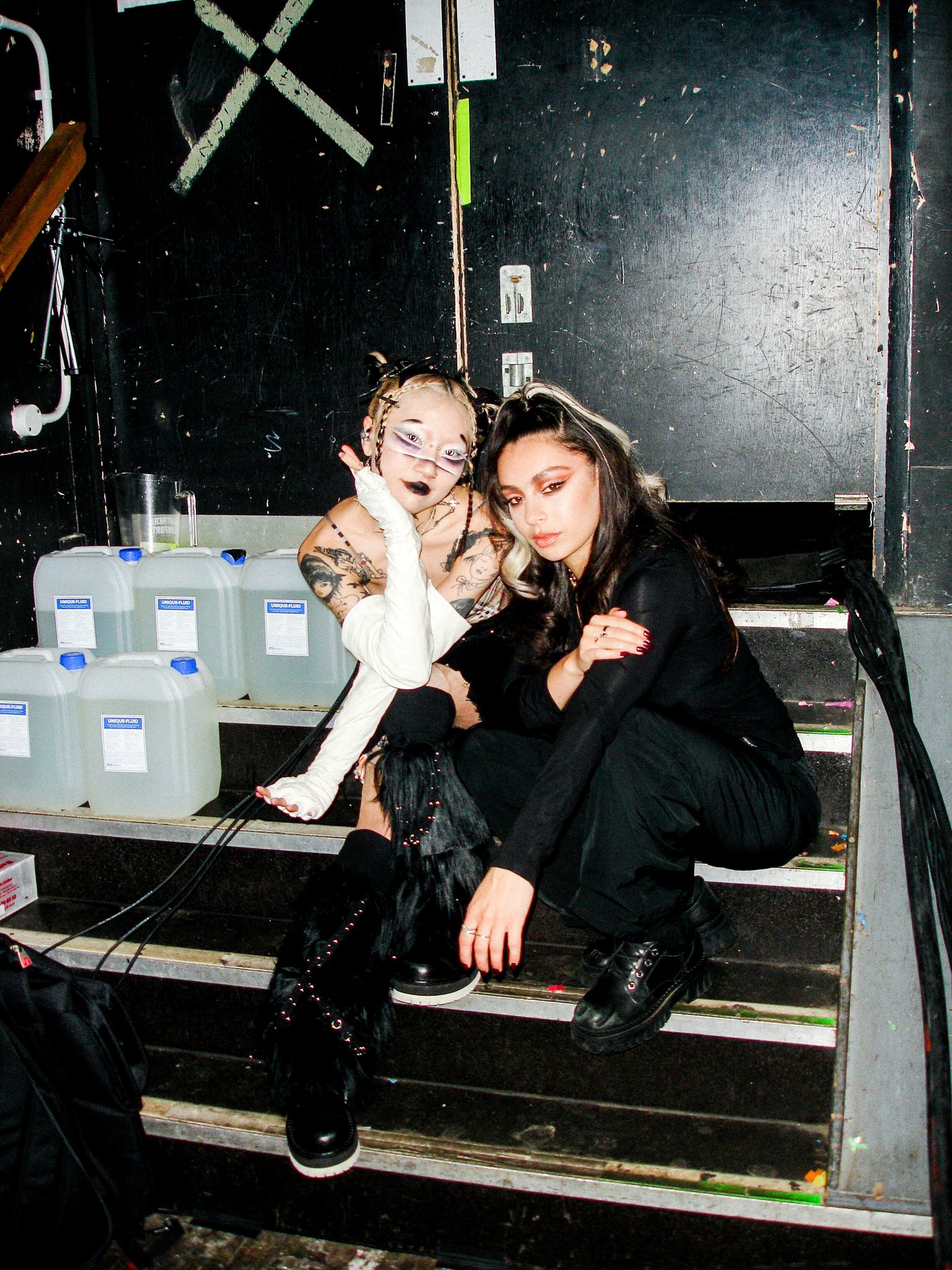 On a deep and complete listen to Glitch Princess much of its intrigue lies in some of its candid storytelling around the exploration of identity, something your fans seem to be really connecting with. With the release of this second project would you say that you have shared another significant piece of yourself? Are your fans getting to know you more and more with each release?
Being misunderstood feels like it's a part of my identity and I have accepted that alienation in a way. Maybe it's because I look at myself in the mirror and can't understand it either. I release records, but through varied mediums of creation, it doesn't have to just be through music. It can be paintings, writing, digital imprints, traces of the digital self, memories of a virtual life…this is all part of documenting the experience from the POV of myself that feels otherwise so fragmented and empty.
Even if the listener does not understand me the way I want them to, I can't question it because there's no one way to see it through my lens rather than to relate it to your own. This is how I don't feel so alone when someone else can relate to something you made that once felt so abstract. I don't think there's a real black-and-white about how I want the work to be understood. And that's why I keep creating, so I can bottle little parts of this world up in the hopes of painting a clearer picture of my sky.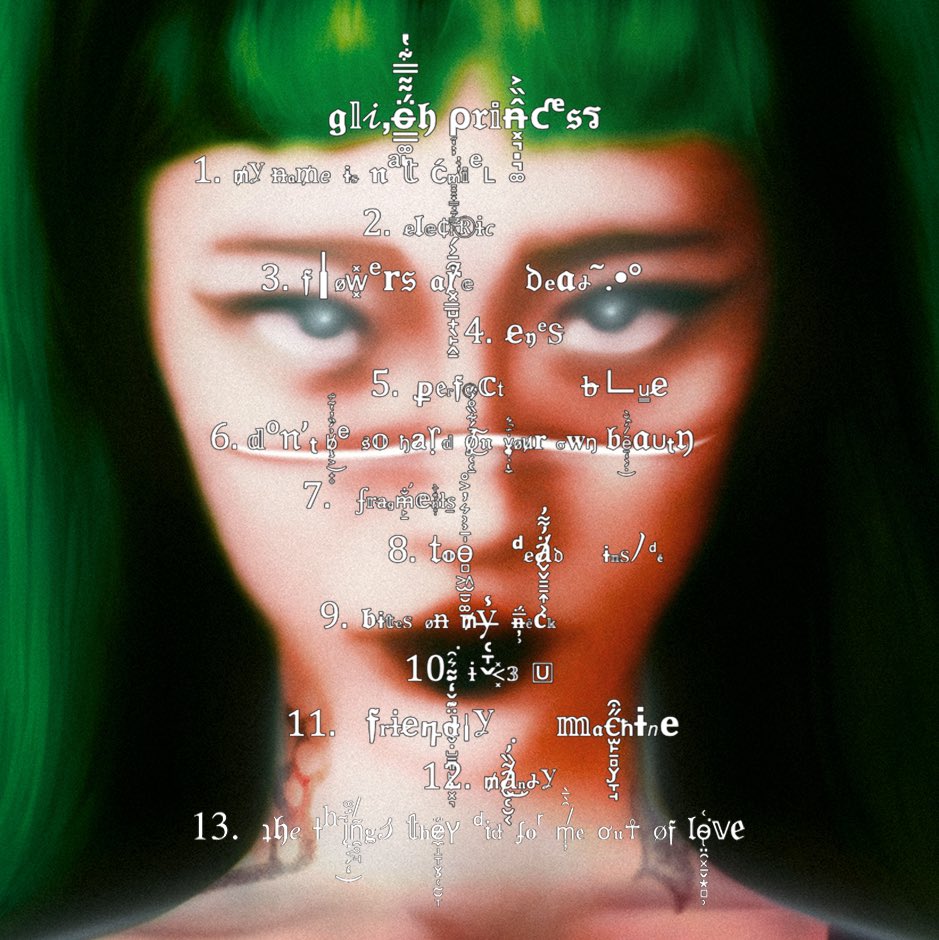 It's interesting to know whether you have felt like you have shared not very much or quite a lot?
It feels confessional. I think I had to make sacrifices and be a bit vulnerable, but I was okay with it. The thing about songs being written in a place and a time is that it doesn't define me as a whole in the present, but it defines me at a point of my life that has passed, or could still be processing and passing through.
" Glitch Princess was an era of memories. Putting all those words into those songs really helped me get through a lot of pain. But also remember a lot of beautiful things that I would have otherwise shattered in my memories."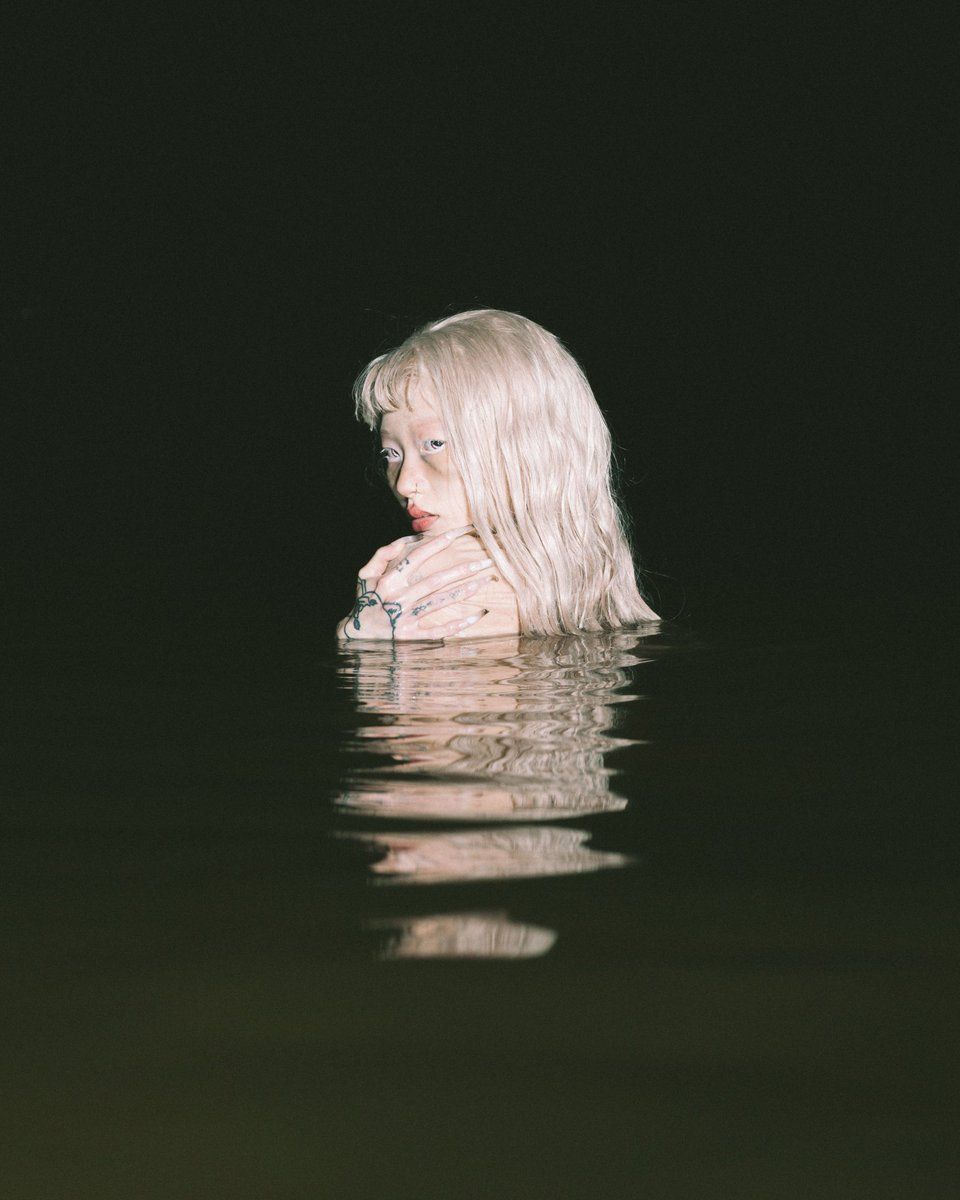 You mentioned painting! From listening to your albums, it seems you have a talent for world-building that could be applied to other creative pursuits other than songwriting. Have you ever felt inspired to write in other contexts, for instance, create a movie or video game?
My first obsession with a creative medium was painting. Before I did music production I was painting with oils. I did a BA in fine art at Central Saint Martins, starting out with oil painting as my medium but slowly started to do a lot more visual, sonic, digital installation works that could incorporate my music production. In the Nuclear War Post X covers record, I did a little zine for it, which included some of my drawings.
I was really into coding as well. I love building computers. I really would love to make a game in the future but it is very tough. It's a huge commitment to years of work, you need to really invest. You need a team and a lot of resources. But it's still my dream. I do want to pursue it, but it's a different career.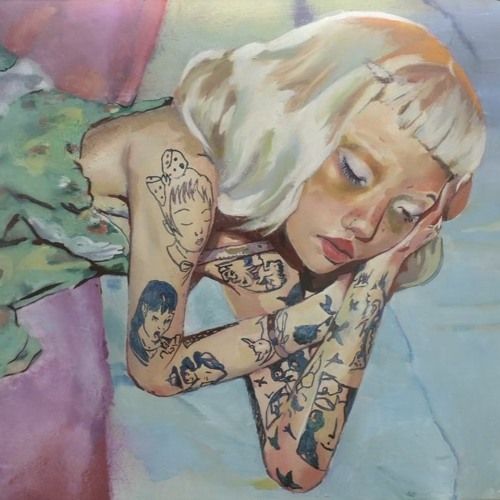 From social media to gaming platforms such as Twitch, and Discord you utilise various digital platforms to interact with your fans. Although many music lovers increasingly use these platforms for music, is it special to you to be able to give your fans a physical release, and in some cases exclusive artwork from yourself alongside it?
The first three EPS, my self-titled, Pathos and Coma, these weren't physical. I had no money or label behind me, I couldn't release anything. When Bayonet pressed Serotonin II on vinyl, that was the first experience of a physical manufacturing of my work. I remember how I held it in my hands. I just burst into tears. I don't know why, there's something special about having something physical. I always feel that you get so caught up in your own world when making the work.
I was brought up in the digital age, too. Where even my first few relationships were not physical. Love unphysical, connection with others unphysical, and worlds unphysical. When the digital world feels more real to you for most of your life, it can become hard to differentiate reality. It's as though I've convinced myself that the digital can be authentic too, but on the other hand I've felt like some experiences in real life felt less authentic than the virtual. Physical, digital, virtual, reality, I think both spectrums can be beautiful. But I think tactile is special, too. I cried real tears because holding what I made (from inside a screen) in my hands (on the outside) feels like I've been starved of that for quite a while.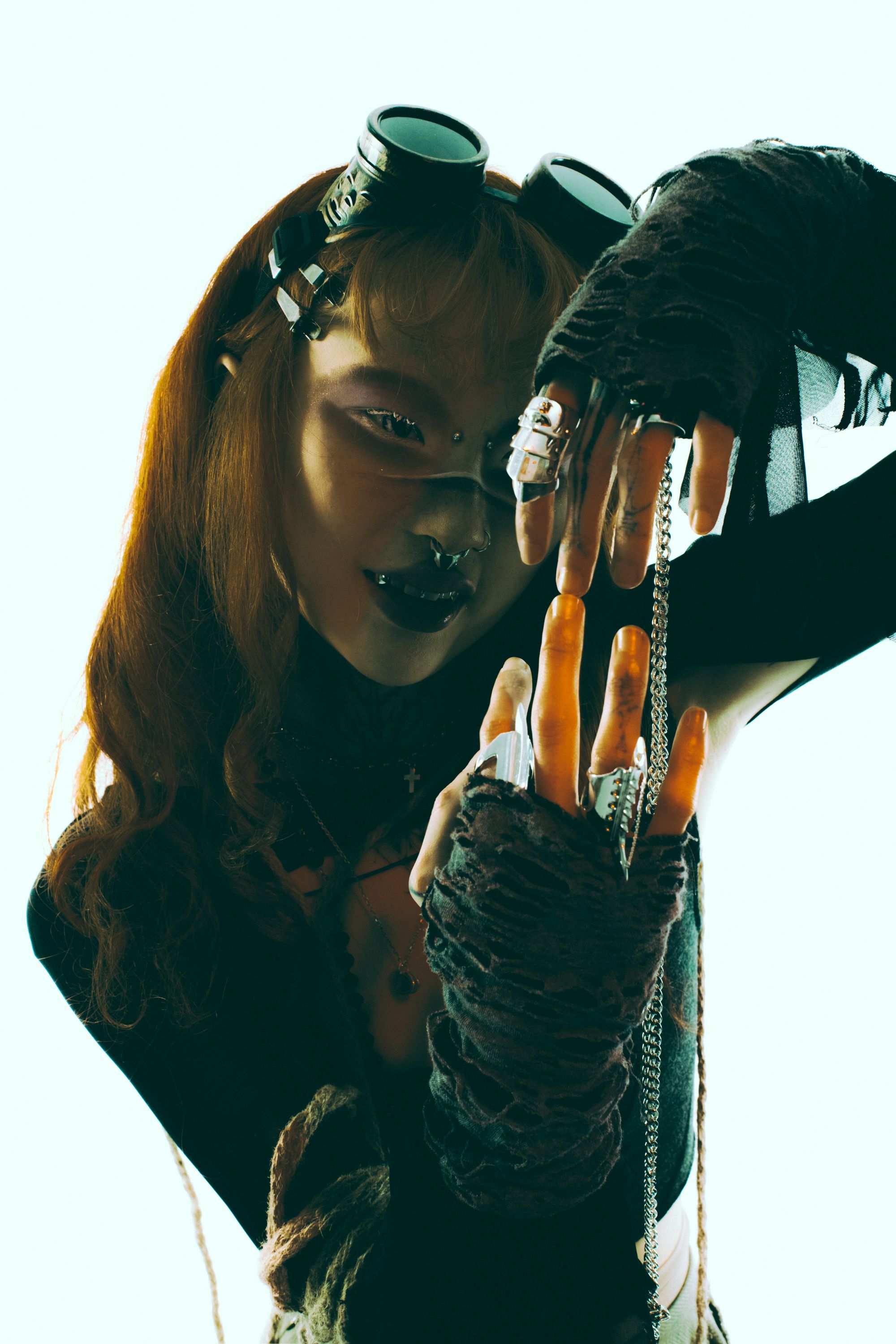 I have hard drives on hard drives now which store copies of my entire virtual life, because of how much it means to me. I remember holding this data in my hands. I am really careful now. There was a time I had my whole career in my hands without copies of it. I thought…I could just throw it into the train track and it would all be over!
There is something really tactile and nice about having the music physically. I grew up listening to vinyl. And cassettes, I really love cassettes. Maybe it's because I have paranoia and don't want the overlords to know what my musical algorithm is.
We wish people still made mixtapes!
---
Inspired by our conversation on the physical format, Nat curates us a special exclusive 'mixtape' playlist for our celebrations of Glitch Princess in Albums Of The Year 2022.