Charlotte Adigéry and Bolis Pupul - Topical Dancer

Candid but humorous storytelling paired with playful synth concoctions and punk sensibilities. Charlotte Adigéry and Bolis Pupul are fizzing with ideas on their debut studio record for Soulwax's iconic label DEEWEE.
Scroll down for an exclusive interview with the pair.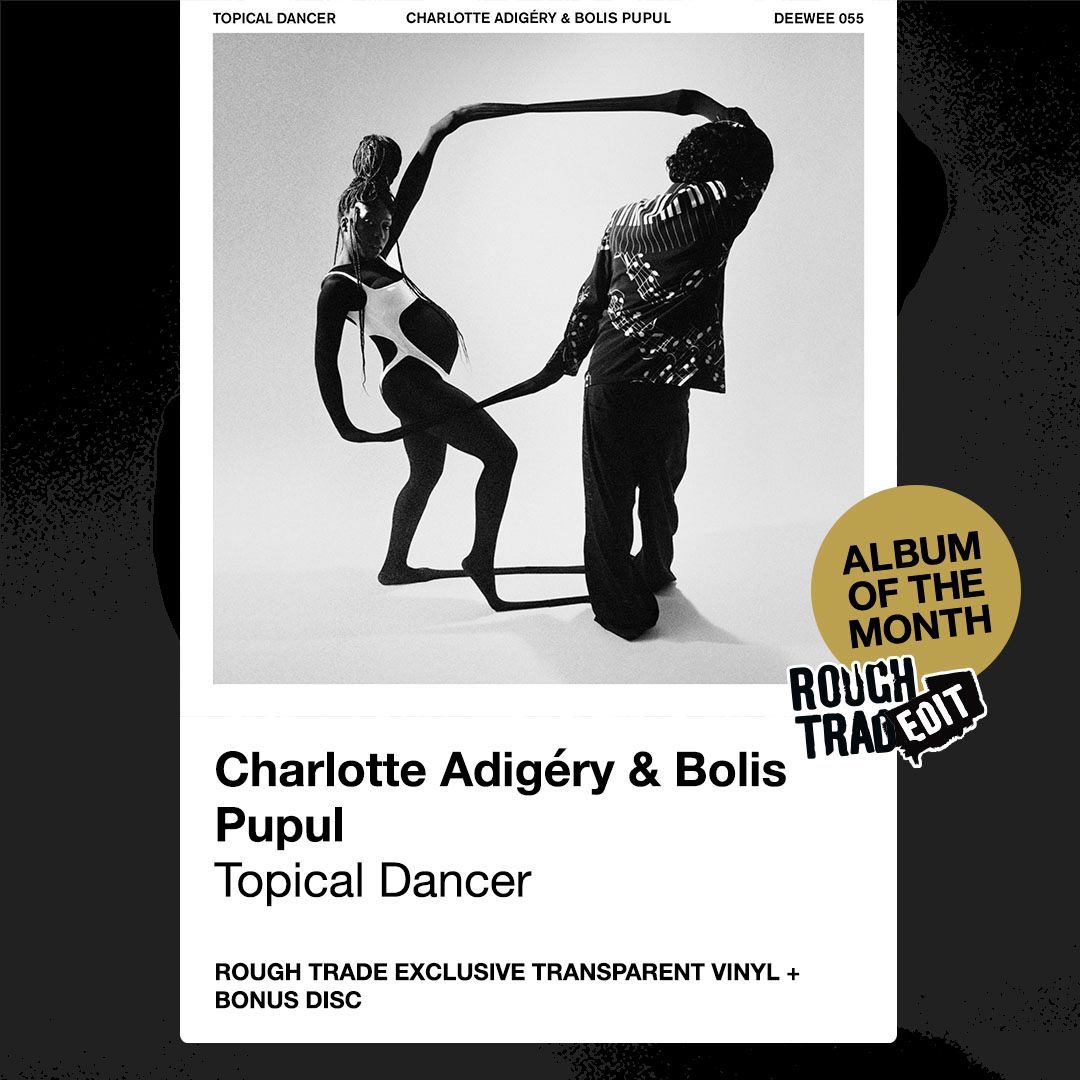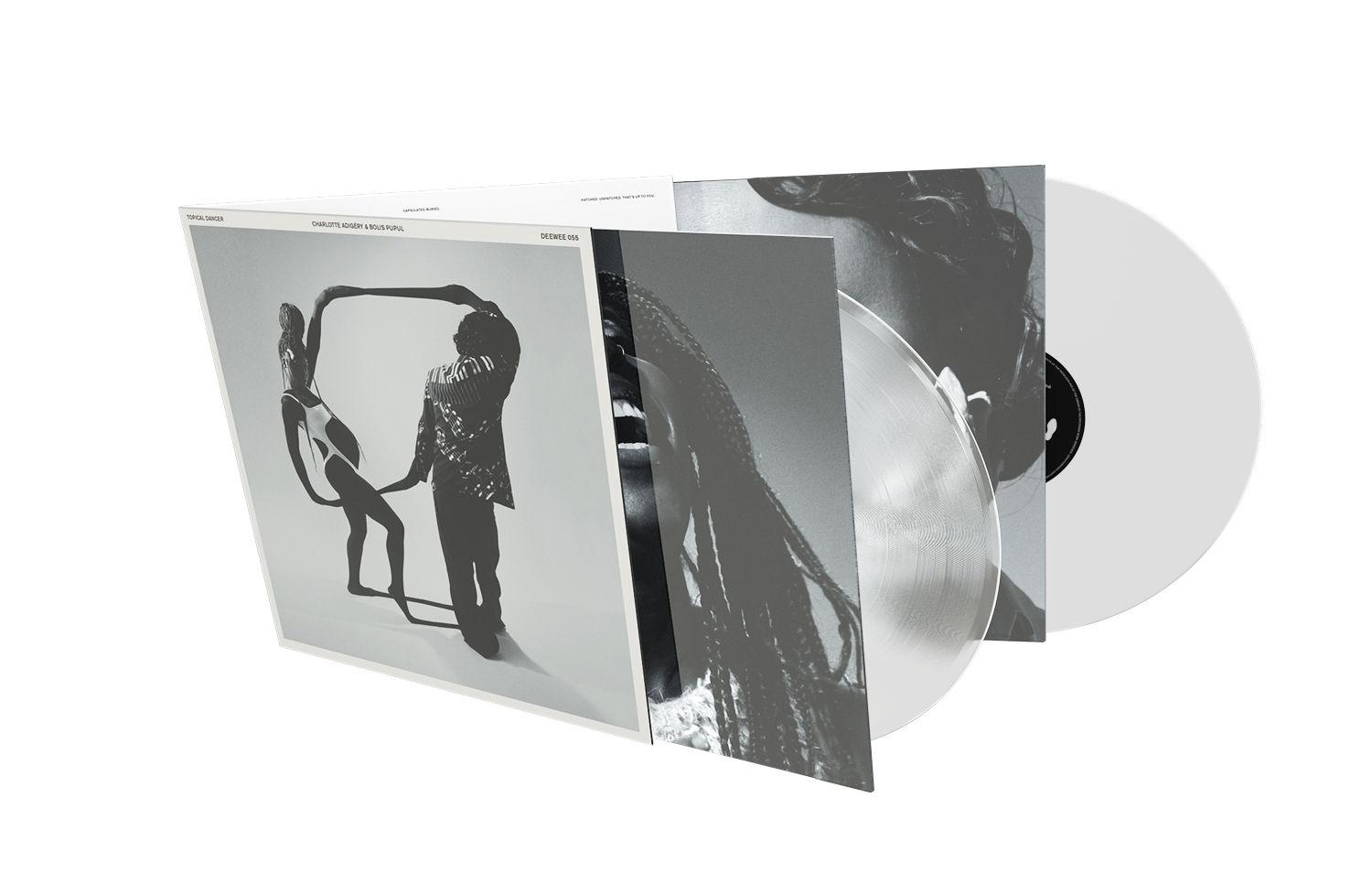 Charlotte Adigéry and Bolis Pupul - Topical Dancer
Rough Trade Exclusive transparent vinyl + bonus disc.
BUY NOW
Charlotte Adigéry & Bolis Pupul: Live + Signing at Rough Trade East
Saturday 5th March
Grab your ticket while there are still some remaining!
Who
A dynamic duo drawing from their perspectives as Belgians with an immigrant background, Charlotte as Guadeloupean and Bolis being of Chinese descent. A musical collaboration influenced by ideas germinated from a deep and intuitive conversation between friends.
What
Rare storytellers in electronic music with a Slits-esque DIY punk ethos. Taking familiar genres down untrodden paths, Charlotte and Bolis present a unique brand of electro pop, intertwining traditional club sounds with a hard-hitting discourse - guaranteed to make you think and move your feet.
With
The Slits, Soulwax, Marie Davidson, Kelly Lee Owens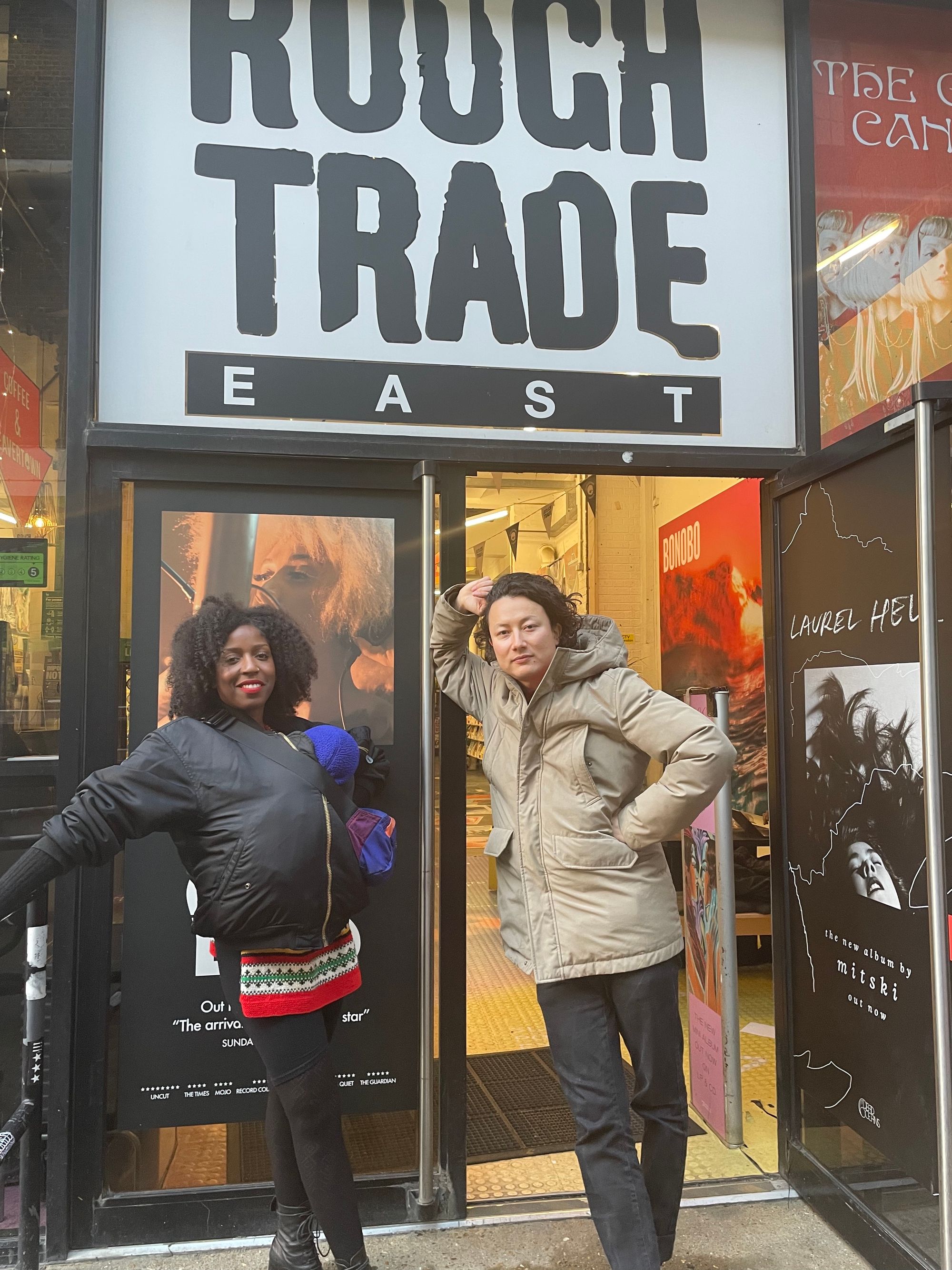 ---
Five Minutes with... Charlotte and Bolis

'Topical Dancer' is as much characterised by its storytelling nature as it is its club-ready electronic production, touching on racism, misogyny and post-colonialism. Does the album aim to present the dance floor as an arena for political discourse, and do you think music could do more to highlight this?

Charlotte: Our intention wasn't to do that. The album was a result of our conversation as friends, who have this tradition to have long conversations before we really start working. After every conversation, we love to talk about more intimate stuff, our love life, our family life but also other topics like political correctness and all of that. After these conversations, we got inspired to make a song and that's how it happened. We didn't really have any intention or have a goal in mind when we made the music but now when we have the opportunity to talk about it, I dont have a specific answer to it. I'd say, yeah it's welcome.
"But what we consciously did was an invitation to a conversation between friends. If you want to be part of that conversation, on the dance floor or online or with us somewhere, then you are welcome to join."

Bolis: Was it intentional to make a dance floor album that's also topical? Apart from the fact that it is music that can be played in the club, it's music that can be played anywhere. The topics that we are talking about could be conversation starters. We would be happy if people who might have a fight about something could find common ground by listening to each other and not having a need to talk all the time. That is the thing we fear in these times. The polarisation between two sides is becoming bigger and bigger. The importance of listening to each other and being open to each other's experiences is very important.

Charlotte: So yeah...maybe the dance floor is a great place to be more open-minded and to meet each other.
You have expressed that the sound of Topical Dancer was largely driven by a desire to bring different musical worlds together and in result, create a unique sound compared to what has been heard before. What influences did you bring together and were you able to introduce each other to new things?

The starting point was The Slits. When we started making music together we really didn't know each other and we really got to know each other through the process of making music and thanks to Stephen and David Dewaele, from Soulwax. The Slits was the band we both loved and I think I brought it up to paint a picture of the music I like, and the approach of it, the punk approach. The playfulness, the intuitiveness, so that's something we both agree on, our approach is similar. We love the same music, (turns to Bolis) you got to know Caribbean music!

Bolis: Yeah you introduced me to Kassav', that's Guadeloupean music. I remember I was going through some rougher times and you introduced me to that music. Every morning I played it I immediately made me feel happier and less down. That is the power of music, in times of trouble it can really lift your spirits.
The funny thing about The Slits is that, we discover right now that it was the first thing you brought up in the studio and that really defines how we still work together today. We first met in 2016 and we work in the same spirit as when we started off.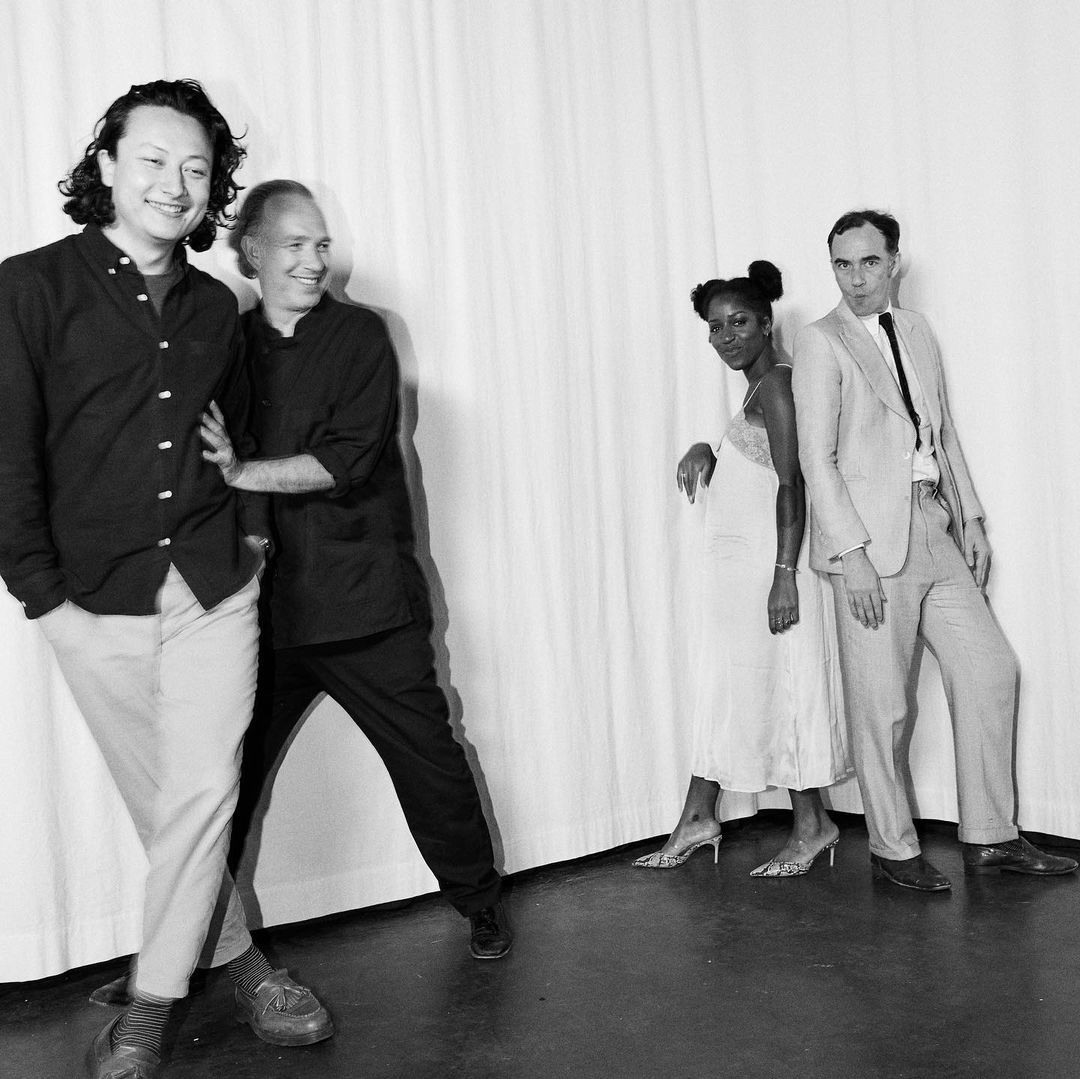 The album intro incorporates field recordings from your time at the Soulwax label DEEWEE's recording studios.  How has it been working with the label who brought you together and how has the imprints collaborative ethos impacted on the making of Topical Dancer?
Bolis: DEEWEE is a very unique label. The label bosses are actually the producers as well. Stephen and David have a very distinct taste in music and they mix all the records that are released on DEEWEE. There is also a visual / graphic design bureau Ill-Studio who do all of the album covers. It is a reason why our music is so dancey as DEEWEE is an electronic label for a lot of DJs and musicians who make dance music. For us it was something we felt we could do when we started. The importance of Stephen and David is very specific. They are there from, the beginning until to the end but they are not imposing themselves. Whenever we are stuck we can call them and they will come to the studio and be like 'Hey what's the problem?' They can tell us when a songs finished before we can, also in terms of the lyrics.
"I like to call them our sonic chiropractors, they know where to push and we are relieved of our worries."

You discovered you were pregnant (Charlotte) during the process of creating the album. How has motherhood impacted your life as a musician?
Charlotte: It makes you more ambitious. But more in a selfless way. To me being able to enjoy being on stage and making music is super important but now I am wanting it more. It makes me more efficient and really focus. A lot of things that mattered more before don't really matter anymore. It brings you to the essentials. Not saying I am a Buddha now (laughs). But it makes you more focused, and really go for it - in order to give your child as much as you can. But also, yourself! To make every moment your doing it really worth it. It makes you grateful and even more present when on stage. It also makes me much more emotional and frustrated. Last time we played in Paris the crowds didn't really feel it and I felt so frustrated. It was a good lesson. I had woken up at 5 in the morning and done so much to take him (the baby) with me. I was even more frustrated because it takes so much to do it now. But I also learnt that that happens and I've forgotten about it. I also have to embrace it.

This is the first project which formalises the collaborative partnership of 'Charlotte Adigery and Bolis Pupil'. Can we expect more from you as a duo?
Charlotte: Yeah, this is only the beginning!

Bolis: Yeah for sure.

both look at each other and laugh

Charlotte: I didn't know before this album if I would have enough to say, you know to write a full album! But now we have and I feel the inspiration is flowing! We can't wait to start the new stuff.